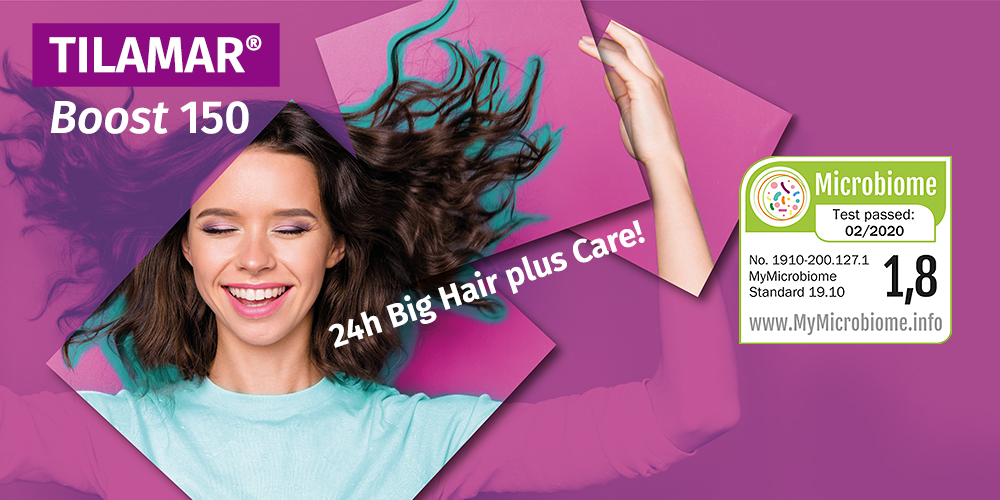 A new technology for hair volume has arrived
Download Tilamar Boost 150 Hair Care Formulations
Formulations include 24hr Sulfate-free Shampoo, Silver Fox Shampoo, Volume Conditioner Fluid, Lift off Styling Lotion.
How do consumers feel about hair volume?
A recent consumer survey1 indicated that both men and women cited volume and thickness as key hair factors that they would change if given the opportunity. This survey, in addition to others, mirrors the sentiments of many US consumers who are actively seeking hair care products that can provide long-lasting volume performance. Often volumizing formulations have reduced levels of conditioning agents in order to provide a lifting effect. This unfortunately leads to reduced performance in areas such as manageability and hair feel. As a result, formulators are constantly working to create new formulations that can improve hair volume without sacrificing care properties.
A new technology for hair volume has arrived
TILAMAR® Boost 1502, a unique hyperbranched polymer identified by DSM, is a breakthrough technology for hair volume with an innovative mode of action. TILAMAR® Boost 150's mechanism of deposition, via coacerate formation, is reflected in a lamellar structure that changes to a hexagonal structure on the drying hair, thus creating volume.
Tests demonstrate that TILAMAR® Boost 150 improves volume
Instrument tests2 indicated that the addition of TILAMAR® Boost 150 to shampoo resulted in a volume increase of 150% compared to the shampoo base, and up to 300% when combined with a traditional conditioning polymer. In addition, hairdresser tests reported both a visible increase in volume and an improvement in care properties such as smoothness, ease of combing and style setting when TILAMAR® Boost 150 was added to a currently marketed shampoo. Improved care properties are also benefits sought after by consumers.
New studies2 with TILAMAR® Boost 150 revealed long-lasting volume on different hair types (Euro virgin hair, Euro strongly bleached hair, Euro virgin hair "very curly", Asian virgin hair). The addition of 2% TILAMAR® Boost 150 combined with PQ-7 significantly increased the volume performance of the shampoo base on different hair types up to 24 hours.
In a different new study, it was demonstrated that the addition of 3% TILAMAR® Boost 150 increased the long-lasting volume performance of an Asian volume market shampoo on Asian virgin hair up to 20% after 24 hours. What is more significant is that these results were achieved without compromising care properties.
New Microbiome-friendly certification
TILAMAR® Boost 150 has recently received a Microbiome-friendly certification. It was evaluated according to mymicrobiome test 19.10 – SCALP4. The MyMicrobiome Standard evaluates cosmetic and personal care products, that come into contact with the skin or mucous membrane, in terms of their influence on the microbiome located at a specific body site.
The influence of TILAMAR® Boost 150 has been evaluated on the key organisms of the scalp area. As TILAMAR® Boost 150 is certified Microbiome-friendly, it has a minimal impact on the scalp microbiome diversity, a minimal influence on the growth or number of different key organisms specific to the scalp and it respects the sensitive balance of the scalp microbiome.
A Microbiome-friendly certification is significant as there is increasing scientific evidence between scalp microbiota disbalances and scalp concerns like dandruff scalp or seborrheic dermatitis.
Potential new hair volume options for consumers
As there are many well-known brands in the market offering hair volumizing products, TILAMAR® Boost 150 can be beneficial in helping these brands achieve optimal results. Additionally, it can be added directly to current shampoo bases. Only one drop is needed to achieve the benefits of hair volume performance as well as increased hair elasticity and styling ability. The addition of TILAMAR® Boost 150 to leading shampoo brands will make volume achievable for consumers with different hair types seeking improved volume and care.
Sources:
Contact Us