Every day our people make a difference while fulfilling our purpose to help keep communities healthy, fed, clean and safe. As a proud partner with Vitamin Angels, we're also helping improve nutrition from the start by reaching at-risk pregnant women and young children with life-changing vitamins across the US, Canada and around the world.
Putting this vital work into perspective, Angela Kelly documents her experience observing a vitamin distribution, including the very profound and humbling realization that access to essential nutrition is often a gift rather than a given.
Read on to find out how Angela was inspired to contribute to the promise of "muy fuerte" to the woman and children of the Sacred Valley in Peru.
A first-person account of the power of nutrition
By Angela Kelly, Account Manager - Food Ingredients
As we go about our daily lives, many of us drink Vitamin A&D fortified milk in the morning with our vitamin-enhanced cereal. Our bread at lunch has added nutrition in addition to the dense sustenance of lettuce, tomato, green peppers and onions on our sandwich. At dinner we might have a salad, broccoli and asparagus, a meal that nourishes with essential nutrients. Those of us who are fortunate to live a nutritious existence often take it for granted. But what about those populations around the world who have limited access to food sources?
This is the question posed by Howard Schiffer, founder of Vitamin Angels. Howard saw the need of pregnant and nursing mothers worldwide who struggle to give birth to healthy birthweight babies due to lack of access to essential nutrients throughout their pregnancy. Enter Vitamin Angels, a nonprofit organization dedicated to distributing life-changing vitamins and minerals, as well as de-worming, to underserved mothers and children around the globe.
The mission of Vitamin Angels
I was first introduced to Vitamin Angels in July 2010 at the NBJ Summit. There are two things I now know are synonymous with the nutrition industry – The Nutrition Business Journal (which produces the NBJ Summit) and Vitamin Angels. Vitamin Angels hosts the opening reception at the NBJ Summit and it was the first time I had the honor of hearing Howard Schiffer speak. I was so moved by his stories and inspired by his vision that I sought him out afterwards to introduce myself. Speaking one-on-one with Howard, you feel his passion and dedication to making the world a healthier place. You feel motivated to step up and help make a difference. During this conversation with Howard, we realized the way I could best assist Vitamin Angels was connecting my network of clients and nutrition industry friends to their Gifts-in-Kind program. In lieu of cash, contract manufacturers could donate their production lines to make the necessary tablets or capsules, packaging companies could donate their bottles or labels and pre-mix blenders could donate the specially formulated blends that help to make prenatal vitamins. There were so many ways people could help. I just needed to make the introductions and have them understand what Vitamin Angels does and the difference they make in the world.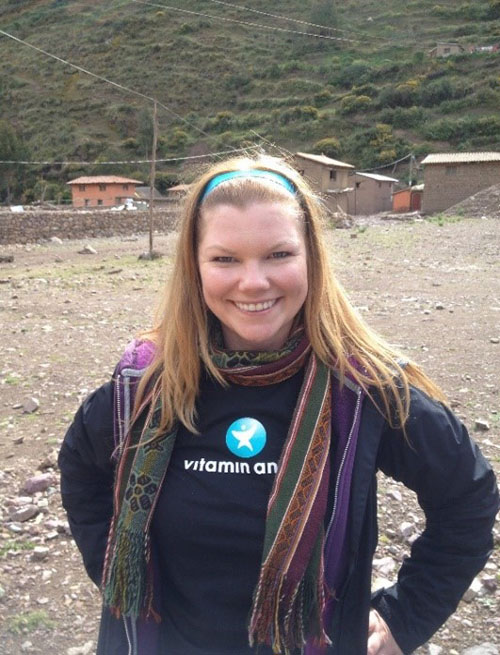 Notes from the field: Peru's Sacred Valley
It was through this work that I was first invited to join Vitamin Angels to observe the work of their program partners abroad during a visit to their headquarters in Santa Barbara. They had a spot open for an upcoming observational visit to Peru. I immediately seized this opportunity to get a close-up view of the work Vitamin Angels and their local program partners do. Taking the opportunity to meet the mothers and children that receive the life-changing vitamins and minerals that Vitamin Angels distributes was an experience I could not say no to.
Our group came from across the US – flying into Lima, Peru, and staying the night before flying into Cusco on a small propeller plane. We stayed in Cusco, but took a harrowing 2-3 hour journey each day to visit the remote villages that our hosts, a local NGO group, travel to on a bi-weekly basis to do vitamin distributions, health check-ups and wellness care for the village.
The drive through the Sacred Valley is beautiful but very high in elevation. The soil is rocky but perfect for potato farming. There are terraced hillsides everywhere with potato plants budding through the ground. Potatoes are the main food source for the Peruvian people in the Sacred Valley. Farming is the staple of living there. There are no jobs or offices to report to: you exist simply on the land that you live on. There are no cars or donkeys for transportation. Water is not potable. If medical assistance is necessary, the villagers must walk to Cusco, often taking as long as 2-4 days to journey down the treacherous mountainside.
Our first drive to the Sacred Valley left our old Toyota mini-van stuck in the mud on the rutted single-lane dirt road. There was a recent rain, and the van tires were sucked into the mud unable to move forward. We piled out of the van to lessen the weight and push the van to nudge it forward out of the muck. We had trophies of our efforts with mud-splattered faces and clothes. And this was Day 1. Just as we sat down in the van again to continue our journey a woman ran down the hill toward us, waving her arms frantically. Our driver put the van back into park and the local NGO nurses went to meet the woman to see how they could assist. Once the woman caught her breath, she untied the satchel that was strapped to her back. Within this carefully tied fabric lay a tiny baby that needed medical assistance. She had been walking down the mountain to find someone who could assist her with her child's fever. When she saw the van, (and because there are so few cars that travel this pothole pocked road) this mother knew there were likely nurses on board who could assist her with her baby's fever. The majority of cars that travel this road are those of the NGO nurses and their driver.
After the NGO Nurses administered medical care to her tiny baby, the mother asked for one other thing: "la vitamina, la vitamina." She received a bottle of vitamins that were so essential to her health and the health of her baby.
"Each time these dedicated NGO nurses travel to these remote villages they help increase access to vitamins. They bring the gift of 'muy fuerte' children who have enough energy thanks to this life-changing nutrition; they no longer have to choose between playing outside or learning at school."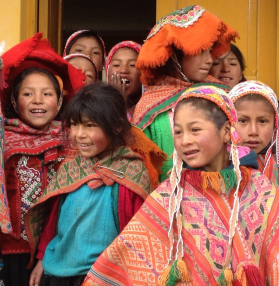 We had the opportunity to meet the children and mothers who were so grateful for the vitamins and minerals and hear about what the distribution means to them. Over and over we saw mothers fill with tears as they spoke of no longer having to worry about their newborns surviving past a few days of birth. Their babies now were born at a heathy birthweight. Access to the vitamins were life-changing to these villages located high in the Andes. Nothing had ever given the solace to these dedicated mothers like seeing their children healthy had.
One generous family invited us for dinner after we had spent the day in the village observing vitamin distributions. The mother walked us to her home and happily invited us inside. The house itself was a simple 20-by-20-foot structure made from mud and straw "bricks" that had been carefully assembled to create the home she loved. A single pot-bellied stove was in one corner of the structure with assorted pots laying near creating her kitchen. We were asked to sit on her bed which was a single cot. Assorted colorful Peruvian textiles were carefully folded which would be laid on the floor for the family to sleep on. This mother filled her pots with potable water from one of the water filtration devices installed in the village by the NGO. She then carefully added potatoes fresh from their fields. She lovingly served us potatoes as she would a guest of honor – with the boiled potato was dressed with a bit of goat's milk sauce. This was her family's dinner that they consumed daily.
This experience made me more motivated than ever to help Vitamin Angels further their mission. My heart now belonged to these mothers and children from this day forward.
"I realized just how much I had taken for granted at home. Clean water, nutritious fruits and vegetables, stores stocked to the brim with food and vitamins. I became extremely humbled and grateful to this kind woman who had opened her home to us, serving this simple but lovely meal."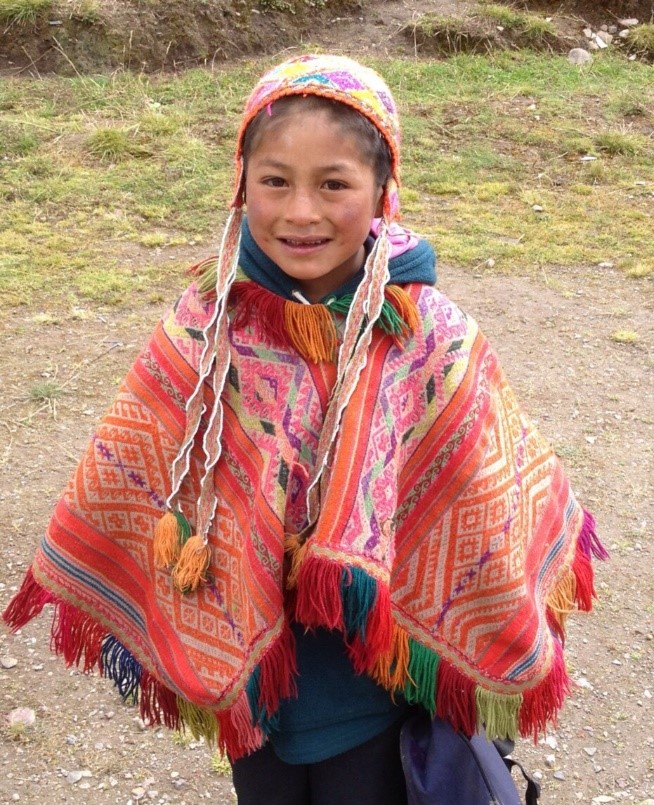 "Let food be thy medicine, and let medicine be thy food." This ancient quote attributed to Hippocrates, the founder of Western medicine, has really stood the test of time, finding renewed energy in the work we do to help local communities access the nutrition they need to thrive. Balanced nutrition is not only fundamental to health and wellness, it has the power to unlock boundless potential for future generations. We remain committed to delivering value-added solutions and doing our part to build toward a better day, every day, by creating a healthier world together.
Learn more about our partnership with Vitamin Angels and how the Nutraceuticals team at Univar Solutions is supporting vital work around the world.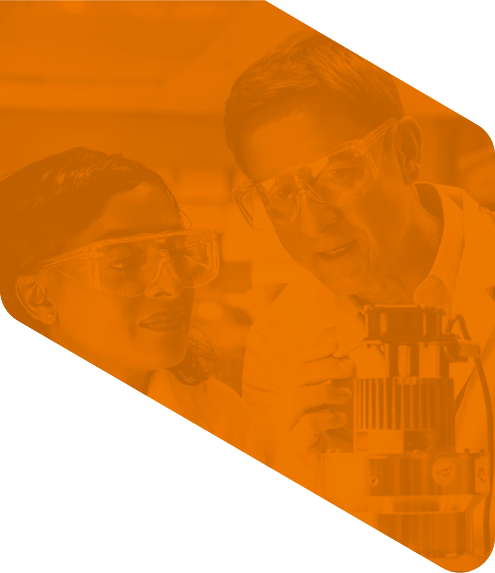 Have a question?
Please select one of the choices below as the reason for contacting us:

*
Ask a Question or Request a Quote
SDS Request