BioEstolide™ is a revolutionary new bio-based emollient that offers enhanced stability, exceptional moisturization characteristics and a light, satiny feel. BioEstolides™ bridge the gap between sustainability and performance providing the personal care market a safe non-toxic product that is made from natural oils, gentle on the skin, biodegradable and yet still offers enhanced oxidative and thermal stability. That allows BioEstolides™ to significantly outlast other products without the need for preservatives.
.
Innovative technology, exceptional results
Biosynthetic Technologies' flexible chemistry allows for the products to be specifically designed to meet a wide range of formulation requirements and can be customized if needed. The estolide is made by linking natural fatty acids together to form stable oligomers. The fatty acids can come from almost any natural oil source. In this instance the BioEstolides™ are formed using fatty acids from castor oil. This unique estolide structure provides the product enhanced unique protection from oxidation or thermal degradation so it does not easily go rancid or break down over time. BioEstolides™ also deliver superior oxidative stability and hydrolytic stability making them longer lasting with a better shelf life and easier to formulate with in a wide range of personal care applications. BioEstolides™ are a non-GMO and cruelty free product so no animal testing or products are used in making or testing the product.
BioEstolides™ formulation benefits
The BioEstolides™ line of products offer a range of formulation and consumer benefits applicable to a wide variety of applications.
Moisturization: BioEstolides™ hydrate, soften and smooth the skin surface without leaving an oily residue on the skin
Sensory Enhancer: BioEstolides™ have the advantage of not leaving a greasy residue on the skin and provides a luxurious sensory experience.
Enhanced Oxidative Stability: BioEstolides™ have excellent oxidative stability enhancing the shelf life of the product over other naturally derived oils.
Enhanced Hydrolytic Stability: The chemical structure of BioEstolides™ improves the hydrolytic stability of the product over other naturally derived oils.
Non-Toxic: BioEstolide™ are considered non-toxic and non-comedogenic.
High Refractive Index: BioEstolides™ have a high refractive index enhancing the look of a formulation
Pigment Dispersion: The polar nature of the BioEstolide™ chemistry allows it easily hold pigment
Thickening: BioEstolides™ function as a thickening agent in personal care formulations to enhance the consistency, viscosity and volume of personal care products.
UV Protection: BioEstolide™ has some inherent UV blocking properties to boost UV protection naturally in a formulation.
A wide range of applications for you
BioEstolides™ is widely versatile ingredient that can be used in any of the following applications:
Bath & shower products
Body care
Color cosmetics
Hair shampoo
Hair conditioner
Hair styling
Hair treatment
Hair setting aid
Hair relaxers
Ethnic hair care
Hair dyes
Skin Creams and lotions
Make-up Remover
Baby care
BioEstolides™ Grades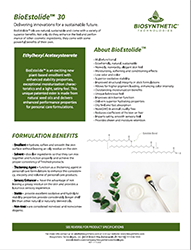 BioEstolide™ 30
Ethylhexyl Acetoxystearate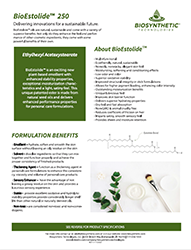 BioEstolide™ 250
Acetyl Ethylhexyl Polyhydroxystearate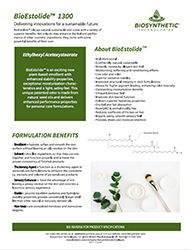 BioEstolide™ 1300
Acetyl Ethylhexyl Polyhydroxystearate
Request a sample or quote