Advancing vital pharmaceutical
ingredients for animal health and wellness
Safeguarding animal health with companion pet and livestock veterinary medicines is important to sustaining global ecosystems and the environment as well as securing public health and safety. Univar Solutions offers a complete line of active pharmaceutical ingredients (APIs), excipients, neutraceuticals and high-purity solvents from a network of global suppliers, along with custom technical solutions, to support the animal health industry. Our vital pharmaceutical ingredient solutions are helping veterinarians, farmers and pet owners keep animals healthy, safe and free from diseases.
Unrivaled distribution, logistics and technical solutions
From formulating to sourcing, our Pharmaceutical team can help you find the right APIs and excipients for your animal health and wellness products. Our logistics expertise includes global sourcing and import capabilities, and our North American distribution network of 70+ FDA-registered facilities is unrivaled, allowing us to provide the ingredients you need, where and when you need them.
Contact Our Team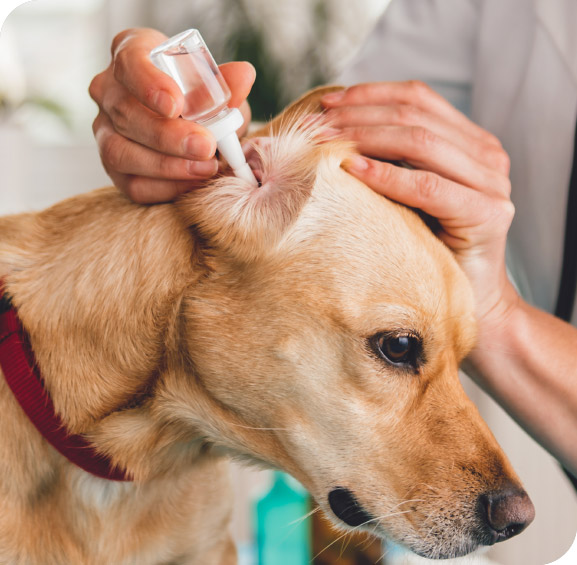 Build your next animal health product with high-purity, quality ingredients
Our comprehensive selection of APIs, excipients, nutraceutical ingredients and high-purity solvents are the building blocks used to finish the following pharmaceutical medicines for commercial use:
Companion Pet Medicines
Antibiotics and anti-infectives

Parasiticides

Antifungals

Steroids

Pain relievers

Vaccines

Dermatology products

Digestive health and nutraceutical supplements

Livestock Medicines
Anticoccidials

Disinfectant

Enzymes

Medicated feed additives

Insecticides

Parasiticides
Beyond supplying quality ingredients, we can also support efforts to bring products to market faster and identify ways to optimize continuous production of:
Generic, bio-similar, name-brand and patented medicines

Oral (liquid, solid, powder), topical, parenteral (injection/shot), nasal, opthalmic, auricular and other administration forms

Prescription Rx and over-the-counter drugs
Meeting consumer demands in growing companion animal and agriculture markets
The animal health industry is growing for both companion pet and farm animal health and wellness. Pharmaceutical ingredients play a critical role
in providing the essential health benefits that help maintain environmental balance in these end markets. Veterinary and agriculture products used to treat animals rely on the safety, availability and quality of their ingredients.
Univar Solutions can deliver pharmaceutical solutions in all major geographic regions, backed by a premier portfolio of ingredients from global suppliers to help the global animal health industry meet the following consumer demands:
Social responsibility for animal welfare: Greater emphasis on promoting health and quality of life for both pets and livestock/farm animals
Growing appetite for animal protein: More treatments available for all species contributing to our food chain, including fish, to feed rising demand for animal protein
Univar Solutions has the APIs and excipients pharmaceutical manufacturers of all sizes require to produce high-quality and reliable end products. Whether you operate on a global or regional level, we can provide comprehensive logistics, technical and regulatory support depending on your animal health industry needs.
View our line of APIs and excipients
(English)
View our line of APIs and excipients
(Français)
Solutions for your audit requirements:
Excipient Supplier Audit Library
We understand that excipient supplier audits can be costly and time-consuming for drug and nutritional supplement manufacturers. We created our Excipient Supplier Audit Library to help you navigate the complexities of the supplier excipient auditing process. We deliver audit reports using the IPEC/PQG GMP Guide for pharmaceutical excipients, the broadest excipient portfolio from industry-leading producers.
(English)
Call us for more
information 855-888-8648

Research the ingredients you need for your veterinary products
Univar Solutions can guide you through the ingredient research, development and production process of name-brand, off-patent and generic drugs. From the latest APIs used to treat common and rare diseases to the list of excipients used in oral capsules, chews, injections or topicals, we are your single-stop solutions provider for quality, high-purity pharmaceutical ingredients.
Let us help you build your next animal health product. Start by viewing a list of the latest name-brand veterinary products coming off patent in the next 5 years.
Download Veterinary Medicine List
(English)
Download Veterinary Medicine List
(Français)