Pharmaceutical Formulation Lab Services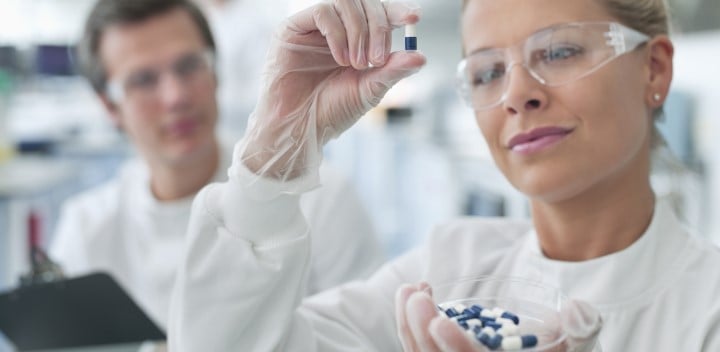 Blazing a trail in pharma innovation can seem like a race against the clock, especially during new drug development and performance testing phases.
From uncovering the latest innovations in specialty excipients to staying informed of ingredient combinations proven to deliver optimal function and performance, breakthroughs in any go-to-market journey depend on high-quality pharmaceutical ingredients and partnerships that are conducive to success. With the right collaborator for specialty lab services, the journey of taking new products to market is easier and faster than ever before.
Univar Solutions offers an extensive range of capabilities through our technical lab services, which focus on quality, stability, and regulatory compliance to help you discover new formulation solutions – at every stage of the product life cycle.
Pharma technical lab services
Chemists, biotechnologists, scientists, and technical experts around the globe lead our pharmaceutical labs, which facilitate formulation and specification development, overcome obstacles, and carry out a battery of application tests.
Univar Solutions' labs provide services you might not have internally or the capacity to perform within your facilities, including specialized analytical and comparative testing solutions. From individual ingredient analysis to complete ground zero formulation development, we have the lab expertise and proficiency to help your fully realized product reach the marketplace.
Types of pharmaceutical formulation lab services
Whether aiming for a particular characteristic in your drug delivery dosage form or evaluating a new formulation to meet updated regulatory standards, Univar Solutions can support you with a range of specialty lab services for the following:
Chemical characterization and analysis


Pre-formulation, formulation, and specification development for various dosage forms such as (but not limited to):

Topicals/Semi-solids (Creams, Gels, Ointments)
Capsules (Powder-filled, Liquid-filled)
Liquids (Suspensions, Solutions, Sprays)
Solids (Tablets, Orally Disintegrating Tablets)

Sample and prototype batch development
Benchtop batch capabilities
Scale-up technical support with machinery and processes
Raw material recommendation and evaluation for enhanced performance
Raw material sourcing and product testing to match benchmarks and regulations
Physical product analysis, including:

pH
Appearance/color/odor
Color analysis
Hardness
Viscosity/rheology

Lab performance and application testing
Does your drug dissolve at the required rate? Are you concerned that an excipient may impact a drug's potency? Are your products compatible with packaging?
Our global network of solutions centers optimize performance by providing performance and application testing such as:
QC method development and testing (following USP specifications) for dissolution, disintegration and weight variation
Particle size analysis
Potency and assay
Product packaging compatibility
Supporting your formulation journey at every step
Univar Solutions understands the importance of pharmaceutical formulation, the swift pace of innovation, and the demands to keep pace with enhanced regulations. Count on our team of chemists, scientists, and technical leaders for lab support at every stage as you embark on new market opportunities.
Making the Medical Grade: Innovations for topical treatment applications
Pharmaceutical Ingredients Lab Services Brochure