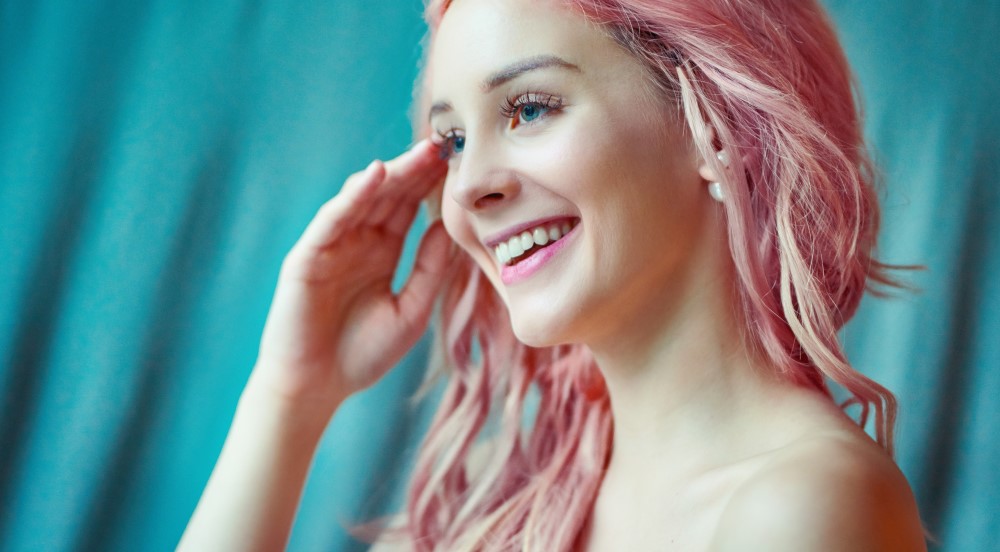 See life in color!
Consumer attitudes are shifting quickly as they are looking to have more fun with their hair, helping to move past the stress of global woes and resume life, assuming who they truly are.
At Univar Solutions we've got you covered if you're looking to stay current with the best formulations optimized for color protection. Give your consumers a protective product range adapted to their both natural and colored hair and they'll thank you! Be savvy, keep your finger on the pulse and discover the full portfolio here.
---
Ingredient Solutions for Colored Hair Protection
Discover our ingredient solutions and formulation ideas and gain inspiration for your next emulsion development.
Clean and protect your colored hair with Sulfate-free shampoo
Revitalize and protect your colored hair with cleaning conditioner
Embellish your color improving shine with leave-on
Need a bit of inspiration? You can also explore our prototype formulations
---
Clean and protect your colored hair with Sulfate free shampoo
Sulfate-free & Mild Surfactant
The AKYPO® products are Ether Carboxylic Acids (EC) or their salts. They have been used in Personal Care products for many years because of their mildness to skin and eyes, good eco-toxicity properties, and excellent compatibility with all kinds of surfactants – including cationic-type surfactants and specific additives such as cationic polymers in shampoos and bath gels.
AKYPO®, especially AKYPO® FOAM RL40 by Kao Corporation, are a good choice in the preparation of sulfate-free products, because they offer an excellent balance between foam and mildness properties, and it is sulfate-free solution easy to thick if we choose righ thickener.
In shampoos, AKYPO® protects the color of dyed hair, reducing color fading that occurs during the washing process.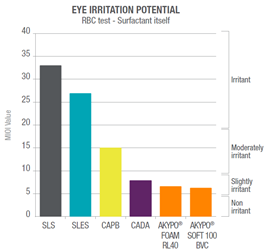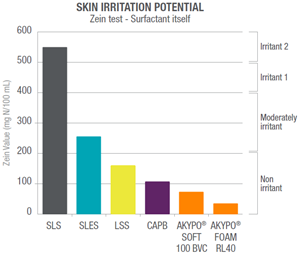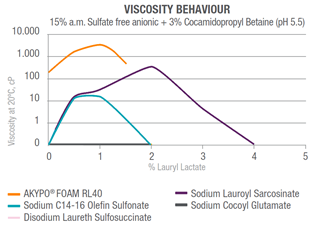 ---
Sulfate-free and Ethoxylate-free Surfactant
Poly Suga®Nate 160P NC by Colonial Chemical is a sulfonated surfactant polymer based on high molecular weight alkyl polyglucoside polymers.
Naturally derived, high-performance surfactant that provides numerous advantages for a variety of formulations.
Extremely mild to both eyes and skin compared to traditional anionic primary personal care surfactants.
Poly Suga®Nate 160P NC prevented discoloration more than not only general anionic surfactants, but also amphoteric surfactants.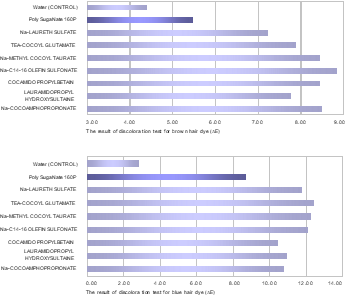 Poly Suga®Nate 160P NC is easy to thick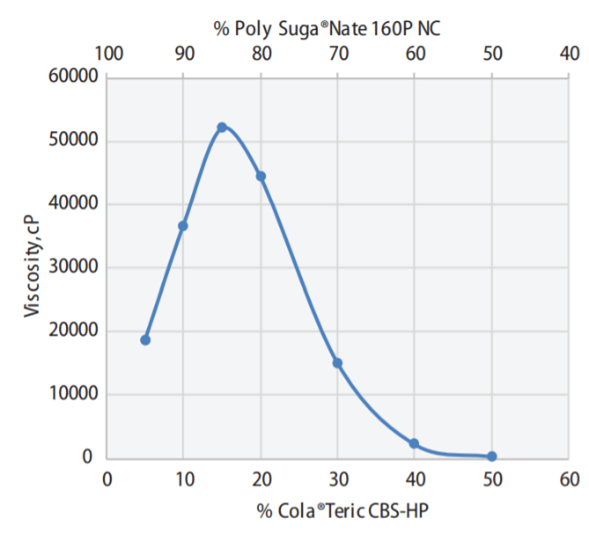 ---
Betaine-free surfactant
BETADET® S-20 by Kao Corporation are recommended as secondary surfactants for very mild and high foaming products, achieving higher foam volumes than alkyl betaines or alkyl amidopropyl betaines even in presence of sebum.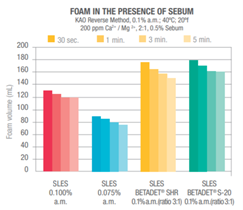 ---
Eco-friendly conditioning surfactant for hair care products
In hair conditioners, AMIDET® APA-22 by Kao Chemical Europe works as a cationic surfactant. Moreover, AMIDET® APA-22 can be incorporated as a non-ionic surfactant, working as a conditioning and color protection agent in 2-in-1 shampoos and can replace cationic polymer as combing agent
This multifunctional and high-performance profile, together with good biodegradation and low aquatic toxicity compared to currently used cationic surfactants, make AMIDET® APA-22 a very interesting eco-friendly alternative for the hair care market.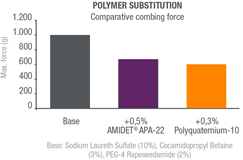 AKYPO® FOAM RL40, BETADET® S-20 & AMIDET® APA-22 a proven solution to clean and protect your colored hair with C-220 you can discover in formulation corner.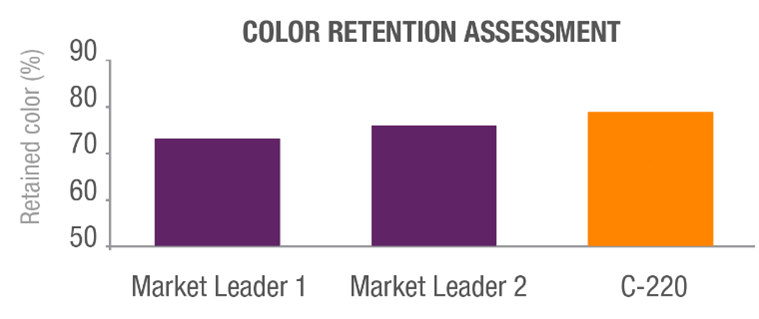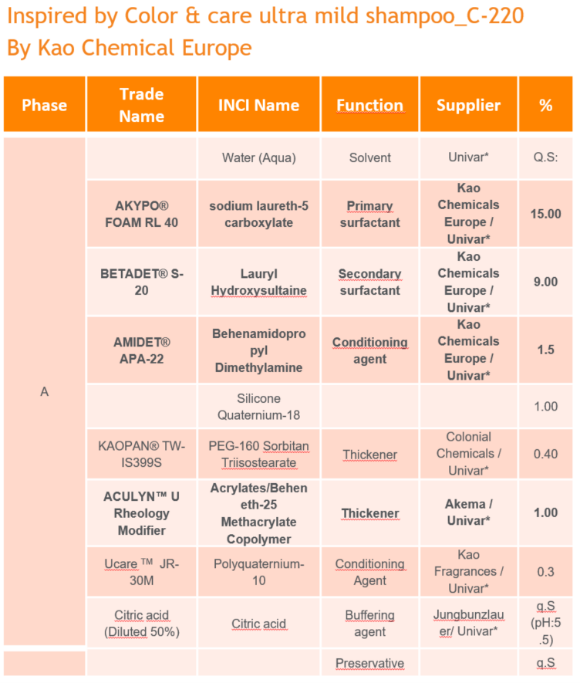 ---
How to meet consumers' cleansing and conditioning needs?
HydroxySHIELD™ Polymer by Dow is a novel hydroxy functional amino polymer that can create next generation formulations to meet consumers' cleansing and conditioning needs, providing a SHIELD of multi-functional benefits for hair from heat and color protection to hair breakage reduction, delivering healthy hair that is improved with each step of your hair care routine.
Multifunctional benefits to boost "consumer differentiating claims":
Improved hair alignment – "Healthy appearance"
Reduces hair breakage – "Hair protection"
Enhances sensory – "Smooth feeling"
Convenience – "Fast drying"
Accessibility – "Easy styling"
Delays color fadeaway – "Color protection"
Reduced breakage from heat appliances – "Heat protection"
HydroxySHIELD ™ Polymer provides long lasting color for up to 24 washes in comparison to the control.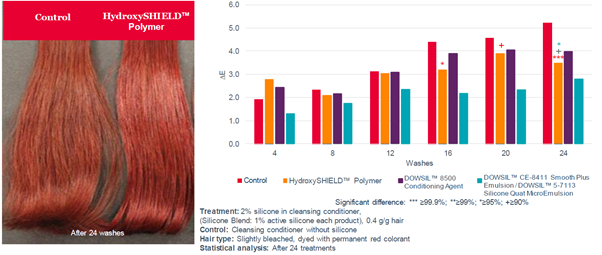 ---
Unique Sensorial Benefits, United
ACULYN TM U Rheology Modifier by Dow is a sulfate-free hydrophobically modified alkali soluble polymer emulsion (HASE). It is a cold processable thickener and effective as a polymeric emulsifier. It has a shear thinning, an ability to form bouncy and memory shape texture but with higher solids percentage, higher thickening efficiency and higher salt tolerance compared to standard benchmark.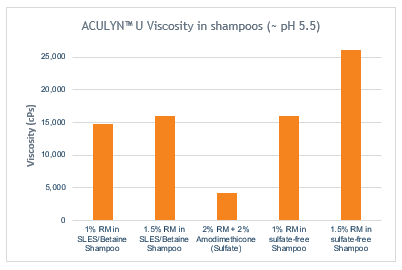 ---
Embellish your color improving shine with leave-on
Shine Enhancing Agent
Sensolene®Light ET by Hallstar Beauty is a revolution in the world of functional ingredients, introducing for the first time the concept of an active emollient combining superior emolliency with anti-oxidant benefits, thanks to unique, natural Oleo-eco extraction patented process. In leave-on conditioner, Sensolene®Light ET improves shine, the alignment of fibre and dry combing.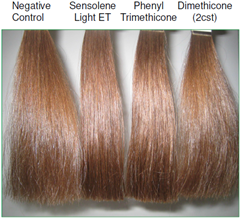 ---
Hair colored protection solutions, formulations to inspire
START FRESH - SCALP EXFOLIATOR
It's true what they say: a happy scalp leads to healthier hair! Upgrade your hair-washing routine by introducing this amazing scalp exfoliator. It will deeply purify the scalp by removing impurities and product build-up, leaving each and every follicle clean and content. Deliciously scented, the presence of essential oils will invigorate and give you a cooling sensation promoting a healthy and refreshed scalp environment.
PURELY VOLUPTUOUS - HAIR CLEANSER
Transforming shampooing the world over. This sulfate-free formula forms a dense, rich and creamy foam upgrading your shower time into a holiday spree. Its incredible texture pleases your senses and rescues you from stress and tension. Your hair is left feeling healthier and shiner, and you are left feeling relieved and graceful.