What is the difference between surfactants of natural origin and those of biological origin?
In the family of surfactants, we find solubilizing, emulsifying, dispersing or foaming agents. In all cases, they allow to reduce the energy necessary to create a surface between two materials having the same state or not (liquid, gas, solid). It is a molecule with a hydrophilic and lipophilic part that helps to dissolve substances that are not very soluble in a solvent, such as a perfume or an essential oil, in a water-based formulation, as a solubilizer, or that allows a drop of liquid to be dispersed and stabilized in another non-miscible liquid, as an emulsifier.
Naturally-derived surfactant is composed of hydrophilic part derived from sugar (cane or beet) like EcoSenseTM serie, amino acid like glutamate or combination of choline, phosphate and glycerol like lecithin and Emultop™ Velvet IP or Cola®Fax CPE-K MB and lipophilic part generally derived from fatty acid of vegetable oil. They are obtained by chemical reaction.
Biosurfactant like EcoSenseTM GL-60 serie are obtained by bio-fermentation involving bacteria, yeasts, and filamentous fungi. They transform basic substrate like sugar, fatty acid in complex raw material thanks to their metabolism.
Cola®Fax CPE-K MB by Colonial
Cola®Fax CPE-K MB is a naturally derived, excellent water-soluble O/W emulsifier and emulsion stabilizer. It can be used as the primary emulsifier, combining with low HLB co-emulsifiers to achieve highly stable emulsions. Cola®Fax CPE-K MB is easily dissolved into the hot water phase during emulsion processing. Cola®Fax CPE-K MB, at low use concentrates, will enhance the stability of any emulsion and at higher concentrations will aid in building viscosity of creams and lotions. It can replace Stearic acid salts in most preparations. Cola®Fax CPE-K MB is ideally suited for use in many dermatological and personal care products providing a silky powdery after feeling. Cola®Fax CPE-K MB is completely non-irritating to skin.
Characteristics:
INCI Name: Potassium Cetyl Phosphate
Appearance: White Powder
Solid: 100%
Natural Origin index: 1.00 (In accordance with ISO 16128 guideline)
Cosmos approved
Applications:
Skin Care

Facial care
Body care
Baby care
Sun care
Perfumes & Fragrances

Pre and after shave lotions
Cola®Fax CPE-K MB Benefits:
Emulsion stabilizer
Easy to formulate, soluble in hot water
Can be substituted for polyacrylate-type polymers with improved feel
Physically easier to use than polyacrylates
Good rub out and after-feel
Doesn't inhibit quick-break emulsions
Can be used as primary emulsifier
Excellent performance at normal skin pH
No potassium chloride by-product
Viscosity Response
Figure 1 demonstrates the effect Cola®Fax CPEK MB has on emulsion viscosity. Cola®Fax CPE-K MB will effectively increase viscosity and aid in the stabilization of the emulsion system. Formulations containing Cola®Fax CPE-K MB will display enhanced shear, heat and freeze-thaw stability. Cola®Fax CPE-K MB will also enhance the glossy appearance of cosmetic creams.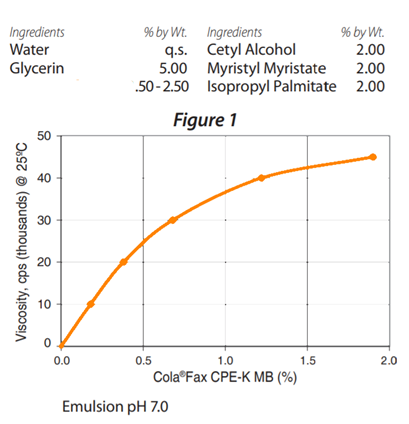 Figure 1: Viscosity response