Bio-fermentation: a way to explore efficient and eco-conscious cosmetic ingredients
Bio-fermentation process is one of low carbon foot-print solution. By selecting the right micro-organism and the right substrate the field of possibility is limitless. Lot of actives are coming from bio-fermentation like radiance enhancer, energizer, wrinkle filler but we see more and more complex functional ingredient for playing on the texture to stabilize, texture emulsify or to improve performance like solubilizer, deposition aids. As Univar Solutions, we propose following technology coming from bio fermentation :
DEXCARE™ CD-1 Polymer: A natural formulation to enhance natural beauty
Easily processed cold or hot, this highly effective, biodegradable deposition aid offers unique performance conditioning benefits for shampoos.
Used in combination with benefit agents such as silicones or natural oils, DEXCARE™ CD-1 Polymer allows for increased versatility and improves the natural content of formulations. Always focusing on implementing and protecting natural elements, dextran is made from fermented sucrose and is non-GMO, vegan, REACH compliant and made without animal testing. A natural solution to complement haircare and body wash products.
Characteristics:
| | |
| --- | --- |
| Typical properties | DEXCARE™ CD-1 Polymer |
| INCI Name | Dextran Hydroxypropyltrimonium Chloride |
| Appearance | Clear to light brown liquid |
| Viscosity at 25°C (77°F) | < 2000 Cp |
| Solids | 36–40% |
| pH, 2% solution | 5-7 |
| Nitrogen (on active) | 1.3–1.9% |
| Biodegradability* | Inherent ultimate biodegradability |
* OECD Test Guideline 302B
Benefits:
Consumers benefits
Enhanced dry combing with silicones
Enhanced wet combing with silicones and natural oils
Reduction in friction with silicones
No silicone build-up on hair
Improved sensory benefits with silicones
Formulator benefits
Delivered in water
Ease of processing
Processed cold or hot
Improves natural content in formula
Biodegradable
Highly effective deposition aid
Compatibility with a wide range of surfactants, thickeners, silicones and
natural oils
Allows versatility in formulation chassis
Enhanced combability
DEXCARE™ CD-1 Polymer provides enhanced combing using half the silicone level as cationic guar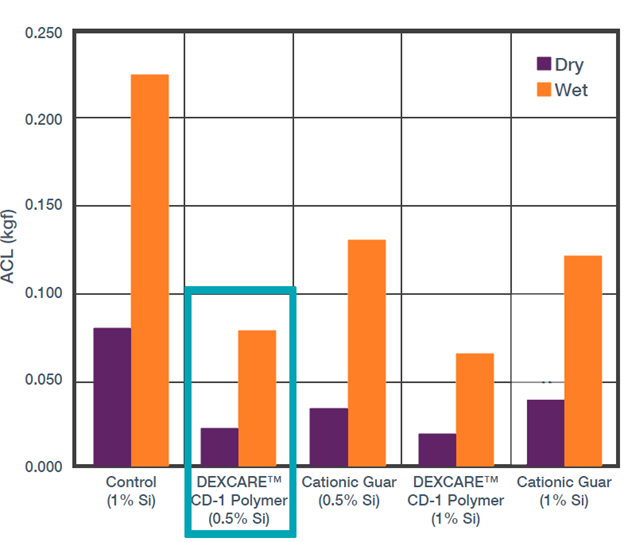 Reduced friction
DEXCARE™ CD-1 Polymer provides similar friction reduction using half the silicone level as cationic guar