Can sensorial experiences lead to a new sense of beauty?

DOWSIL™ 3903 Liquid Satin Blend helps meet the global demand for easy-to-apply products with long-lasting performance – while also delighting consumers with a luxurious sensory experience. With this silicone blend you can create skin care, color cosmetics and hair care formulations that deliver intense lubricity, as well as light, silky smoothness.
Give your customers new levels of luxury and sensorial performance – differentiating your product offerings with a unique combination of benefits and sensorial impressions.
Characteristics:
INCI Name: Isododecane (and) Dimethicone/Vinyl Dimethicone Crosspolymer
Appearance : Clear to translucent, colorless to slight amber
Viscosity : 1.500 Cp
Non-volatile Content : 7-8%
D4/D5/D6 Level (%) : <0,1
Applications:
Skin care
Color cosmetics
Hair care
Body care
Many other potential formulations
DOWSIL™ 3903 Liquid Satin Blend Benefits:
Satin-like feel
Unique rheology and texture
Cold processing
Quick drying carrier fluid
Ability to create clear systems
Listed in the Catalogue of Cosmetic Ingredients Used in China
As a rheology modifier, DOWSIL™ 3903 Liquid Satin Blend increases stringiness for unique textures. Unlike other silicones, it will impart its stringy nature to many formulation types – with intensity increasing with concentration (Figure 1).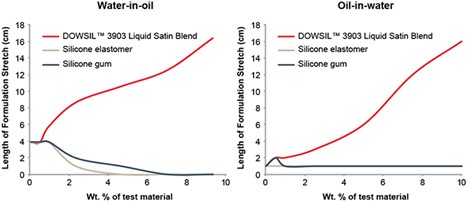 Figure 1
Modified Rheology Graphs