What is a Bio-Surfactant ?
Surfactant family we have solubilizer, emulsifier, dispersant or foaming agents. In all case, they allow to reduce the energy required to create surface between two materials having same state or not (liquid, gaz, solid). It is a molecule with hydrophilic and lipophilic part which help for dissolve poorly soluble substances in a solvent like fragrance or essential oil in water-based formulation as solubilizer or allow to disperse and stabilize drop of liquid in other non-miscible liquid like an emulsifier.
Naturally-derived surfactant is composed of hydrophilic part derived from sugar (can or beet) like EcoSenseTM serie (AlkylPolyGlucoside), amino acid like glutamate or combination of choline, phosphate and glycerol like lecithin and Emultop™ Velvet IP and lipophilic part generally derived from fatty acid of vegetable oil. They are obtained by chemical reaction or extraction.
Biosurfactant like EcoSenseTM GL-60 series (Sophorolipid) are obtained by bio-fermentation involving bacteria, yeasts, and filamentous fungi. They transform basic substrate like sugar, fatty acid in complex raw material thanks to their metabolism.
Sophorolipids: Natural bio-surfactants
Dow offers two Sophorolipids products which are novel and unique bio surfactants.
Sophorolipids belong to the glycolipids (GL) family (Rhamnolipids, Mannosylerythritol lipids). These materials are a mixture of lactonic form + acidic form.
EcoSense ™GL-60 HL/HA Surfactants contain the highest active level among the market products and EcoSense ™GL-60 HA Surfactant has the highest acid sophorolipids among market products.
Characteristics:
Typical properties

EcoSense™
GL-60 HL Surfactant

EcoSense™
GL-60 HA Surfactant
INCI Name

Glycolipids

Appearance
Translucent to clear, amber liquid

Sophorolipids content

50-55%

pH at 0.1%
4 – 5
4.5 - 5.5
HLB
Low
Medium - high
Recommended use level

Rinse-off: 1.0-6.0% (active),

Leave on: 0.5-5.0 %

(Exceptions: body lotion/cream: 3% max; facial lotion/cream: 4% max)

Leave-on: 0.5-5.0 % (active),

Rinse off: 1.0-6.0% (active)
Optimal formulation pH
5.5~7.0
4.0~10.0
Natural origin index (ISO 16128)
>99%
>99%
Degradability
Readily bio-degradable
Readily bio-degradable
Applications:
Rinse-off
Shampoo and body wash

In sulphate
In non sulphate containing

Hand soap
Facial cleanser
Rinse-off conditioner
Leave- on
Micellar water
Serum
Make up remover
Lotion/cream
Gel cream
Wipe
Hair leave-on conditioner
Benefits:
Milder vs. traditional surfactants

Improve mildness in SLES/ CapB * systems
Improved mildness in Amino acid surfactant systems
Can be used for leave-on applications

Compatible with commonly used ingredients
Ability to emulsify oils
Effective solubilization of essential oils/fragrances
Easy to handle, cold processable
Highly concentrated
Two products that provide flexibility of optimal blend
Low foaming impact

Doesn't compromise foaming formulations as co surfactants
Foaming can be improved by combination with Amino acid surfactants
Sustainability :
Low carbon footprint process
Low aquatic toxicity
Readily biodegradable
100% Bio-based (USDA certified)
Made from Canola oil & sugar
Does not contain EO and 1,4 dioxane
No intentionally added sulfate
Vegan
Non-GMO
Potential Sustainable claims: Ecocert, Leaping Bunny
Improve mildness in non-sulfate containing systems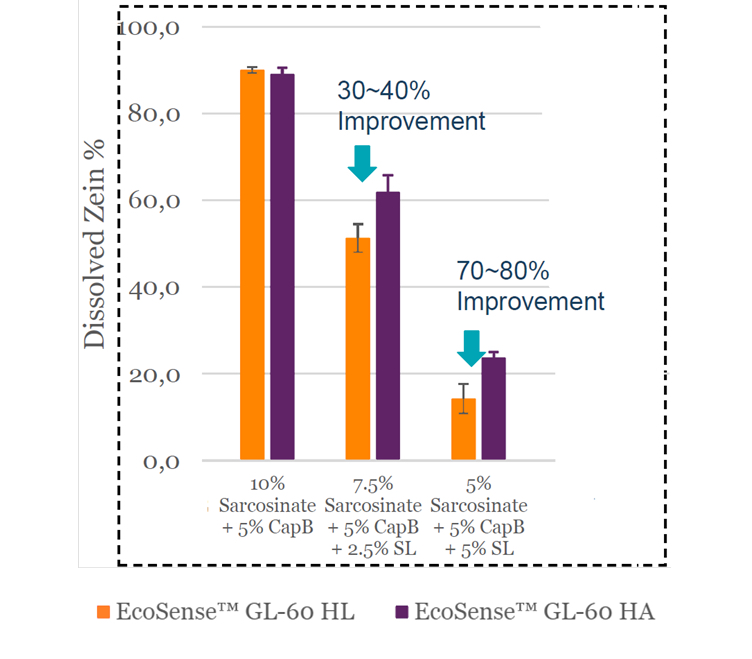 Cold processable natural emulsifier