Today's conscious consumers are looking for simpler food options with fewer artificial ingredients, less sugar and cleaner labels.
In baked goods, that includes a healthier approach to creating well-known staples such as breads and pastries that are gluten-free, organic or made with ancient grains. At the same time, consumers want similar sensory qualities that traditional bakery recipes offer for a familiar taste, texture and appearance.

Enzymatic solutions for baking offer an alternative to help formulators meet the demand for more sustainable and healthier ingredients.
To support brands in gaining a competitive advantage with sustainability, health and wellness claims, Univar Solutions is the exclusive distributor of Novozymes' global portfolio of enzymes. Learn more about how these naturally occurring and sustainable process aids provide a healthy alternative for industrial baking and snack production.
Industrial baking solutions:
Healthier processing, better textures
Enzymatic solutions from Novozymes are effective for improving the baking process without compromising on flavor and familiarity in sensorial properties. From traditional staples like bread loaves to pastas, consumers are seeking simpler, more natural alternatives for bakery items that address their health and food safety concerns.
Derived from nature and using the power of biology, enzymes can help improve formulations for food and beverage production. Enzymatic solutions offer eco-friendly benefits that boost the overall quality, integrity and preservation of industrial baking for better end products with sustainability in mind.
4 ways to innovate with enzymes
In baking applications, enzymes are beneficial process aids used to:
Reduce acrylamide – a potentially harmful and naturally occurring formation that occurs when frying or baking at high heat with low moisture, such as in chip/snack production

Extend the shelf life of your naturally preserved clean label foods

Condition and strengthen dough for higher quality baked goods

Improve appearance and consistency
Distributing in the U.S. and Canada. Also serving Europe, the Middle East and Africa (EMEA) and Latin America regions.
Have a question?
Please select one of the choices below as the reason for contacting us:

*
Ask a Question or Request a Quote
SDS Request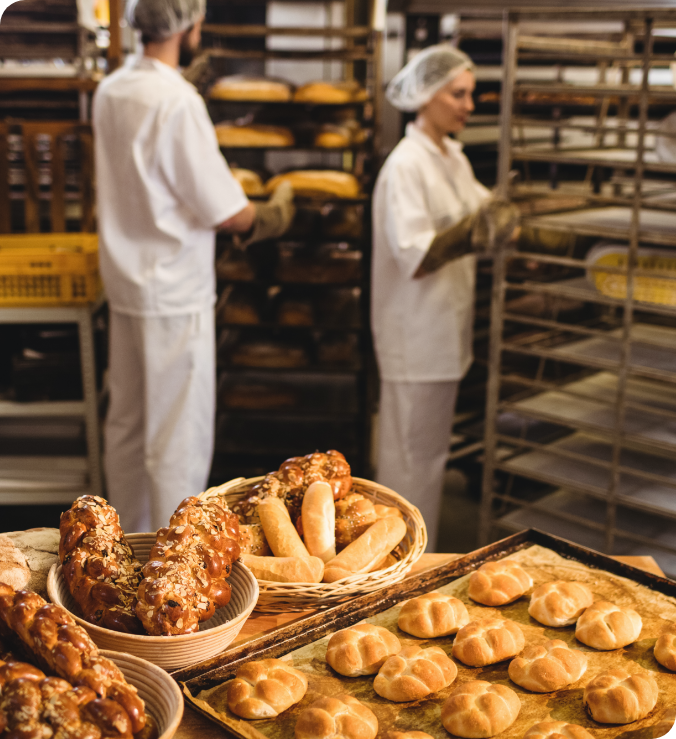 Enzymes for healthier, safer baking processes
Both the EU and the USFDA warn of acrylamide's possible carcinogenic effects. Novozymes' enzymes are natural solutions to consider for healthier baking with less acrylamide. Acrylaway® enzymes cut down on acrylamide content in baked goods and other foods by up to 95%. That's good news for food manufacturers and consumers who are focused on food safety. For consumers, this means the same delicious taste, texture, flavor and smell without the risk of acrylamide. For manufacturers, an enzymatic solution in your formula helps you stay compliant with regulations addressing acrylamide.

Fresh-keeping:
Nature's formula to extend shelf life
What causes bread to go stale, and how can enzymes slow down this process and reduce unwanted food waste? Consumer surveys show that moistness in baked goods is highly valued, with consumers more likely to throw out bread if it doesn't maintain its elasticity due to dryness. To meet consumer demands for fresher, healthier, quality foods and still maintain desirable bakery textures, Novozymes offers sustainable enzymatic solutions that are proven to extend the shelf life of baked products.
Need a formula to make bread stay fresher, longer?
Watch how baking freshness enzymes work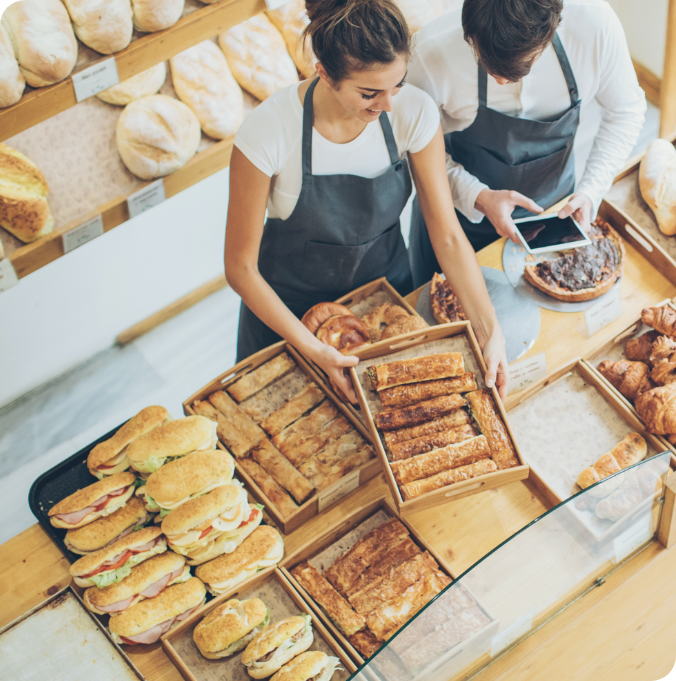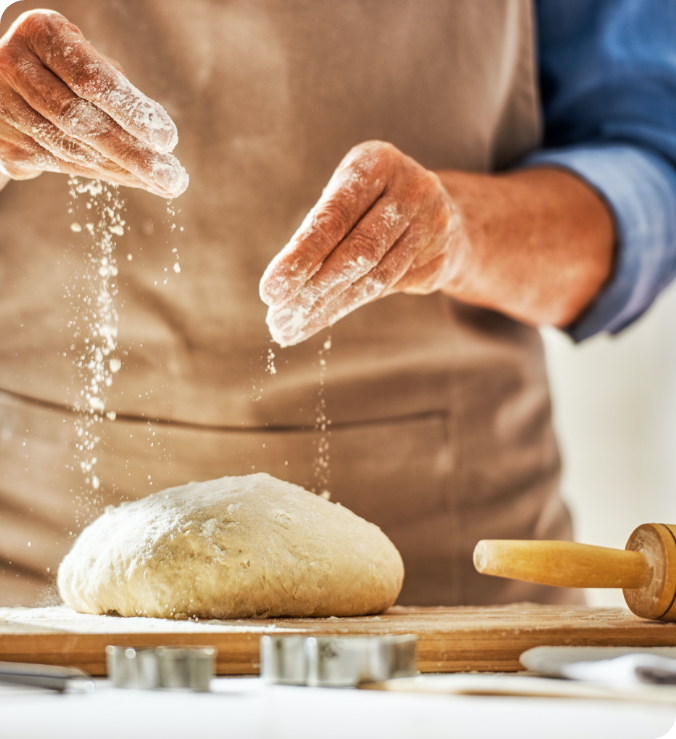 Yield a better bread: Dough strengthening
Strong, stable dough is a basic requirement in industrial baking. Enzymes not only support fresh keeping, they help create optimal dough machinability, contributing to higher quality bakery products. Enzymes are also used for dough strengthening, an important part of making high-quality bread improvers. In breadmaking, a strong gluten network is needed for gas retention during proofing to support the development of good bread volume and oven spring—and to withstand mechanical stress during dough handling. Yield a better bread with Novozymes and explore more product benefits below.

Improve bakery product appearance and consistency
In biscuits, crackers, wafers and cookies, consumers look for a consistent shape. By weakening gluten, baking enzymes let producers use a wider variety of flours and improve dough properties as well as sensory attributes. Enzymes let producers improve weaknesses such as brittle consistency, uneven shape and imprinting for better results and better end products. They also contribute to increased volume, better crumb structure and product uniformity.
The benefits behind baking with enzymes
Reducing acrylamide for healthier baking

Improving appearance and consistency

Dough strengthening and conditioning

Flour correction

Freshness: ensuring softness, elasticity and moistness

Gluten strengthening
Fresh-keeping Enzyme Advice - with SmartBake® online tool