A natural liquid EO-free thickener derived from renewable sources and Organic UV filter solubilizer: 100% natural & 100% effective

EXCEPARL® LM-LC is a 100% active, biodegradable, clear, odorless and colorless liquid, which is easy to handle, and can be processed at room temperature.
Additionally, EXCEPARL® LM-LC is a mild product with some emollient and conditioning properties for skin and hair due to its hydrophobic characteristics, and with no detrimental effect on the foaming behavior of the formulations. Due to its chemical nature, EXCEPARL® LM-LC is a good choice for many PEG and/or Sulfate-free rinse-off formulations.
The addition of EXCEPARL® LM-LC to a final formulation allows a reduction in the percentage of sodium chloride (NaCl) necessary to achieve a desired viscosity. The balance between EXCEPARL® LM-LC and NaCl can be easily adjusted depending on the composition. EXCEPARL® LM-LC shows excellent thickening properties, outperforming other commonly used thickeners such as Cocamide DEA, the most widely used thickener, or Laureth-4. A smaller amount of it is required.
Characteristics:
INCI Name: Lauryl Lactate
Appearance : clear, odourless and colourless liquid
Biodegradable
Vegetable Origin
Mild & Safe Product
High Concentration
PEG-, Nitrogen- & Salt-Free
Solvent-Free
Applications:
Semi-permanent tattoos and color cosmetics
Color cosmetics and skin care products:
Face care
Premium body care
EXCEPARL® LM-LC benefits:
Thickening ability for sulfate and sulfate-free surfactant system
Shear thinning flow behaviour
Viscosity stabilizer in wide range of pH and temperatures
Excellent organic UV filter solubilizer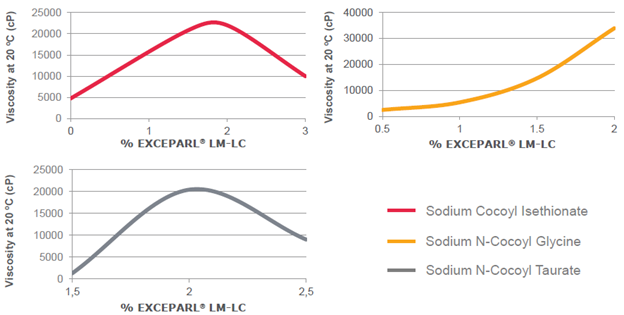 DHHB: Diethylamino Hydroxybenzoyl Hexyl Benzoate
BEMT: Bis-Ethylhexyloxyphenol Methoxyphenyl Triazine
Avobenzone: Butyl Methoxydibenzoylmethane