We

have extensive knowledge o

f

the components that form lubric

ants

to determine the precise behavior of grease you are looking for.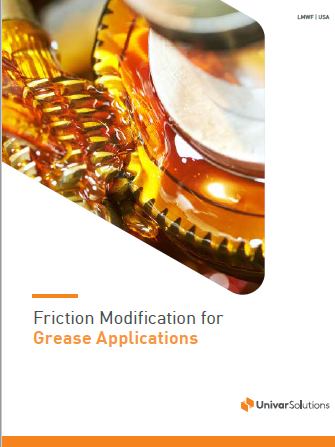 Friction Modification for Grease Application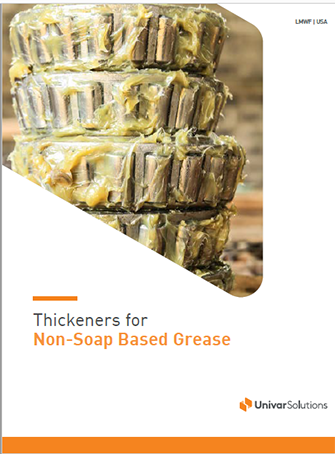 Thickeners for Non-Soap Based Grease
If you are formulating greases for power generation, automotive, heavy equipment, food & beverage, or chemical manufacturing, Univar Solutions offers a broad range of products to meet your formulation challenges. With key product offerings for soap and non-soap based greases, let us decrease the complexity of your grease component supply.
Base Oils
Mineral Oils (paraffinic, naphthenic) Drakeol® Duoprime® Parol® Hynap®
Polyalphaolefin (PAO) DURASYN® RB Products
Di-esters Lexolube® Lubricit™
Phosphate Esters Lubrhophos® Duraphos® Rhodafac® Phosphetal™
PolyAlkylene Glycol UCON™
Silicones Xiameter™
Fluorinated silicone Dowsil™
Fluorocarbon (PFPE)
Thickeners
+ Soap Based Grease Thickeners
Metals: Lithium hydroxide, Calcium hydroxide, Calcium carbonate ViCALity ALBAFIL® ALBAGLOS® ALBACAR®, Aluminum hydroxide, Trioxyaluminum triisopropoxide, Aluminum isopropoxide, Barium hydroxide, Sodium hydroxide
Long Chain Fatty Acids: Benzoic acid, Stearic acid, other long chain fatty acids (OLEO and KRATON) Sylfat® Sylvatal® UNIDYME™
Complexing agent: Boric acid, Azelic acid, Adipic acid, other dimer acids (OLEO and Kraton) Sylfat® Sylvatal® UNIDYME™
Non-aqueous Promoters/Converters: Propylene glycol, Hexylene glycol
+ Non-Soap Based Grease Thickeners
Poly-urea: Reaction product of a diisocyanate with monoamines and/or diamines. ISONATE™
Organophilic clay: Bentonite, Hectorite
Calcium sulfonate:
Other: Other non-soap greases include Teflon (PTFE) NanoFLON® Fluoro®, polyethylene (PE), mica, carbon, graphite, and silica gel, fumed silica Cab-o-sil®
Additives
| | |
| --- | --- |
| Function | Chemistries |
| Anti-oxidants | Zinc dialkydithiophosphates (ZDDP) (secondary), aminic, phenolic, phosphite Doverphos®, Ethanox® |
| Anti-wear (AW) and Extreme Pressure (EP) Additives | Triarylphosphates, Zinc Dialkydithiophosphates (ZDDP), Dithiocarbamates, Phosphate esters, Sulfurized fatty acids/olefins/hydrocarbons, Polysulfides, Molybdenum disulfide, Graphite, Precipitated calcium carbonate (PCC) Lubrophos® Duraphos® |
| Friction Modifiers | Molybdenum Disulfide, Graphite, Polytetrafluoroethylene (PTFE) NanoFLON® |
| Rust/Corrosion/Metal Deactivation | Sulfonates (calcium, barium, lithium, magnesium, amine salts), Naphthenates, Carboxylic acid derivatives, Triazoles Wintrol® |
| Corrosion Inhibitors | Overbased and neutral Calcium sulfonates, Barium sulfonate, Sodium petroleum sulfonate, Imidazolines, Amine phosphates, Amine sulfonates, Alkenylsuccinimides, Oleoyl sarcosine SACI®, Chevron Oronite, ISOCARB® |
| Metal Deactivators | Triazoles, Mercaptothiadiazoles Wintrol® |
| Seal Swell Agents | Di-esters Lexolube® Lubricit® |
| Viscosity Modifiers | Polyisobutylene (PIB) |
| Tackiness Additives | Polyisobutylenes (PIB) |
Additional Resources
Specialty Lab Services
Request Technical Assistance