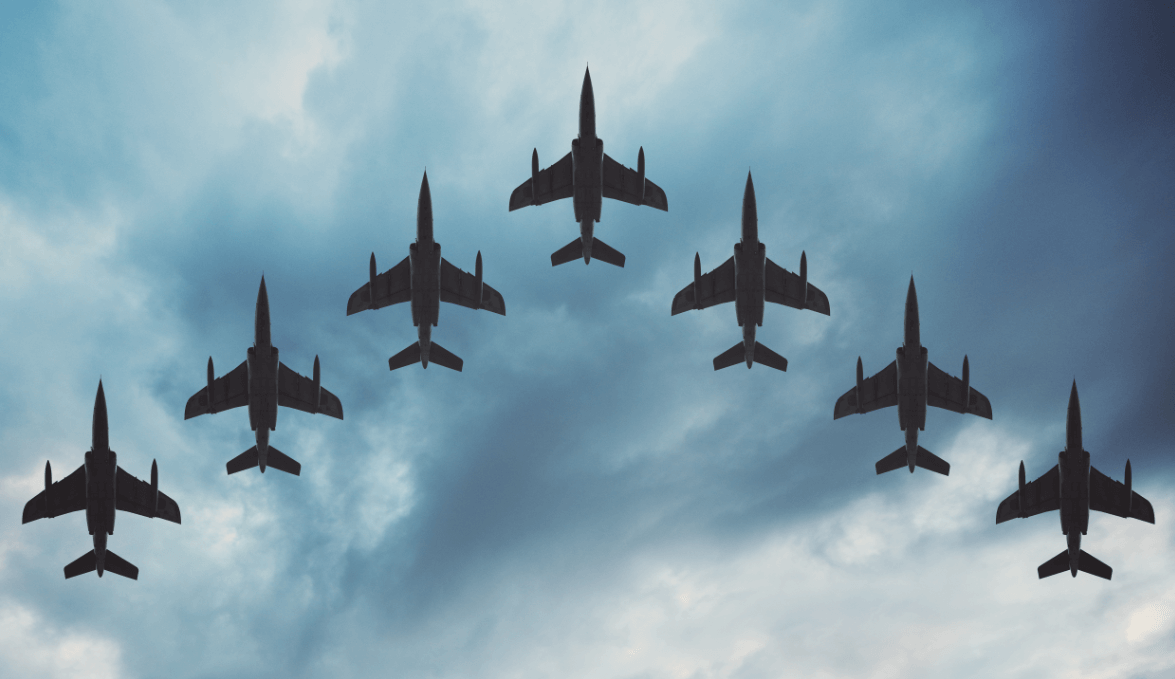 Find the MIL-SPEC chemicals you need
Univar Solutions is a major supplier, repacker, and distributor for military-specification (mil-spec) chemical products for the U.S. Government, aerospace market, and overseas governments (export).
Contact Us
As an experienced mil-spec supplier, we are on the Qualified Products List (QPL) for numerous products under the Arpol brand, as well as authorized repackers for such suppliers as Shell, Lanxess, Castrol, and more.
We have our own onsite lab at our manufacturing facility in Conroe, Texas, and test to the required military specifications to ensure the products you receive are of the highest quality. All our products come with appropriate documentation certifying that the designated requirements are met (i.e., Certificates of Analysis and Certificates of Conformance).
We provide numerous products under the Federal Supply Classes (FSCs) below:
6810 – Chemicals
6850 – Miscellaneous Chemical Specialties
8010 – Paint, Dopes, Varnishes, and Related Products
9150 – Oil and Grease: Cutting, Lubricating, and Hydraulic
Search our MIL-SPEC chemicals
| | | | | | |
| --- | --- | --- | --- | --- | --- |
| Generic | Product Specification | Item Description | NSN | Package | Select |
| A-A-3007 | A-A-3007 | Thinner: For Phenol-Formaldehyde And Medium Oil And STYrenated Alkyd Paints And Varnishes | | Bulk | |
| A-A-3007 | A-A-3008 | Thinner: For Phenol-Formaldehyde And Medium Oil And STYrenated Alkyd Paints And Varnishes | 8010-01-441-5955 | Drum | |
| A-A-59199 Type I | A-A-59199 | Cleaning Compound, Optical Lens | | Bulk | |
| A-A-59199 Type I | A-A-59199 | Cleaning Compound, Optical Lens | 6850-00-227-1887 | 1 Quart | |
| A-A-59230 | A-A-59230 | Fluid, Magnetic Particle Inspection, Suspension | 6850-01-196-5472 | 5 Gallon Pail | |
| A-A-59231 Type 1 MEA | A-A-59231 TYPE 1 MEA | Ethanolamines (Monoethanolamine And Triethanolamine) | 6810-00-922-0866 | 5 Gallon Pail | |
| A-A-59231 Type 1 MEA | A-A-59231 TYPE 1 MEA | Ethanolamines (Monoethanolamine And Triethanolamine) | 6810-00-270-6207 | Drum | |
| A-A-59281 Type I | A-A-59281 TYPE I | Cleaning Compound, Solvent Mixtures | | Bulk | |
| A-A-59281 Type I | A-A-59281 TYPE I | Cleaning Compound, Solvent Mixtures | 6850-00-538-0929 | 1 Gallon | |
| A-A-59281 Type I | A-A-59281 TYPE I | Cleaning Compound, Solvent Mixtures | 6850-00-538-0929 | 1 Gallon | |
| A-A-59281 Type I | A-A-59281 TYPE I | Cleaning Compound, Solvent Mixtures | 6850-00-611-7993 | 1 Pint | |
| A-A-59281 Type I | A-A-59281 TYPE I | Cleaning Compound, Solvent Mixtures | 6850-01-016-3482 | Drum | |
| A-A-59281 Type II | A-A-59281 TYPE II | Cleaning Compound, Solvent Mixtures | | Bulk | |
| A-A-59281 Type II | A-A-59281 TYPE II | Cleaning Compound, Solvent Mixtures | 6850-01-383-2377 | 5 Gallon Pail | |
| A-A-59281 Type II | A-A-59281 TYPE II | Cleaning Compound, Solvent Mixtures | 6850-01-383-2117 | 1 Gallon | |
| A-A-59290 | A-A-59290 | Hydraulic Fluid, Arresting Gear | | Bulk | |
| A-A-59290 | A-A-59290 | Hydraulic Fluid, Arresting Gear | 9150-00-224-8729 | 5 Gallon Pail | |
| A-A-59290 | A-A-59290 | Hydraulic Fluid, Arresting Gear | 9150-00-243-1987 | Drum | |
| A-A-59601 Type I | A-A-59601 TYPE I | Dry Cleaning And Degreasing Solvent, Pd 680 | | Bulk | |
| A-A-59601 Type I | A-A-59601 TYPE I | Dry Cleaning And Degreasing Solvent, Pd 680 | 6850-00-264-9038 | 5 Gallon Pail | |
| A-A-59601 Type I | A-A-59601 TYPE I | Dry Cleaning And Degreasing Solvent, Pd 680 | 6850-00-285-8012 | Drum | |
| A-A-59601 Type I | A-A-59601 TYPE I | Dry Cleaning And Degreasing Solvent, Pd 680 | 6850-00-281-3061 | 4 Fluid Oz | |
| A-A-59601 Type I | A-A-59601 TYPE I | Dry Cleaning And Degreasing Solvent, Pd 680 | 6850-00-281-1985 | 1 Gallon | |
| A-A-59601 Type I | A-A-59601 TYPE I | Dry Cleaning And Degreasing Solvent, Pd 680 | 6850-00-281-1985 | 1 Gallon | |
| A-A-59601 Type II | A-A-59601 TYPE II | Dry Cleaning And Degreasing Solvent, Pd 680 | 6850-00-637-6135 | Bulk | |
| A-A-59601 Type II | A-A-59601 TYPE II | Dry Cleaning And Degreasing Solvent, Pd 680 | 6850-00-285-8011 | Drum | |
| A-A-59601 Type II | A-A-59601 TYPE II | Dry Cleaning And Degreasing Solvent, Pd 680 | 6850-00-274-5421 | 5 Gallon Pail | |
| A-A-59601 Type II | A-A-59601 TYPE II | Dry Cleaning And Degreasing Solvent, Pd 680 | 6850-00-110-4498 | 1 Pint | |
| A-A-59601 Type II | A-A-59601 TYPE II | Dry Cleaning And Degreasing Solvent, Pd 680 | | 1 Gallon | |
| A-A-59601 Type III | A-A-59601 TYPE III | Dry Cleaning And Degreasing Solvent, Pd 680 | | Bulk | |
| A-A-59601 Type III | A-A-59601 TYPE III | Dry Cleaning And Degreasing Solvent, Pd 680 | 6850-01-331-3349 | 5 Gallon Pail | |
| A-A-59601 Type III | A-A-59601 TYPE III | Dry Cleaning And Degreasing Solvent, Pd 680 | 6850-01-331-3350 | Drum | |
| A-A-59601 Type III | A-A-59601 TYPE III | Dry Cleaning And Degreasing Solvent, Pd 680 | 6850-01-377-1811 | 1 Pint | |
| A-A-59601 Type III | A-A-59601 TYPE III | Dry Cleaning And Degreasing Solvent, Pd 680 | 6850-01-377-1808 | 1 Quart | |
| A-A-59601 Type III | A-A-59601 TYPE III | Dry Cleaning And Degreasing Solvent, Pd 680 | 6850-01-377-1916 | 4 Fluid Oz | |
| A-A-59601 Type III | A-A-59601 TYPE III | Dry Cleaning And Degreasing Solvent, Pd 680 | 6850-01-377-1809 | 1 Gallon | |
| A-A-59601 Type III | A-A-59601 TYPE III | Dry Cleaning And Degreasing Solvent, Pd 680 | 6850-01-377-1809 | 1 Gallon | |
| A-A-59601 Type III | A-A-59601 TYPE III | Dry Cleaning And Degreasing Solvent, Pd 680 | | Tote | |
| A-A-857 | A-A-857 | Thinner, Dope And Lacquer (Cellulose Nitrate) | | Bulk | |
| A-A-857 | A-A-857 | Thinner, Dope And Lacquer (Cellulose Nitrate) | 8010-00-160-5788 | 5 Gallon Pail | |
| A-A-857 | A-A-857 | Thinner, Dope And Lacquer (Cellulose Nitrate) | 8010-00-160-5789 | Drum | |
| A-A-857 | A-A-857 | Thinner, Dope And Lacquer (Cellulose Nitrate) | 8010-00-160-5787 | 1 Gallon | |
| Acetone | ACETONE ASTM-D329 | Acetone,Technical | 6810-00-184-4796 | 5 Gallon Pail | |
| Acetone | ACETONE ASTM-D329 | Acetone,Technical | 6810-00-281-1864 | Drum | |
| Acetone | ACETONE ASTM-D329 | Acetone,Technical | | 1 Pint | |
| Acetone | ACETONE ASTM-D329 | Acetone,Technical | | 1 Quart | |
| Acetone | ACETONE ASTM-D329 | Acetone,Technical | 6810-00-223-2739 | 1 Pint | |
| Acetone | ACETONE ASTM-D329 | Acetone,Technical | 6810-01-003-0262 | 1 Gallon | |
| Acetone | ACETONE ASTM-D329 | Acetone,Technical | 6810-01-003-0262 | 1 Gallon | |
| Aeroshell Fld 41 MIL-PRF-5606 | MIL-PRF-5606 | Hydraulic Fluid, Petroleum Base; Aircraft, Missile, And Ordnance | 9150-01-515-7826 | 1 Gallon | |
| Aeroshell Fluid 1 Def Stan 91-44 | DEFENSE STANDARD 91-44 | Lubricating Oil | | 5 Gallon Pail | |
| Aeroshell Grease 14 | MIL-G-25537 | Grease, Aircraft, Helicopter Oscillating Bearing | | Drum | |
| Aeroshell Grease 14 | MIL-G-25537 | Grease, Aircraft, Helicopter Oscillating Bearing | | 5 Gallon Pail | |
| AeroShell Grease 14 | MIL-G-25537 | Grease, Aircraft, Helicopter Oscillating Bearing | 9150-00-478-0055 | 14 Oz | |
| AeroShell Grease 14 | MIL-G-25537 | Grease, Aircraft, Helicopter Oscillating Bearing | 9150-00-616-9020 | 1.75 LB | |
| AeroShell Grease 14 | MIL-G-25537 | Grease, Aircraft, Helicopter Oscillating Bearing | | 14 Oz | |
| AeroShell Grease 14 | MIL-G-25537 | Grease, Aircraft, Helicopter Oscillating Bearing | 9150-00-721-8581 | 5 Gallon Pail | |
| AeroShell Grease 14 | MIL-G-25537 | Grease, Aircraft, Helicopter Oscillating Bearing | 9150-00-721-8570 | 6.5 LB | |
| AeroShell Grease 22 | MIL-PRF-81322 | Grease, Aircraft, General Purpose, Wide Temperature Range | | Drum | |
| AeroShell Grease 22 | MIL-PRF-81322 | Grease, Aircraft, General Purpose, Wide Temperature Range | 9150-00-935-5851 | 5 Gallon Pail | |
| AeroShell Grease 22 | MIL-PRF-81322 | Grease, Aircraft, General Purpose, Wide Temperature Range | | 5 Gallon Pail | |
| AeroShell Grease 22 | MIL-PRF-81322 | Grease, Aircraft, General Purpose, Wide Temperature Range | 9150-01-262-3358 | 14 Oz | |
| AeroShell Grease 22 | MIL-PRF-81322 | Grease, Aircraft, General Purpose, Wide Temperature Range | 9150-00-944-8953 | 1.75 LB | |
| AeroShell Grease 22 | MIL-PRF-81322 | Grease, Aircraft, General Purpose, Wide Temperature Range | | 3 Kilograms | |
| AeroShell Grease 22 | MIL-PRF-81322 | Grease, Aircraft, General Purpose, Wide Temperature Range | 9150-00-145-0268 | 6.5 LB | |
| AeroShell Grease 22 | MIL-PRF-81322 | Grease, Aircraft, General Purpose, Wide Temperature Range | 9150-00-181-7724 | 8 Oz | |
| AeroShell Grease 22 | DOD-G-24508A | Grease, High Performance, Multipurpose | 9150-00-149-1593 | 1.75 LB | |
| AeroShell Grease 22 | DOD-G-24508A | Grease, High Performance, Multipurpose | 9150-01-304-6603 | 1 LB | |
| AeroShell Grease 22 | DOD-G-24508A | Grease, High Performance, Multipurpose | 9150-00-149-1592 | 8 Oz | |
| AeroShell Grease 22 | DOD-G-24508A | Grease, High Performance, Multipurpose | 9150-01-117-2928 | 6.5 LB | |
| AeroShell Grease 33 | BMS 3-33 | Grease,Aircraft | 9150-01-505-4294 | 400 Grams | |
| AeroShell Grease 6 | MIL-PRF-24139 | Grease, Multipurpose, Water Resistant | | 5 Gallon Pail | |
| AeroShell Grease 6 | MIL-PRF-24139 | Grease, Multipurpose, Water Resistant | | Drum | |
| AeroShell Grease 6 | MIL-PRF-24139 | Grease, Multipurpose, Water Resistant | 9150-00-180-6383 | 5 Gallon Pail | |
| AeroShell Grease 6 | MIL-PRF-24139 | Grease, Multipurpose, Water Resistant | 9150-00-180-6381 | 1.75 LB | |
| AeroShell Grease 6 | MIL-PRF-24139 | Grease, Multipurpose, Water Resistant | 9150-00-180-6382 | 6.5 LB | |
| AeroShell Grease 6 | MIL-PRF-24139 | Grease, Multipurpose, Water Resistant | | 1 Gallon | |
| AeroShell Grease 6 | MIL-PRF-24139 | Grease, Multipurpose, Water Resistant | | 1 Gallon | |
| AeroShell Grease 64 | MIL-G-21164 | Grease, Molybdenum Disulfide, For Low And High Temperatures | 9150-00-965-2003 | 5 Gallon Pail | |
| AeroShell Grease 64 | MIL-G-21164 | Grease, Molybdenum Disulfide, For Low And High Temperatures | 9150-00-935-4018 | 14 Oz | |
| AeroShell Grease 64 | MIL-G-21164 | Grease, Molybdenum Disulfide, For Low And High Temperatures | 9150-00-754-2595 | 1.75 LB | |
| AeroShell Grease 64 | MIL-G-21164 | Grease, Molybdenum Disulfide, For Low And High Temperatures | | 1 Pint | |
| AeroShell Grease 64 | MIL-G-21164 | Grease, Molybdenum Disulfide, For Low And High Temperatures | 9150-00-223-4004 | 6.5 LB | |
| AeroShell Grease 7 | MIL-PRF-23827 | Grease, Aircraft And Instrument, Gear And Actuator Screw | 9150-01-491-8082 | 1.75 LB | |
| AeroShell Grease 7 | MIL-PRF-23827 | Grease, Aircraft And Instrument, Gear And Actuator Screw | 9150-01-492-1035 | 5 Gallon Pail | |
| AeroShell Grease 7 | MIL-PRF-23827 | Grease, Aircraft And Instrument, Gear And Actuator Screw | 9150-01-492-1035 | 5 Gallon Pail | |
| AeroShell Grease 7 | MIL-PRF-23827 | Grease, Aircraft And Instrument, Gear And Actuator Screw | 9150-01-491-8089 | 14 Oz | |
| AeroShell Grease 7 | MIL-PRF-23827 | Grease, Aircraft And Instrument, Gear And Actuator Screw | 9150-01-491-8089 | 14 Oz | |
| AeroShell Grease 7 | MIL-PRF-23827 | Grease, Aircraft And Instrument, Gear And Actuator Screw | 9150-01-492-1065 | 4 Oz | |
| AeroShell Grease 7 | MIL-PRF-23827 | Grease, Aircraft And Instrument, Gear And Actuator Screw | 9150-01-492-1059 | 8 Oz | |
| AeroShell Grease 7 | MIL-PRF-23827 | Grease, Aircraft And Instrument, Gear And Actuator Screw | 9150-01-491-8089 | 14 Oz | |
| AeroShell Grease 7 | MIL-PRF-23827 | Grease, Aircraft And Instrument, Gear And Actuator Screw | 9150-01-491-8032 | 6.5 LB | |
| AeroShell Grease 7 | MIL-PRF-23827 | Grease, Aircraft And Instrument, Gear And Actuator Screw | 9150-01-491-8032 | 6.5 LB | |
| Aeroshell Oil 100 | SAE J1966 50 | Oils, Lubricating, Aircraft Piston Engine | | 1 Quart | |
| Aeroshell Oil 100 | SAE J1966 50 | Oils, Lubricating, Aircraft Piston Engine | 9150-01-007-9134 | 1 Quart | |
| Aeroshell Oil 100 | SAE-J1966 GR 50 | Oils, Lubricating, Aircraft Piston Engine | | Drum | |
| Aeroshell Oil 100 | SAE-J1966 GR 50 | Oils, Lubricating, Aircraft Piston Engine | | 5 Gallon Pail | |
| Aeroshell Oil 120 | SAE-J1966 GR 60 | Oils, Lubricating, Aircraft Piston Engine | 9150-01-432-0511 | Drum | |
| Aeroshell Oil 555 | DOD-PRF-85734 | Lubricating Oil, Helicopter Transmission System | 9150-01-209-3399 | Drum | |
| Aeroshell Oil 65 | SAE-J1966 30 | Oils, Lubricating, Aircraft Piston Engine | | 1 Quart | |
| Aeroshell Oil 65 | SAE-J1966 30 | Oils, Lubricating, Aircraft Piston Engine | 9150-00-231-6669 | Drum | |
| Aeroshell Oil 65 | SAE-J1966 30 | Oils, Lubricating, Aircraft Piston Engine | | 5 Gallon Pail | |
| Aeroshell Oil W120 | SAE-J1899 GR 60 | Oil, Lubricating, Aircraft Piston Engine | 9150-00-753-4937 | Drum | |
| Aeroshell Oil W120 | SAE-J1899 GR 60 | Oil, Lubricating, Aircraft Piston Engine | 9150-00-753-5060 | 5 Gallon Pail | |
| Aeroshell Oil W80 | SAE-J1899 GR 40 | Oil, Lubricating, Aircraft Piston Engine | 9150-00-965-2303 | 5 Gallon Pail | |
| Aeroshell Oil W80 | SAE-J1899 GR 40 | Oil, Lubricating, Aircraft Piston Engine | 9150-00-965-2305 | Drum | |
| Airlube 10W/Nr | | Lubricating Oil, Pneumatic Tool | | 5 Gallon Pail | |
| Airlube 10W/Nr | | Lubricating Oil, Pneumatic Tool | | Drum | |
| Anderol 500 Compressor Oil | | Lubricating Oil, Air Compressor | | 5 Gallon Pail | |
| Anderol 500 Compressor Oil | | Lubricating Oil, Air Compressor | | Drum | |
| Anderol 500 Compressor Oil | | Lubricating Oil, Air Compressor | 9150-01-052-7562 | 1 Gallon | |
| Arctic Fluid | MIL-PRF-46167 | Lubricating Oil, Internal Combustion Engine, Arctic | 9150-00-491-7197 | Drum | |
| Arctic Fluid | MIL-PRF-46167 | Lubricating Oil, Internal Combustion Engine, Arctic | 9150-00-402-2372 | 5 Gallon Pail | |
| Arploube 21164 | MIL-G-21164 | Grease, Aircraft, Helicopter Oscillating Bearing | | Drum | |
| Arpol 83282 | MIL-PRF-83282 | Hydraulic Fluid, Fire Resistant, Synthetic Hydrocarbon Base | 9150-00-149-7431 | 1 Quart | |
| Arpol 83282 | MIL-PRF-83282 | Hydraulic Fluid, Fire Resistant, Synthetic Hydrocarbon Base | 9150-00-149-7432 | 1 Gallon | |
| Arpolsolve 7024 | MIL-PRF-7024 TY II | Calibrating Fluids, Aircraft Fuel System Components | 6850-00-656-0810 | Bulk | |
| Arpolsolve 7024 | MIL-PRF-7024 TY II | Calibrating Fluids, Aircraft Fuel System Components | 6850-00-264-5771 | Drum | |
| Arpolsolve 7024 | MIL-PRF-7024 TY II | Calibrating Fluids, Aircraft Fuel System Components | 6850-01-146-9699 | 5 GL | |
| Arpolsolve 7024 | MIL-PRF-7024 TY II | Calibrating Fluids, Aircraft Fuel System Components | 6850-04-146-5699 | 1 Gallon | |
| Arpolube 1078 | VV-D-1078 100 CST | Damping Fluid, Silicone Base | | 1 Gallon | |
| Arpolube 1078 | VV-D-1078 100 CST | Damping Fluid, Silicone Base | | 5 Gallon Pail | |
| Arpolube 1078 | VV-D-1078 100 CST | Damping Fluid, Silicone Base | | 1 Gallon | |
| Arpolube 1078 | VV-D-1078 100 CST | Damping Fluid, Silicone Base | 9150-00-269-8246 | 1 LB | |
| Arpolube 1078 | VV-D-1078 100 CST | Damping Fluid, Silicone Base | | 1 Pint | |
| Arpolube 1078 | VV-D-1078 100 CST | Damping Fluid, Silicone Base | | 1 Quart | |
| Arpolube 14107 | MIL-PRF-14107 | Lubricating Oil, Weapons, Low Temperature | 9150-00-292-9689 | 1 Quart | |
| Arpolube 14107 | MIL-PRF-14107 | Lubricating Oil, Weapons, Low Temperature | | 1 Gallon | |
| Arpolube 14107 | MIL-PRF-14107 | Lubricating Oil, Weapons, Low Temperature | 9150-00-292-9687 | 5 Gallon Pail | |
| Arpolube 17111 | MIL-DTL-17111 | Fluid, Power Transmission | 9150-00-261-8317 | 5 Gallon Pail | |
| Arpolube 21164 | MIL-G-21164 | Grease, Molybdenum Disulfide, For Low And High Temperatures | 9150-00-754-2595 | 1.75 LB | |
| Arpolube 21164 | MIL-G-21164 | Grease, Molybdenum Disulfide, For Low And High Temperatures | 9150-00-965-2003 | 5 Gallon Pail | |
| Arpolube 21260 | MIL-PRF-21260 | Lubricating Oil, Internal Combustion Engine, Preservative Break-In | 9150-01-293-2772 | Drum | |
| Arpolube 21260 | MIL-PRF-21260 | Lubricating Oil, Internal Combustion Engine, Preservative Break-In | 9150-01-293-7697 | Drum | |
| Arpolube 23549 | MIL-DTL-23549D | Grease, General Purpose | 9150-00-985-7316 | 1.75 LB | |
| Arpolube 23549 | MIL-DTL-23549D | Grease, General Purpose | | 1 LB | |
| Arpolube 23549 | MIL-DTL-23549D | Grease, General Purpose | 9150-00-823-8047 | 5 Gallon Pail | |
| Arpolube 23549 | MIL-DTL-23549D | Grease, General Purpose | 9150-00-235-5555 | 6.5 LB | |
| Arpolube 236 | VV-P-236 | Petrolatum, Technical | 9150-00-250-0928 | 5 Gallon Pail | |
| Arpolube 236 | VV-P-236 | Petrolatum, Technical | | Drum | |
| Arpolube 236 | VV-P-236 | Petrolatum, Technical | 9150-00-250-0926 | 1.75 LB | |
| Arpolube 236 | VV-P-236 | Petrolatum, Technical | | 1 LB | |
| Arpolube 236 | VV-P-236 | Petrolatum, Technical | 9150-01-444-1171 | 8 Oz | |
| Arpolube 236 | VV-P-236 | Petrolatum, Technical | 9150-00-250-0933 | 7.5 LB | |
| Arpolube 23827 | MIL-PRF-23827 TY I | Grease, Aircraft And Instrument, Gear And Actuator Screw | 9150-00-935-4017 | 14 Oz | |
| Arpolube 23827 | MIL-PRF-23827 TY I | Grease, Aircraft And Instrument, Gear And Actuator Screw | 9150-00-985-7246 | 1.75 LB | |
| Arpolube 23827 | MIL-PRF-23827 TY I | Grease, Aircraft And Instrument, Gear And Actuator Screw | 9150-01-307-4071 | 1 LB | |
| Arpolube 23827 | MIL-PRF-23827 TY I | Grease, Aircraft And Instrument, Gear And Actuator Screw | 9150-00-985-7247 | 6.5 LB | |
| Arpolube 23827 | MIL-PRF-23827 TY I | Grease, Aircraft And Instrument, Gear And Actuator Screw | 9150-00-985-7248 | 5 Gallon Pail | |
| Arpolube 38299 | MIL-PRF-38299 | Fluid, Purging, For Preserving Fuel Tanks Of Jet Aircraft | | Bulk | |
| Arpolube 38299 | MIL-PRF-38299 | Fluid, Purging, For Preserving Fuel Tanks Of Jet Aircraft | | 5 Gallon Pail | |
| Arpolube 38299 | MIL-PRF-38299 | Fluid, Purging, For Preserving Fuel Tanks Of Jet Aircraft | 6850-00-965-2356 | Drum | |
| Arpolube 38299 | MIL-PRF-38299 | Fluid, Purging, For Preserving Fuel Tanks Of Jet Aircraft | | Tote | |
| Arpolube 4343 | SAE-AMS-G-4343 | Grease, Pneumatic System | 9150-00-269-8255 | 1.75 lb | |
| Arpolube 4343 | SAE-AMS-G-4343 | Grease, Pneumatic System | | 150 Grams | |
| Arpolube 4343 | SAE-AMS-G-4343 | Grease, Pneumatic System | | 1 LB | |
| Arpolube 4343 | SAE-AMS-G-4343 | Grease, Pneumatic System | | 250 Grams | |
| Arpolube 4343 | SAE-AMS-G-4343 | Grease, Pneumatic System | 9150-00-119-9291 | 2 Oz | |
| Arpolube 4343 | SAE-AMS-G-4343 | Grease, Pneumatic System | | 8 Oz | |
| Arpolube 4343 | SAE-AMS-G-4343 | Grease, Pneumatic System | | 6.5 LB | |
| Arpolube 46000 | MIL-L-46000 | Lubricant, Semi-Fluid | 9150-00-687-4241 | 1 Quart | |
| Arpolube 46150 | MIL-L-46150 | Lubricant, Weapons, Semi-Fluids | | 8 Fluid Oz | |
| Arpolube 46150 | MIL-L-46150 | Lubricant, Weapons, Semi-Fluids | | 1 Quart | |
| Arpolube 46150 | MIL-L-46150 | Lubricant, Weapons, Semi-Fluids | 9150-01-109-7793 | 1 LB | |
| Arpolube 46167 | MIL-PRF-46167 | Lubricating Oil, Internal Combustion Engine, Arctic | 9150-00-402-2372 | 5 Gallon Pail | |
| Arpolube 46167 | MIL-PRF-46167 | Lubricating Oil, Internal Combustion Engine, Arctic | 9150-00-491-7197 | Drum | |
| Arpolube 63460E | MIL-PRF-63460 | Cleaner, Lubricant, And Preservative For Weapons And Weapons Systems | | Bulk | |
| Arpolube 63460E | MIL-PRF-63460 | Cleaner, Lubricant, And Preservative For Weapons And Weapons Systems | | Tote | |
| Arpolube 63460E | MIL-PRF-63460 | Cleaner, Lubricant, And Preservative For Weapons And Weapons Systems | | 1 Quart | |
| Arpolube 63460E | MIL-PRF-63460 | Cleaner, Lubricant, And Preservative For Weapons And Weapons Systems | 9150-01-054-6453 | 1 Pint | |
| Arpolube 63460E | MIL-PRF-63460 | Cleaner, Lubricant, And Preservative For Weapons And Weapons Systems | 9150-01-053-6688 | 1 Gallon | |
| Arpolube 63460E | MIL-PRF-63460 | Cleaner, Lubricant, And Preservative For Weapons And Weapons Systems | | Drum | |
| Arpolube 63460E | MIL-PRF-63460 | Cleaner, Lubricant, And Preservative For Weapons And Weapons Systems | | 5 Gallon Pail | |
| Arpolube 63460E | MIL-PRF-63460 | Cleaner, Lubricant, And Preservative For Weapons And Weapons Systems | 9150-01-327-9631 | 1 Liter | |
| Arpolube 63460E | MIL-PRF-63460 | Cleaner, Lubricant, And Preservative For Weapons And Weapons Systems | | Drum | |
| Arpolube 63460E | MIL-PRF-63460 | Cleaner, Lubricant, And Preservative For Weapons And Weapons Systems | 9150-66-110-9805 | 5 Liters | |
| Arpolube 81322 | MIL-PRF-81322 | Grease, Aircraft, General Purpose, Wide Temperature Range | 9150-01-262-3358 | 14 Oz | |
| Arpolube 81322 | MIL-PRF-81322 | Grease, Aircraft, General Purpose, Wide Temperature Range | 9150-00-944-8953 | 1.75 LB | |
| Arpolube 81322 | MIL-PRF-81322 | Grease, Aircraft, General Purpose, Wide Temperature Range | | 1 LB | |
| Arpolube 81322 | MIL-PRF-81322 | Grease, Aircraft, General Purpose, Wide Temperature Range | | 3 Kilograms | |
| Arpolube 81322 | MIL-PRF-81322 | Grease, Aircraft, General Purpose, Wide Temperature Range | 9150-00-145-0268 | 6.5 LB | |
| Arpolube 81322 | MIL-PRF-81322 | Grease, Aircraft, General Purpose, Wide Temperature Range | 9150-00-181-7724 | 8 Oz | |
| Arpolube 81322 | MIL-PRF-81322 | Grease, Aircraft, General Purpose, Wide Temperature Range | | Drum | |
| Arpolube 81322 | MIL-PRF-81322 | Grease, Aircraft, General Purpose, Wide Temperature Range | 9150-00-935-5851 | 5 Gallon Pail | |
| Arpolube 83282 | MIL-PRF-83282 | Hydraulic Fluid, Fire Resistant, Synthetic Hydrocarbon Base | 9150-00-149-7432 | 1 Gallon | |
| Arpolube Pneumatic Tool Lubricant | | Lubricating Oil, Pneumatic Tool | | 1 Gallon | |
| Arpolube21567 | MIL-DTL-21567 | Compound, Silicone, Soft Film | | 1.75 LB | |
| Arposolve 680 | MIL-PRF-680C TYPE II | Degreasing Solvent | 6850-01-474-2317 | 5 Gallon Pail | |
| Arposolve 680 | MIL-PRF-680C TYPE II | Degreasing Solvent | 6850-01-378-0698 | Drum | |
| Arposolve 680 | MIL-PRF-680C TYPE II | Degreasing Solvent | 6850-01-474-2316 | Drum | |
| Arposolve 680 | MIL-PRF-680C TYPE II | Degreasing Solvent | | Tote | |
| Arposolve 680 | MIL-PRF-680C TYPE II | Degreasing Solvent | 6850-01-474-2319 | 1 Gallon | |
| Benz Oil UCF 1 Calibrating Fluid | SAE-J967 | Calibration Fluid | 6850-00-779-6851 | 5 Gallon Pail | |
| Brayco 300 | MIL-PRF-32033 | Lubricating Oil, General Purpose, Preservative | 9150-00-231-9062 | 5 Gallon Pail | |
| Brayco 300 | MIL-PRF-32033 | Lubricating Oil, General Purpose, Preservative | 9150-00-281-2060 | Drum | |
| Brayco 300 | MIL-PRF-32033 | Lubricating Oil, General Purpose, Preservative | 9150-00-836-8641 | 1/2 Fluid Oz | |
| Brayco 300 | MIL-PRF-32033 | Lubricating Oil, General Purpose, Preservative | 9150-00-231-6689 | 1 Quart | |
| Brayco 300 | MIL-PRF-32033 | Lubricating Oil, General Purpose, Preservative | 9150-01-374-2021 | 1 Pint | |
| Brayco 300 | MIL-PRF-32033 | Lubricating Oil, General Purpose, Preservative | 9150-00-231-9045 | 1 Gallon | |
| Brayco 300 | MIL-PRF-32033 | Lubricating Oil, General Purpose, Preservative | | 5 Liters | |
| Brayco 460 | MIL-PRF-6081 GRADE 1010 | Lubricating Oil, Jet Engine | 9150-01-573-9003 | 1 Gallon | |
| Brayco 460 | MIL-PRF-6081 GRADE 1010 | Lubricating Oil, Jet Engine | 9150-00-231-6676 | Drum | |
| Brayco 460 | MIL-PRF-6081 GRADE 1010 | Lubricating Oil, Jet Engine | | 5 Gallon Pail | |
| Brayco 589 | MIL-PRF-8188 | Corrosion-Preventive, Aircraft Turbine Engine, Synthetic Base | | Drum | |
| Brayco 589 | MIL-PRF-8188 | Corrosion-Preventive, Aircraft Turbine Engine, Synthetic Base | 6850-00-273-2395 | 5 Gallon Pail | |
| Brayco 589 | MIL-PRF-8188 | Corrosion-Preventive, Aircraft Turbine Engine, Synthetic Base | 6850-00-209-7231 | 1 Gallon | |
| Brayco 589 | MIL-PRF-8188 | Corrosion-Preventive, Aircraft Turbine Engine, Synthetic Base | | 5 Liters | |
| Brayco 717 | MIL-DTL-17111 | Fluid, Power Transmission | 9150-00-261-8317 | 5 Gallon Pail | |
| Brayco 855 | MIL-PRF-14107 | Lubricating Oil, Weapons, Low Temperature | 9150-00-292-9687 | 5 Gallon Pail | |
| Brayco 855 | MIL-PRF-14107 | Lubricating Oil, Weapons, Low Temperature | 9150-00-292-9689 | 1 Quart | |
| Brayco 855 | MIL-PRF-14107 | Lubricating Oil, Weapons, Low Temperature | | 1 Gallon | |
| Brayco 855 | MIL-PRF-14107 | Lubricating Oil, Weapons, Low Temperature | | Tote | |
| Brayco 885 | MIL-PRF-6085 | Lubricating Oil Instrument, Aircraft, Low VolatiliTY | | Drum | |
| Brayco 885 | MIL-PRF-6085 | Lubricating Oil Instrument, Aircraft, Low VolatiliTY | 9150-66-086-8426 | 1 Pint | |
| Braycote 3214 | MIL-PRF-32014 | Grease, Aircraft And Instrument | | 5 Gallon Pail | |
| Braycote 3214 | MIL-PRF-32014 | Grease, Aircraft And Instrument | 9150-01-499-6648 | 4 Oz | |
| Braycote 640 | | Grease, Aircraft | 9150-01-505-0755 | 2 Oz | |
| Braycote 646 | MIL-L-46000 | Lubricant, Semi-Fluid | | Drum | |
| Braycote 646 | MIL-L-46000 | Lubricant, Semi-Fluid | | 5 Gallon Pail | |
| Braycote 646 | MIL-L-46000 | Lubricant, Semi-Fluid | | 1 Pint | |
| Braycote 646 | MIL-L-46000 | Lubricant, Semi-Fluid | 9150-00-687-4241 | 1 Quart | |
| Braycote 646 | MIL-L-46000 | Lubricant, Semi-Fluid | 9150-00-935-6597 | 2 Fluid Oz | |
| Braycote 646 | MIL-L-46000 | Lubricant, Semi-Fluid | | 8 Fluid Oz | |
| Braycote 646 | MIL-L-46000 | Lubricant, Semi-Fluid | 9150-00-889-3522 | 4 Fluid Oz | |
| Braycote 646 | MIL-L-46000 | Lubricant, Semi-Fluid | 9150-00-753-4686 | 1 Gallon | |
| Braycote 650 | MIL-L-46150 | Lubricant, Weapons, Semi-Fluids | | Drum | |
| Braycote 650 | MIL-L-46150 | Lubricant, Weapons, Semi-Fluids | | 5 Gallon Pail | |
| Braycote 650 | MIL-L-46150 | Lubricant, Weapons, Semi-Fluids | | 1 Quart | |
| Braycote 650 | MIL-L-46150 | Lubricant, Weapons, Semi-Fluids | 9150-00-949-0323 | 8 Fluid Oz | |
| Braycote 650 | MIL-L-46150 | Lubricant, Weapons, Semi-Fluids | 9150-01-109-7793 | 1 LB | |
| Braycote 650 | MIL-L-46150 | Lubricant, Weapons, Semi-Fluids | | 1 Gallon | |
| Braycote Micronic 783 | MIL-PRF-6083 | Hydraulic Fluid, Petroleum Base, For Preservation And Operation | 9150-00-159-4472 | 13 OZ | |
| Braycote Micronic 783 | MIL-PRF-6083 | Hydraulic Fluid, Petroleum Base, For Preservation And Operation | | 1 Gallon | |
| Calumet, Red Tech Petrolatum | VV-P-236 | Petrolatum, Technical | | Drum | |
| Chevron Delo 400 SAE 30 | | Diesel Engine Oil | | Drum | |
| Chevron Rando HD ISO 10 | | Hydraulic Oil | | Drum | |
| Cmp Gear Oil Iso 460 Grade 7 | | Lubricating Oil, Compounded | | Drum | |
| Cmp Gear Oil Iso 460 Grade 7 | | Lubricating Oil, Compounded | 9150-00-011-5892 | 1 Gallon | |
| Cmp Gear Oil Iso 680 Grade 8 | | Lubricating Oil, General Purpose | 9150-01-348-3093 | 5 Gallon Pail | |
| Cmp Gear Oil Iso 680 Grade 8 | | Lubricating Oil, General Purpose | | Drum | |
| Cmp Gear Oil Iso 680 Grade 8 | | Lubricating Oil, General Purpose | 9150-01-348-3092 | 1 Gallon | |
| Compensation Fluid | COMPENSATION FLUID | Compensation Fluid, Sonar | 9150-01-123-0298 | Drum | |
| Cutting Fluid Isopar M | | Cutting Fluid, Lapping | 9150-01-261-4688 | 5 Gallon Pail | |
| Cutting Fluid Isopar M | | Cutting Fluid, Lapping | 9150-00-322-9367 | Drum | |
| Cutting Fluid Isopar M | | Cutting Fluid, Lapping | 9150-00-663-1360 | 1 Quart | |
| Cyclo-147F | MIL-PRF-32295 | Cleaner, Non-Aqueous, Low-Voc, Hap-Free | 6850-01-576-2676 | 1 Gallon | |
| Cyclo-147F | MIL-PRF-32295 | Cleaner, Non-Aqueous, Low-Voc, Hap-Free | 6850-01-576-2765 | 5 Gallon Pail | |
| Cyclo-147F | MIL-PRF-32295 | Cleaner, Non-Aqueous, Low-Voc, Hap-Free | 6850-01-576-2736 | Drum | |
| DB Castor Oil | | Transducer Fluid, Sonar | | Drum | |
| DB Castor Oil | | Transducer Fluid, Sonar | 9150-00-694-1409 | 1 Gallon | |
| Denatured Alcohol | O-E-760 TY IV | Denatured Alcohol | 6810-00-205-5786 | 1 Quart | |
| Dot 3 Brake Fluid | SAE-J1703 | Brake Fluid, Motor Vehicle | | Drum | |
| Dot 3 Brake Fluid | SAE-J1703 | Brake Fluid, Motor Vehicle | 9150-01-052-6762 | 1 Quart | |
| Dot 3 Brake Fluid SAE-J1703 | SAE-J1703 | Brake Fluid, Motor Vehicle | 9150-00-231-9071 | 1 Gallon | |
| Dot 3 Brake Fluid SAE-J1703 | SAE-J1703 | Brake Fluid, Motor Vehicle | 9150-00-190-0932 | 1 Pint | |
| Dowfrost HD Heat Transfer Fluid | | Heat Transfer Fluid | 6850-01-284-7009 | Drum | |
| Eastman Spc 19010 MPK | | Methyl Normal Propyl Ketone | 6810-01-459-1990 | 5 Gallon Pail | |
| Eastman Spc 19010 MPK | | Methyl Normal Propyl Ketone | 6810-01-459-1991 | Drum | |
| Eastman Spc 19010 MPK | | Methyl Normal Propyl Ketone | 6810-01-459-1992 | 1 Pint | |
| Eastman Spc 19010 MPK | | Methyl Normal Propyl Ketone | 6810-01-459-1994 | 1 Quart | |
| Eastman Spc 19010 MPK | | Methyl Normal Propyl Ketone | 6810-01-459-1987 | 1 Gallon | |
| Eastman Spc 19010 MPK | | Methyl Normal Propyl Ketone | 6810-01-459-1987 | 1 Gallon | |
| Ecopower 10W | | Lubricating Oil, Internal Combustion Engine, Combat/Tactical Service | 9150-01-496-1943 | Drum | |
| Ecopower 10W | | Lubricating Oil, Internal Combustion Engine, Combat/Tactical Service | 9150-00-186-6688 | 5 Gallon Pail | |
| Ecopower 10W | | Lubricating Oil, Internal Combustion Engine, Combat/Tactical Service | 9150-01-496-1943 | Drum | |
| Ecopower 10W | MIL-PRF-2104 | Lubricating Oil, Internal Combustion Engine, Combat/Tactical Service | 9150-01-518-9471 | 1 Quart | |
| Ecopower 10W | MIL-PRF-2104 | Lubricating Oil, Internal Combustion Engine, Combat/Tactical Service | 9150-01-518-9471 | 1 Quart | |
| Ecopower 15W40 | MIL-PRF-2104 | Lubricating Oil, Internal Combustion Engine, Combat/Tactical Service | | Bulk | |
| Ecopower 15W40 | MIL-PRF-2104 | Lubricating Oil, Internal Combustion Engine, Combat/Tactical Service | 9150-01-438-6079 | Drum | |
| Ecopower 15W40 | MIL-PRF-2104 | Lubricating Oil, Internal Combustion Engine, Combat/Tactical Service | | Tote | |
| Ecopower 15W40 | MIL-PRF-2104 | Lubricating Oil, Internal Combustion Engine, Combat/Tactical Service | 9150-01-438-6079 | Drum | |
| Ecopower 15W40 | MIL-PRF-2104 | Lubricating Oil, Internal Combustion Engine, Combat/Tactical Service | 9150-01-518-9477 | 1 Quart | |
| Ecopower 15W40 | MIL-PRF-2104 | Lubricating Oil, Internal Combustion Engine, Combat/Tactical Service | 9150-01-518-9477 | 1 Quart | |
| Ecopower 30 | MIL-PRF-2104 | Lubricating Oil, Internal Combustion Engine, Combat/Tactical Service | | Bulk | |
| Ecopower 30 | MIL-PRF-2104 | Lubricating Oil, Internal Combustion Engine, Combat/Tactical Service | | Drum | |
| Ecopower 30 | MIL-PRF-2104 | Lubricating Oil, Internal Combustion Engine, Combat/Tactical Service | | 5 Gallon Pail | |
| Ecopower 30 | MIL-PRF-2104 | Lubricating Oil, Internal Combustion Engine, Combat/Tactical Service | | Drum | |
| Ecopower 30 | MIL-PRF-2104 | Lubricating Oil, Internal Combustion Engine, Combat/Tactical Service | 9150-01-433-7974 | 1 Quart | |
| Ecopower 30 | MIL-PRF-2104 | Lubricating Oil, Internal Combustion Engine, Combat/Tactical Service | 9150-01-518-9484 | 1 Quart | |
| Ecopower 40 | MIL-PRF-2104 | Lubricating Oil, Internal Combustion Engine, Combat/Tactical Service | 9150-00-188-9862 | Drum | |
| Ecopower 80W-90 | SAE-J2360 | Oil, Lubricating, Gear Multipurpose (Metric) MILitary Use | 9150-01-422-9329 | 1 Quart | |
| Ecopower AW 32 | A-A-59354 Grade 1 | Hydraulic Fluids, Petroleum Base, For Machine Tools | 9150-01-581-7676 | 5 Gallon Pail | |
| Ecopower AW 32 | A-A-59354 Grade 1 | Hydraulic Fluids, Petroleum Base, For Machine Tools | 9150-01-581-7370 | Drum | |
| Ecopower Gear Oil 80W-90 | SAE-J2360  | Oil, Lubricating, Gear Multipurpose (Metric) MILitary Use | 9150-01-035-5394 | Drum | |
| Ecopower Gear Oil 80W-90 | SAE-J2360  | Oil, Lubricating, Gear Multipurpose (Metric) MILitary Use | 9150-01-422-9335 | 5 Gallon Pail | |
| Ecopwer 15W40 | MIL-PRF-2104 | Lubricating Oil, Internal Combustion Engine, Combat/Tactical Service | 9150-01-438-6079 | Drum | |
| Envirologic 122 Gr 2 | MIL-PRF-32073 GRADE 2 | Hydraulic Fluid, Biobased | | Drum | |
| Envirologic 146 Gr 4 | MIL-PRF-32073 GRADE 4 | Hydraulic Fluid, Biobased | 9150-01-498-1487 | Drum | |
| Envirologic 168 Gr 5 | MIL-PRF-32073 GRADE 5 | Hydraulic Fluid, Biobased | 9150-01-498-1523 | 5 Gallon Pail | |
| Envirologic 168 Gr 5 | MIL-PRF-32073 GRADE 5 | Hydraulic Fluid, Biobased | | Drum | |
| Ethylene Glycol | ASTM-E1119 | Glycol, Industrial Grade Ethylene, Standard Specification For | 6810-00-006-4206 | Drum | |
| Ethylene Glycol | ASTM-E1119 | Glycol, Industrial Grade Ethylene, Standard Specification For | 6810-01-312-9107 | 5 Gallon Pail | |
| Ethylene Glycol | ASTM-E1119 | Glycol, Industrial Grade Ethylene, Standard Specification For | 6810-00-006-4205 | 1 Gallon | |
| Ethylene Glycol | ASTM-E1119 | Glycol, Industrial Grade Ethylene, Standard Specification For | 6810-00-006-4205 | 1 Gallon | |
| Ethylene Glycol, Antifreeze Concentrated | A-A-52624 TY I CONC A | Antifreeze, Multi Engine TYpe | 6850-00-664-1409 | Drum | |
| Everlube 620A Diluted PEV620 | | Low Friction Coating | | 1 Gallon | |
| Everlube 810 PEV810 | | Lubricant, Solid Film, Mos2/Graphite | | 1 Quart | |
| Everlube 811 | MIL-PRF-81329 | Lubricant, Solid Film, Extreme Environment | | 1 Gallon | |
| Everlube 811 | MIL-PRF-81329 | Lubricant, Solid Film, Extreme Environment | | 1 Pint | |
| Everlube 811 | MIL-PRF-81329 | Lubricant, Solid Film, Extreme Environment | | 1 Quart | |
| Expo White Board Cleaner | | Cleaner, Dry Erase Board | 6850-01-285-8354 | 8 Oz | |
| Extended Life Antifreeze Pg 60/40 | | Antifreeze | | Bulk | |
| Extended Life Antifreeze Pg 60/40 | | Antifreeze | | 5 Gallon Pail | |
| Fld Film Wro-Ep | MIL-PRF-18458 TY I | Grease, Wire Rope - Exposed Gear | | 5 Gallon Pail | |
| Fld Film Wro-Ep | MIL-PRF-18458 TY I | Grease, Wire Rope - Exposed Gear | | Drum | |
| Fyrquel 220MLT | MIL-H-19457 | Hydraulic Fluid, Fire-Resistant, Non-Neurotoxic | | Drum | |
| Fyrquel 220MLT | MIL-H-19457 | Hydraulic Fluid, Fire-Resistant, Non-Neurotoxic | 9150-01-113-2047 | Drum | |
| Glycol Ether EB | ASTM D-330 | Butoxyethanol-2 | 6810-00-281-2001 | 1 Gallon | |
| HaTCol 2999 | | Pure Polyol Ester Base Stock  | | Drum | |
| Heat Transfer Fluid Pn 5959151 | | Heat Transfer Fluid | | Drum | |
| Heat Transfer Fluid Pn 5959151 | | Heat Transfer Fluid | 6850-00-078-4459 | 1 Gallon | |
| Hf100 Blue 150 Hydraulic | | Hydraulic Fluid, Petroleum Base | 9150-01-448-2207 | 1 Quart | |
| High Temp Anti-Seize | MIL-PRF-907 C | Antiseize Thread Compound, High Temperature | 8030-00-251-3980 | 1 LB | |
| Houghto-Safe 273 | MIL-H-22072 | Hydraulic Fluid, Catapult | | Bulk | |
| Houghto-Safe 273 | MIL-H-22072 | Hydraulic Fluid, Catapult | | 5 Gallon Pail | |
| Houghto-Safe 273 | MIL-H-22072 | Hydraulic Fluid, Catapult | 9150-01-080-5962 | Drum | |
| Houghto-Safe 273 | MIL-H-22072 | Hydraulic Fluid, Catapult | 9150-01-080-5961 | 1 Gallon | |
| Houghto-Safe 273 | MIL-H-22072 | Hydraulic Fluid, Catapult | | Tote | |
| Houghto-Safe 419-R | | Hydraulic Fluid, Noncombustible | 9150-01-453-7909 | 5 Gallon Pail | |
| Houghto-Safe 419-R | | Hydraulic Fluid, Noncombustible | | Drum | |
| Hydraulic Oil 1192 | | Hydraulic Oil | | Drum | |
| Hydraulic Oil 1192 | | Hydraulic Oil | 9150-01-169-2789 | Drum | |
| Hydraulic Oil 1192 | | Hydraulic Oil | | Drum | |
| Hydraulic Oil 1192 | | Hydraulic Oil | | Drum | |
| Innospec DCI 4A | MIL-PRF-25017 | Inhibitor, Corrosion/LubriciTY Improver, Fuel Soluble | | Bulk | |
| Innospec DCI 4A | MIL-PRF-25017 | Inhibitor, Corrosion/LubriciTY Improver, Fuel Soluble | 6850-00-292-9780 | Drum | |
| Innospec DCI 4A | MIL-PRF-25017 | Inhibitor, Corrosion/LubriciTY Improver, Fuel Soluble | | 5 Gallon Pail | |
| Innospec DCI 4A | MIL-PRF-25017 | Inhibitor, Corrosion/LubriciTY Improver, Fuel Soluble | 6850-01-180-1074 | 1 Gallon | |
| Innospec DCI 4A | MIL-PRF-25017 | Inhibitor, Corrosion/LubriciTY Improver, Fuel Soluble | | Drum | |
| Isopropanol ACS | A-A-59282 | Chemicals, Analytical; General Specification For | 6810-00-586-6647 | 5 Gallon Pail | |
| Isopropanol, Technical | TT-I-735A GR A | Isopropyl Alcohol | 6810-01-454-9527 | 1 Pint | |
| Isopropanol, Technical | TT-I-735A GR A | Isopropyl Alcohol | 6810-00-983-8551 | 1 Quart | |
| Isopropanol, Technical | TT-I-735A GR A | Isopropyl Alcohol | 6810-00-543-7915 | Drum | |
| Isopropanol, Technical | TT-I-735A GR A | Isopropyl Alcohol | | 5 Gallon Pail | |
| Isopropanol, Technical | TT-I-735A GR A | Isopropyl Alcohol | 6810-00-286-5435 | 1 Gallon | |
| Isopropanol, Technical | TT-I-735A GR A | Isopropyl Alcohol | 6810-00-286-5435 | 1 Gallon | |
| Isopropanol, Technical | TT-I-735B GR B | Isopropyl Alcohol | 6810-01-190-2538 | 9 Fluid Oz | |
| Isopropanol, Technical | TT-I-735B | Isopropyl Alcohol | 6810-01-220-9907 | 1 Gallon | |
| Isopropanol, Technical | TT-I-735B | Isopropyl Alcohol | 6810-00-855-6160 | 5 Gallon Pail | |
| Isopropanol, Technical | TT-I-735B | Isopropyl Alcohol | 6810-00-855-1158 | Drum | |
| Isopropanol, Technical | TT-I-735B | Isopropyl Alcohol | 6810-01-220-9907 | 1 Gallon | |
| Isopropanol, Technical | TT-I-735B | Isopropyl Alcohol | 6810-00-111-2222 | 1 Liter Can | |
| J Deere 80% Ether Start Fluid | | Fuel, Engine Primer | 6850-01-082-6783 | 7 Oz | |
| Kendall Non-Detergent SAE30 | | Lubricating Oil, Engine | 9150-01-543-1719 | 1 Quart | |
| Lektrotech S | | Lubricants, Corrosion Preventive Compound, Water Displacing, Synthetic | 6850-01-328-3617 | 16 Oz | |
| LPS 2 Lubricant | | Heavy-DuTY Lubricant | | 11 Oz | |
| LPS 2 Lubricant | | Heavy-DuTY Lubricant | | 1 Gallon | |
| Ls-28 Assembly Lubricant | | Grease. Assembly Lube | | 1 Gallon | |
| Lubri-Bond 220 Aerosol | | Mos2 Solid Film Lubricant | | 12 Oz | |
| Lubri-Bond 220 Qt C | | Mos2 Solid Film Lubricant | | 1 Quart | |
| Lubribond 220 Type I | | Lubricant, Solid Film, Air-Cured, Corrosion Inhibiting | 9150-00-954-7422 | 1 Quart | |
| Lubribond220 Type II | | Lubricant, Solid Film, Air-Cured, Corrosion Inhibiting | 9150-01-260-2534 | 16 Oz | |
| Lubrizol FM1408 | MIL-PRF-21260 10W | Lubricating Oil, Internal Combustion Engine, Preservative Break-In | | Bulk | |
| Lubrizol FM1408 | MIL-PRF-21260 10W | Lubricating Oil, Internal Combustion Engine, Preservative Break-In | 9150-00-111-3199 | 5 Gallon Pail | |
| Lubrizol FM1408 | MIL-PRF-21260 10W | Lubricating Oil, Internal Combustion Engine, Preservative Break-In | | Tote | |
| MEK,Technical | ASTM-D740 | Methyl Ethyl Ketone | 6810-00-281-2762 | 5 Gallon Pail | |
| MEK,Technical | ASTM-D740 | Methyl Ethyl Ketone | 6810-00-281-2763 | Drum | |
| MEK,Technical | ASTM-D740 | Methyl Ethyl Ketone | 6810-00-281-2764 | 1 Quart | |
| MEK,Technical | ASTM-D740 | Methyl Ethyl Ketone | 6810-00-281-2785 | 1 Gallon | |
| MEK,Technical | ASTM-D740 | Methyl Ethyl Ketone | 6810-00-281-2785 | 1 Gallon | |
| Meropa ISO 460 Grade 7 | | Lubricating Oil, Compounded Gear Oil | | Drum | |
| Meropa ISO 460 Grade 7 | | Lubricating Oil, Compounded Gear Oil | 9150-00-011-5892 | 1 Gallon | |
| Meropa ISO 680 Grade 8 | | Lubricating Oil, Compounded Gear Oil | | Drum | |
| Meropa ISO 680 Grade 8 | | Lubricating Oil, Compounded Gear Oil | 9150-01-348-3093 | 5 Gallon Pail | |
| Meropa ISO 680 Grade 8 | | Lubricating Oil, Compounded Gear Oil | 9150-01-348-3092 | 1 Gallon | |
| Methanol | O-M-232 | Methanol | 6810-00-275-6010 | 5 Gallon Pail | |
| Methanol | O-M-232 | Methanol | 6810-00-224-8353 | Drum | |
| Methanol | O-M-232 | Methanol | 6810-00-292-9676 | 1 Quart | |
| Methanol | O-M-232 | Methanol | 6810-00-597-3608 | 1 Gallon | |
| Methanol | O-M-232 | Methanol | 6810-00-292-9676 | 1 Quart | |
| Methanol | O-M-232 | Methanol | 6810-00-597-3608 | 1 Gallon | |
| Methanol Water 40/60 Solution | | Methanol-Water 40 60 Solution | | Bulk | |
| Methanol Water 40/60 Solution | | Methanol-Water 40 60 Solution | 6810-01-551-0544 | Drum | |
| MIBK | ASTM-D1153 | Methyl IsobuTYl Ketone | | Drum | |
| MIBK | ASTM-D1153 | Methyl IsobuTYl Ketone | 6810-00-286-3785 | 1 Gallon | |
| MIBK , ACS | A-A-59282 | Chemicals, Analytical; General Specification For | 6810-00-052-1371 | 1 Quart | |
| MIL Glycol Ether DB | | Diethylene Glycol MonobuTYl Ether, Technical | 6810-00-351-8185 | 1 Gallon | |
| MIL Spec G 40W | MIL-PRF-2104 | Lubricating Oil, Internal Combustion Engine, Combat/Tactical Service | 9150-01-460-7956 | Drum | |
| MIL Spec G 40W | MIL-PRF-2104 | Lubricating Oil, Internal Combustion Engine, Combat/Tactical Service | | 5 Gallon Pail | |
| MIL-C-15074 | MIL-C-15074 | | | Drum | |
| MIL-C-15074 | MIL-C-15074 | | | 5 Gallon Pail | |
| MIL-C-15074 | MIL-C-15074 | | | 5 Liter Can | |
| MIL-C-22230 | MIL-C-22230 | Cleaning Compound, Fuel Tank And Bilge | | Bulk | |
| MIL-C-22230 | MIL-C-22230 | Cleaning Compound, Fuel Tank And Bilge | 6850-00-965-2359 | 5 Gallon Pail | |
| MIL-DTL-25681 | MIL-DTL-25681 | Lubricant, Molybdenum Disulfide, Silicone | 9150-00-543-7220 | 1 LB | |
| MIL-DTL-85470 | MIL-MIL-85470B | Inhibitor, Icing, Fuel System, High Flash | 6850-01-377-5074 | 5 Gallon Pail | |
| MIL-DTL-85470 | MIL-MIL-85470B | Inhibitor, Icing, Fuel System, High Flash | 6850-01-089-5514 | Drum | |
| MIL-DTL-85470 | MIL-MIL-85470B | Inhibitor, Icing, Fuel System, High Flash | 6850-01-377-5075 | 1 Gallon | |
| MIL-DTL-85470 | MIL-MIL-85470B | Inhibitor, Icing, Fuel System, High Flash | | 1 Gallon | |
| MIL-DTL-85470 Aerosol | MIL-MIL-85470B | Inhibitor, Icing, Fuel System, High Flash | 6850-01-377-5314 | 20 Oz | |
| MIL-PRF-11090 | MIL-PRF-11090 | Cleaning Compound, Degreasing And Depreserving Solvent | | Bulk | |
| MIL-PRF-11090 | MIL-PRF-11090 | Cleaning Compound, Degreasing And Depreserving Solvent | 6850-00-224-6666 | Drum | |
| MIL-PRF-11090 | MIL-PRF-11090 | Cleaning Compound, Degreasing And Depreserving Solvent | 6850-00-224-6665 | 5 Gallon Pail | |
| MIL-T-81772 Type I | MIL-T-81772 TYPE I | Thinner, Aircraft Coating | | Bulk | |
| MIL-T-81772 Type I | MIL-T-81772 TYPE I | Thinner, Aircraft Coating | 8010-00-181-8079 | 5 Gallon Pail | |
| MIL-T-81772 Type I | MIL-T-81772 TYPE I | Thinner, Aircraft Coating | 8010-00-280-1751 | Drum | |
| MIL-T-81772 Type I | MIL-T-81772 TYPE I | Thinner, Aircraft Coating | 8010-00-181-8080 | 1 Gallon | |
| MIL-T-81772 Type II | MIL-T-81772 TYPE II | Thinner, Aircraft Coating | | Bulk | |
| MIL-T-81772 Type II | MIL-T-81772 TYPE II | Thinner, Aircraft Coating | 8010-01-212-1704 | 5 Gallon Pail | |
| MIL-T-81772 Type II | MIL-T-81772 TYPE II | Thinner, Aircraft Coating | 8010-01-168-0684 | Drum | |
| MIL-T-81772 Type II | MIL-T-81772 TYPE II | Thinner, Aircraft Coating | 8010-01-200-2637 | 1 Gallon | |
| MIL-T-81772B Type II I | MIL-T-81772B TYPE II I | Thinner, Aircraft Coating | | Tote | |
| Mobil DTE 10 Excel 32 | | Lubricating Oil | | Drum | |
| Mobil DTE 10 Excel 32 | | Lubricating Oil | | 5 Gallon Pail | |
| Mobil DTE 24 | | Hydraulic Oil | | Drum | |
| Mobil DTE 26 | | Lubricating Oil, Refrigerant Compressor | | 5 Gallon Pail | |
| Mobil DTE 26 | | Lubricating Oil, Refrigerant Compressor | | Drum | |
| Mobil DTE Oil Light | | Lubricating Oil | | Drum | |
| Mobil DTE Oil Light | | Lubricating Oil | | 5 Gallon Pail | |
| Mobil SHC 626 | | Lubricating Oil | | 5 Gallon Pail | |
| Mobil SHC 626 | | Lubricating Oil | | Drum | |
| Mobil SHC 629 | | Lubricating Oil, Gear | | Drum | |
| Mobil SHC 629 | | Lubricating Oil, Gear | | 5 Gallon Pail | |
| Mobil SHC 634 | | Lubricating Oil, Gear | | Drum | |
| Mobil Spartan EP 220 | | Lubricating Oil, Gear | | Drum | |
| Mobil Type F ATF Esw-M2C33-G | | Hydraulic Fluid, Automatic Transmission | 9150-01-092-9755 | 1 Quart | |
| Mobilgrease 28 | | Grease,Aircraft | | 5 Gallon Pail | |
| Mobilgrease 28 | | Grease,Aircraft | | 4.4 LB | |
| Mobilgrease XHP 222 | | Grease, General Purpose | | 14 Oz | |
| Mobilgrease XHP 222 | | Grease, General Purpose | 9150-01-547-8773 | 14 Oz | |
| Mold Release 225 Aerosol | | Parting Compound | 6850-01-561-9039 | 9 Oz | |
| Molybdenum SAE-AMS-M-7866 | SAE-AMS-M-7866 | Molybdenum Disulfide, Technical | | Drum | |
| Molybdenum SAE-AMS-M-7866 | SAE-AMS-M-7866 | Molybdenum Disulfide, Technical | 6810-00-264-6715 | 1 LB | |
| Mrn Eng Oil 9250 SAE40 | MIL-PRF-9000 | Lubrication Oil, Shipboard Internal Combustion Engine, High-Output Diesel | | Bulk | |
| Mrn Eng Oil 9250 SAE40 | MIL-PRF-9000 | Lubrication Oil, Shipboard Internal Combustion Engine, High-Output Diesel | 9150-00-181-8229 | 5 Gallon Pail | |
| Mrn Eng Oil 9250 SAE40 | MIL-PRF-9000 | Lubrication Oil, Shipboard Internal Combustion Engine, High-Output Diesel | 9150-00-181-8097 | Drum | |
| Multifak EP Grade 0 | | Multipurpose Extreme Pressure Grease | | 5 Gallon Pail | |
| Nalfleet 2000 | | Inhibitor, Corrosion, Liquid Cooling System | 6850-01-085-4719 | 5 Gallon Pail | |
| Nalfleet 2000 | | Inhibitor, Corrosion, Liquid Cooling System | 6850-01-086-3438 | Drum | |
| Nalfleet 2000 | | Inhibitor, Corrosion, Liquid Cooling System | 6850-01-086-3438 | Drum | |
| Nalfleet 2000 | | Inhibitor, Corrosion, Liquid Cooling System | 6850-01-085-4719 | 5 Gallon Pail | |
| Nautilus Prem Outboard | NMMA TC-W3 | Lubricating Oil, Two Cycle Engine | 9150-00-117-8791 | 1 Pint | |
| Nautilus Prem Outboard | NMMA TC-W3 | Lubricating Oil, Two Cycle Engine | 9150-01-318-6008 | 1 Quart | |
| Nautilus Prem Outboard | NMMA TC-W3 | Lubricating Oil, Two Cycle Engine | 9150-01-363-2439 | 1 Gallon | |
| Nautilus Prem Outboard | NMMA TC-W3 | Lubricating Oil, Two Cycle Engine | 9150-01-318-6999 | Drum | |
| Nautilus Prem Outboard | NMMA TC-W3 | Lubricating Oil, Two Cycle Engine | 9150-01-318-6008 | 1 Quart | |
| N-BUTYL ALCOHOL,TECHNICAL | ASTM D304-11 | N-BUTYL ALCOHOL,TECHNICAL | 6810-00-281-6928 | Drum | |
| N-BUTYL ALCOHOL,TECHNICAL | ASTM D304-11 | N-BUTYL ALCOHOL,TECHNICAL | 6810-00-281-2685 | 5 Gallon Pail | |
| Nordstrom 950 | SAE-AMS-G-6032 TY I | Grease, Plug Valve, Gasoline And Oil Resistant | 9150-00-257-5360 | 1.75 LB | |
| Perchloroethylene | ASTM D4376-02 | Vapor-Degreasing Grade Perchloroethylene | 6810-00-819-1128 | 5 Gallon Pail | |
| Perchloroethylene | ASTM D4376-02 | Vapor-Degreasing Grade Perchloroethylene | 6810-01-099-3435 | Drum | |
| Perma-Slik GLF | MIL-PRF-46147 | Lubricant, Solid Film, Air Cured, Corrosion Inhibiting | 9150-01-360-1906 | 1 Gallon | |
| Perma-Slik GLF | MIL-PRF-46147 | Lubricant, Solid Film, Air Cured, Corrosion Inhibiting | 9150-01-360-1908 | 1 Quart | |
| Perma-Slik GLF | MIL-PRF-46147 | Lubricant, Solid Film, Air Cured, Corrosion Inhibiting | 9150-01-360-1908 | 1 Quart | |
| Perma-Slik GLF | MIL-PRF-46147 | Lubricant, Solid Film, Air Cured, Corrosion Inhibiting | 9150-01-360-1908 | 1 Quart | |
| PG Antifreeze,Concentrate | A-A-52624 TY II Conc A | Antifreeze, Multi Engine TYpe | | Bulk | |
| PG Antifreeze,Concentrate | A-A-52624 TY II Conc A | Antifreeze, Multi Engine TYpe | 6850-01-441-3257 | 5 Gallon Pail | |
| PG Antifreeze,Concentrate | A-A-52624 TY II Conc A | Antifreeze, Multi Engine TYpe | 6850-01-383-3918 | Drum | |
| PG Antifreeze,Concentrate | A-A-52624 TY II Conc A | Antifreeze, Multi Engine TYpe | | Tote | |
| Phillips TY A Aviation Oil 60 | SAE-J1899 Gr60 | Oil, Lubricating, Aircraft Piston Engine | 9150-00-168-6889 | 1 Quart | |
| Phillips TY A Aviation Oil 60 | SAE-J1899 Gr60 | Oil, Lubricating, Aircraft Piston Engine | 9150-00-065-0115 | 1 Gallon | |
| Phillips TY A Aviation Oil 60 | SAE-J1899 Gr60 | Oil, Lubricating, Aircraft Piston Engine | 9150-00-753-4937 | Drum | |
| Phillips TY A Aviation Oil 60 | SAE-J1899 Gr60 | Oil, Lubricating, Aircraft Piston Engine | 9150-00-753-5060 | 5 Gallon Pail | |
| Propylene Glycol | MIL-DTL-83800 | Propanediol, 1, 2- | 6810-01-181-7121 | 1 Gallon | |
| Propylene Glycol | MIL-DTL-83800 | Propanediol, 1, 2- | 6810-00-394-3555 | Drum | |
| Propylene Glycol | MIL-DTL-83800 | Propanediol, 1, 2- | | Tote | |
| Royco 11MS | | Grease, Aircraft | | 14 Oz | |
| Royco 11MS | | Grease, Aircraft | 9150-01-466-7280 | 5 Gallon Pail | |
| Royco 11MS | | Grease, Aircraft | 9150-01-595-6664 | 14 Oz | |
| Royco 22CF | MIL-PRF-81322 | Grease, Aircraft, General Purpose, Wide Temperature Range | | Drum | |
| Royco 22CF | MIL-PRF-81322 | Grease, Aircraft, General Purpose, Wide Temperature Range | 9150-00-935-5851 | 5 Gallon Pail | |
| Royco 22CF | MIL-PRF-81322 | Grease, Aircraft, General Purpose, Wide Temperature Range | 9150-01-262-3358 | 14 Oz | |
| Royco 22CF | MIL-PRF-81322 | Grease, Aircraft, General Purpose, Wide Temperature Range | 9150-00-944-8953 | 1.75 LB | |
| Royco 22CF | MIL-PRF-81322 | Grease, Aircraft, General Purpose, Wide Temperature Range | 9150-00-181-7724 | 8 Oz | |
| Royco 22CF | MIL-PRF-81322 | Grease, Aircraft, General Purpose, Wide Temperature Range | 9150-00-145-0268 | 6.5 LB | |
| Royco 22MS | MIL-G-81827  | Grease, Aircraft, High Load CapaciTY, Wide Temperature Range | 9150-01-345-6449 | 14 Oz | |
| Royco 22MS | MIL-G-81827  | Grease, Aircraft, High Load CapaciTY, Wide Temperature Range | 9150-00-408-9635 | 1.75 LB | |
| Royco 22MS | MIL-G-81827  | Grease, Aircraft, High Load CapaciTY, Wide Temperature Range | | 14 Oz | |
| Royco 22MS | MIL-G-81827  | Grease, Aircraft, High Load CapaciTY, Wide Temperature Range | | 5 Gallon Pail | |
| Royco 22MS | MIL-G-81827  | Grease, Aircraft, High Load CapaciTY, Wide Temperature Range | | Drum | |
| Royco 27 | MIL-PRF-23827 | Grease, Aircraft And Instrument, Gear And Actuator Screw | 9150-00-935-4017 | 14 Oz | |
| Royco 27 | MIL-PRF-23827 | Grease, Aircraft And Instrument, Gear And Actuator Screw | 9150-00-985-7246 | 1.75 LB | |
| Royco 27 | MIL-PRF-23827 | Grease, Aircraft And Instrument, Gear And Actuator Screw | 9150-00-985-7245 | 8 Oz | |
| Royco 27 Type I | MIL-PRF-23827 | Grease, Aircraft And Instrument, Gear And Actuator Screw | 9150-00-985-7244 | 4 Oz | |
| Royco 27 Type I | MIL-PRF-23827 | Grease, Aircraft And Instrument, Gear And Actuator Screw | 9150-00-985-7247 | 6.5 LB | |
| Royco 27 Type I | MIL-PRF-23827 | Grease, Aircraft And Instrument, Gear And Actuator Screw | | Drum | |
| Royco 27 Type I | MIL-PRF-23827 | Grease, Aircraft And Instrument, Gear And Actuator Screw | 9150-00-985-7248 | 5 Gallon Pail | |
| Royco 308CA | MIL-PRF-32033 | Lubricating Oil, General Purpose, Preservative | 9150-00-231-9062 | 5 Gallon Pail | |
| Royco 308CA | MIL-PRF-32033 | Lubricating Oil, General Purpose, Preservative | 9150-00-281-8060 | Drum | |
| Royco 308CA | MIL-PRF-32033 | Lubricating Oil, General Purpose, Preservative | | 1/2 Fluid oz | |
| Royco 308CA | MIL-PRF-32033 | Lubricating Oil, General Purpose, Preservative | 9150-00-231-6689 | 1 Quart | |
| Royco 308CA | MIL-PRF-32033 | Lubricating Oil, General Purpose, Preservative | 9150-01-374-2021 | 1 Pint | |
| Royco 308CA | MIL-PRF-32033 | Lubricating Oil, General Purpose, Preservative | 9150-00-231-9045 | 1 Gallon | |
| Royco 308CA | MIL-PRF-32033 | Lubricating Oil, General Purpose, Preservative | | 5 Liters | |
| Royco 308CA | MIL-PRF-32033 | Lubricating Oil, General Purpose, Preservative | 9150-00-281-2060 | Drum | |
| Royco 308CA | MIL-PRF-32033 | Lubricating Oil, General Purpose, Preservative | 9150-00-231-9062 | 5 Gallon Pail | |
| Royco 308CA | MIL-PRF-32033 | Lubricating Oil, General Purpose, Preservative | 9150-00-231-9062 | 5 Gallon Pail | |
| Royco 308CA | MIL-PRF-32033 | Lubricating Oil, General Purpose, Preservative | 9150-00-231-6689 | 1 Quart | |
| Royco 308CA | MIL-PRF-32033 | Lubricating Oil, General Purpose, Preservative | 9150-01-374-2021 | 1 Pint | |
| Royco 308CA | MIL-PRF-32033 | Lubricating Oil, General Purpose, Preservative | 9150-00-273-2389 | 4 Fluid Oz | |
| Royco 308CA | MIL-PRF-32033 | Lubricating Oil, General Purpose, Preservative | 9150-00-231-9045 | 1 Gallon | |
| Royco 308CA | MIL-PRF-32033 | Lubricating Oil, General Purpose, Preservative | | 5 Liters | |
| Royco 363 | MIL-PRF-7870 | Lubricating Oil: General Purpose, Low Temperature | | 5 Gallon Pail | |
| Royco 363 | MIL-PRF-7870 | Lubricating Oil: General Purpose, Low Temperature | | Drum | |
| Royco 363 | MIL-PRF-7870 | Lubricating Oil: General Purpose, Low Temperature | | 5 Gallon Pail | |
| Royco 363 | MIL-PRF-7870 | Lubricating Oil: General Purpose, Low Temperature | 9150-00-263-3490 | 1 Quart | |
| Royco 363 | MIL-PRF-7870 | Lubricating Oil: General Purpose, Low Temperature | 9150-00-273-2397 | 1 Gallon | |
| Royco 363 | MIL-PRF-7870 | Lubricating Oil: General Purpose, Low Temperature | | 5 Liters | |
| Royco 43 | SAE-AMS-G-4343 | Grease, Pneumatic System | | 5 Gallon Pail | |
| Royco 43 | SAE-AMS-G-4343 | Grease, Pneumatic System | 9150-00-269-8255 | 1.75 LB | |
| Royco 43 | SAE-AMS-G-4343 | Grease, Pneumatic System | 9150-00-119-9291 | 2 Oz | |
| Royco 43 | SAE-AMS-G-4343 | Grease, Pneumatic System | | 8 Oz | |
| Royco 43 | SAE-AMS-G-4343 | Grease, Pneumatic System | | 6.5 LB | |
| Royco 481 | MIL-PRF-6081 GRADE 1010 | Lubricating Oil, Jet Engine | 9150-00-273-2388 | 1 Quart | |
| Royco 481 | MIL-PRF-6081 GRADE 1010 | Lubricating Oil, Jet Engine | 9150-00-231-6676 | Drum | |
| Royco 481 | MIL-PRF-6081 GRADE 1010 | Lubricating Oil, Jet Engine | | 5 Gallon Pail | |
| Royco 481 | MIL-PRF-6081 GRADE 1010 | Lubricating Oil, Jet Engine | 9150-00-273-2388 | 1 Quart | |
| Royco 481 | MIL-PRF-6081 GRADE 1010 | Lubricating Oil, Jet Engine | | 5 Gallon Pail | |
| Royco 481 | MIL-PRF-6081 GRADE 1010 | Lubricating Oil, Jet Engine | 9150-00-231-6676 | Drum | |
| Royco 482 | MIL-C-6529 TY II | Corrosion Preventive, Aircraft Engine | 6850-00-209-7234 | Drum | |
| Royco 482 | MIL-C-6529 TY II | Corrosion Preventive, Aircraft Engine | | 5 Gallon Pail | |
| Royco 482 | MIL-C-6529 TY II | Corrosion Preventive, Aircraft Engine | | 5 Liters | |
| Royco 483 | MIL-C-6529 TY III | Corrosion Preventive, Aircraft Engine | 6850-00-209-7230 | 5 Gallon Pail | |
| Royco 483 | MIL-C-6529 TY III | Corrosion Preventive, Aircraft Engine | | Drum | |
| Royco 483 | MIL-C-6529 TY III | Corrosion Preventive, Aircraft Engine | | 5 Gallon Pail | |
| Royco 483 | MIL-C-6529 TY III | Corrosion Preventive, Aircraft Engine | | 5 Liters | |
| Royco 49 | MIL-DTL-23549D | Grease, General Purpose | | Drum | |
| Royco 49 | MIL-DTL-23549D | Grease, General Purpose | 9150-00-823-8047 | 5 Gallon Pail | |
| Royco 49 | MIL-DTL-23549D | Grease, General Purpose | 9150-00-985-7316 | 1.75 LB | |
| Royco 49 | MIL-DTL-23549D | Grease, General Purpose | | 1 LB | |
| Royco 49 | MIL-DTL-23549D | Grease, General Purpose | 9150-00-823-8047 | 5 Gallon Pail | |
| Royco 49 | MIL-DTL-23549D | Grease, General Purpose | 9150-00-235-5555 | 6.5 LB | |
| Royco 500 | MIL-PRF-23699 STD | Lubricating Oil, Aircraft Turbine Engine, Synthetic Base | | Drum | |
| Royco 500 | MIL-PRF-23699 STD | Lubricating Oil, Aircraft Turbine Engine, Synthetic Base | 9150-01-476-1074 | 1 Quart | |
| Royco 555 | DOD-PRF-85734 | Lubricating Oil, Helicopter Transmission System | 9150-01-209-3399 | Drum | |
| Royco 555 | DOD-PRF-85734 | Lubricating Oil, Helicopter Transmission System | 9150-01-209-2684 | 1 Quart | |
| Royco 560 | MIL-PRF-2366 HTS | Lubricating Oil, Aircraft Turbine Engine, Synthetic Base | 9150-01-439-2070 | Drum | |
| Royco 560 | MIL-PRF-2366 HTS | Lubricating Oil, Aircraft Turbine Engine, Synthetic Base | 9150-01-439-0756 | 1 Quart | |
| Royco 581 | MIL-C-6529 TY I | Corrosion Preventive, Aircraft Engine | | Drum | |
| Royco 581 | MIL-C-6529 TY I | Corrosion Preventive, Aircraft Engine | 6850-00-281-2031 | 5 Gallon Pail | |
| Royco 581 | MIL-C-6529 TY I | Corrosion Preventive, Aircraft Engine | 6850-33-002-1456 | 5 Liters | |
| Royco 581 | MIL-C-6529 TY I | Corrosion Preventive, Aircraft Engine | | Tote | |
| Royco 586M Grade M | MIL-PRF-6086 GR M | Lubricating Oil, Gear, Petroleum Base | 9150-00-223-4130 | 1 Gallon | |
| Royco 586M Grade M | MIL-PRF-6086 GR M | Lubricating Oil, Gear, Petroleum Base | | 5 Liters | |
| Royco 586M Grade M | MIL-PRF-6086 GR M | Lubricating Oil, Gear, Petroleum Base | | Drum | |
| Royco 586M Grade M | MIL-PRF-6086 GR M | Lubricating Oil, Gear, Petroleum Base | | 5 Gallon Pail | |
| Royco 586M Grade M | MIL-PRF-6086 GR M | Lubricating Oil, Gear, Petroleum Base | 9150-00-240-2235 | 1 Pint | |
| Royco 64 | MIL-G-21164 | Grease, Molybdenum Disulfide, For Low And High Temperatures | 9150-00-965-2003 | 5 Gallon Pail | |
| Royco 64 | MIL-G-21164 | Grease, Molybdenum Disulfide, For Low And High Temperatures | | Drum | |
| Royco 64 | MIL-G-21164 | Grease, Molybdenum Disulfide, For Low And High Temperatures | 9150-00-935-4018 | 14 Oz | |
| Royco 64 | MIL-G-21164 | Grease, Molybdenum Disulfide, For Low And High Temperatures | 9150-00-754-2595 | 1.75 LB | |
| Royco 64 | MIL-G-21164 | Grease, Molybdenum Disulfide, For Low And High Temperatures | | 1 Pint | |
| Royco 64 | MIL-G-21164 | Grease, Molybdenum Disulfide, For Low And High Temperatures | 9150-00-223-4004 | 6.5 LB | |
| Royco 756 | MIL-PRF-5606 | Hydraulic Fluid, Petroleum Base; Aircraft, Missile, And Ordnance | 9150-00-265-9408 | Drum | |
| Royco 756 | MIL-PRF-5606 | Hydraulic Fluid, Petroleum Base; Aircraft, Missile, And Ordnance | | 5 Gallon Pail | |
| Royco 756 | MIL-PRF-5606 | Hydraulic Fluid, Petroleum Base; Aircraft, Missile, And Ordnance | 9150-00-252-6383 | 1 Quart | |
| Royco 756 | MIL-PRF-5606 | Hydraulic Fluid, Petroleum Base; Aircraft, Missile, And Ordnance | 9150-00-223-4134 | 1 Gallon | |
| Royco 782 | MIL-PRF-83282 | Hydraulic Fluid, Fire Resistant, Synthetic Hydrocarbon Base | | 5 Gallon Pail | |
| Royco 782 | MIL-PRF-83282 | Hydraulic Fluid, Fire Resistant, Synthetic Hydrocarbon Base | 9150-00-180-6290 | Drum | |
| Royco 782 | MIL-PRF-83282 | Hydraulic Fluid, Fire Resistant, Synthetic Hydrocarbon Base | 9150-00-149-7431 | 1 Quart | |
| Royco 782 | MIL-PRF-83282 | Hydraulic Fluid, Fire Resistant, Synthetic Hydrocarbon Base | 9150-00-149-7432 | 1 Gallon | |
| Royco 783 | MIL-PRF-6083 | Hydraulic Fluid, Petroleum Base, For Preservation And Operation | | Drum | |
| Royco 783 | MIL-PRF-6083 | Hydraulic Fluid, Petroleum Base, For Preservation And Operation | 9150-00-159-4472 | 13 Oz | |
| Royco 808 | MIL-PRF-7808 GR 3 | Lubricating Oil, Aircraft Turbine Engine | 9150-00-782-2627 | 1 Quart | |
| Royco 808 | MIL-PRF-7808 GR 3 | Lubricating Oil, Aircraft Turbine Engine | 9150-00-782-2679 | Drum | |
| Royco 808 | MIL-PRF-7808 GR 3 | Lubricating Oil, Aircraft Turbine Engine | | 5 Gallon Pail | |
| Royco 885 | MIL-PRF-6085 | Lubricating Oil Instrument, Aircraft, Low VolatiliTY | | 1 Pint | |
| Royco 885 | MIL-PRF-6085 | Lubricating Oil Instrument, Aircraft, Low VolatiliTY | | Drum | |
| Royco 885 | MIL-PRF-6085 | Lubricating Oil Instrument, Aircraft, Low VolatiliTY | | 1 Quart | |
| Royco 885 | BMS 3-7C | Lubricating Oil Instrument, Aircraft, Low VolatiliTY | 9150-00-753-4667 | 1 Quart | |
| Royco 899 | MIL-PRF-23699 C/I | Lubricating Oil, Aircraft Turbine Engine, Synthetic Base | 9150-00-681-5999 | Drum | |
| Royco 899 | MIL-PRF-23699 C/I | Lubricating Oil, Aircraft Turbine Engine, Synthetic Base | 9150-00-985-7099 | 1 Quart | |
| Royco Lgf | BMS-3-32 Type II Yellow | Landing Gear Fluid | | 5 Gallon Pail | |
| Royco Lgf | BMS-3-32 Type II Yellow | Landing Gear Fluid | | Drum | |
| Royco Lgf | BMS-3-32 Type II Yellow | Landing Gear Fluid | | 1 Gallon | |
| SAE 0W-30 | MIL-PRF-46167 | Lubricating Oil, Internal Combustion Engine, Arctic | | Bulk | |
| SAE 0W-30 | MIL-PRF-46167 | Lubricating Oil, Internal Combustion Engine, Arctic | 9150-00-491-7197 | Drum | |
| SAE 0W-30 | MIL-PRF-46167 | Lubricating Oil, Internal Combustion Engine, Arctic | 9150-00-402-2372 | 5 Gallon Pail | |
| SAE 0W-30 | MIL-PRF-46167 | Lubricating Oil, Internal Combustion Engine, Arctic | 9150-01-574-9209 | 1 Quart | |
| SAE 0W-30 | MIL-PRF-46167 | Lubricating Oil, Internal Combustion Engine, Arctic | | Tote | |
| SAE 15W-40 | MIL-PRF-21260 | Lubricating Oil, Internal Combustion Engine, Preservative Break-In | 9150-01-359-8567 | Bulk | |
| SAE 30 Grade SAE 30 | MIL-PRF-21260 | Lubricating Oil, Internal Combustion Engine, Preservative Break-In | | Bulk | |
| SAE 30 Grade SAE 30 | MIL-PRF-21260 | Lubricating Oil, Internal Combustion Engine, Preservative Break-In | 9150-00-111-0210 | Drum | |
| SAE 30 Grade SAE 30 | MIL-PRF-21260 | Lubricating Oil, Internal Combustion Engine, Preservative Break-In | 9150-00-111-0209 | 5 Gallon Pail | |
| SAE 30 Grade SAE 30 | MIL-PRF-21260 | Lubricating Oil, Internal Combustion Engine, Preservative Break-In | | Tote | |
| SAE 30 Grade SAE 40 | MIL-PRF-21260 | Lubricating Oil, Internal Combustion Engine, Preservative Break-In | 9150-01-293-7697 | Drum | |
| SAE 30 Grade SAE 40 | MIL-PRF-21260 | Lubricating Oil, Internal Combustion Engine, Preservative Break-In | 9150-01-293-2773 | 5 Gallon Pail | |
| SAE 30 Grade SAE 40 | MIL-PRF-21260 | Lubricating Oil, Internal Combustion Engine, Preservative Break-In | | Tote | |
| SAE-J967 | SAE-J967 | Calibration Fluid | | Drum | |
| SDA 3A 200 PF | 27 CFR 21.35 | Denatured Alcohol,SDA 3A | 6810-00-201-0904 | Drum | |
| SDA 3A 200 PF | 27 CFR 21.35 | Denatured Alcohol,SDA 3A | 6810-00-201-0907 | 5 Gallon Pail | |
| SDA 3A 200 PF | 27 CFR 21.35 | Denatured Alcohol,SDA 3A | 6810-00-543-7415 | 1 Gallon | |
| SDA 3A 200 PF | 27 CFR 21.35 | | 6810-00-201-0906 | 1 Pint | |
| Shell Air Tool Oil S2 A 320 | | Lubricating Oil, Rock Drill | 9150-00-142-9556 | 5 Gallon Pail | |
| Shell Air Tool Oil S2 A 320 | | Lubricating Oil, Rock Drill | 9150-00-142-9320 | Drum | |
| Shell Gadinia 40 | | Lubricating Oil, Engine | 9150-01-563-7983 | Drum | |
| Shell Gadus S1 V160D 2 | | Grease, Molybdenum Disulfide | 9150-01-005-4860 | Drum | |
| Shell Gadus S2 V220 2 | | Grease, Ball And Roller Bearing | 9150-00-347-0471 | 5 Gallon Pail | |
| Shell Gadus S2 V220 2 | | Grease, Ball And Roller Bearing | | 14 Oz | |
| Shell Oil 555 | DOD-PRF-85734 | Lubricating Oil, Helicopter Transmission System | 9150-01-209-2684 | 1 Quart | |
| Shell Oil W120 | SAE-J1899 60 | Oil, Lubricating, Aircraft Piston Engine | 9150-00-168-6889 | 1 Quart | |
| Shell Oil W120 | SAE-J1899 60 | Oil, Lubricating, Aircraft Piston Engine | 9150-00-065-0115 | 1 Gallon | |
| Shell Oil W120 | SAE-J1899 60 | Oil, Lubricating, Aircraft Piston Engine | 9150-00-019-5701 | 1 Quart | |
| Shell Oil W120 | SAE-J1899 60 | Oil, Lubricating, Aircraft Piston Engine | 9150-00-019-5701 | 1 Quart | |
| Shell Power Steering Fluid | | Hydraulic Fluid, Power Steering | | Drum | |
| Shell Power Steering Fluid | | Hydraulic Fluid, Power Steering | 9150-01-087-2234 | 1 Quart | |
| Shell Rotella T1 Grade SAE 40 | | Lubricating Oil, Engine | | Bulk | |
| Shell Rotella T1 Grade SAE 40 | | Lubricating Oil, Engine | 9150-01-385-6063 | Drum | |
| Shell Rotella T1 Grade SAE 40 | | Lubricating Oil, Engine | 9150-01-385-6063 | Drum | |
| Shell Rotella T6 Grade 5W-40 | | Lubricating Oil, Engine | | Drum | |
| Shell Rotella T6 Grade 5W-40 | | Lubricating Oil, Engine | 9150-01-524-9131 | 5 Gallon Pail | |
| Shell Spirax S6 A295 | Allison TES-295 | Hydraulic Fluid, Automatic Transmission | 9150-01-551-2796 | Drum | |
| Shell Spirax S6 A295 | Allison TES-295 | Hydraulic Fluid, Automatic Transmission | | BULK | |
| Shell Spirax S6 A295 | Allison TES-295 | Hydraulic Fluid, Automatic Transmission | 9150-01-552-9157 | 5 GL | |
| Shell Spirax S6 A295 | Allison TES-295 | Hydraulic Fluid, Automatic Transmission | 9050-01-565-0981 | 1 Gallon | |
| Shell Tellus S2 M 46 | | Lubricating Oil, General Purpose | 9150-01-604-2245 | 5 Gallon Pail | |
| Shell Tellus S2 MX 100 | | Lubricating Oil, General Purpose | | 5 Gallon Pail | |
| Shell Tellus S2 MX 100 | | Lubricating Oil, General Purpose | 9150-00-859-1320 | 1 Pint | |
| Shell Tellus S2 MX 32 | | Lubricating Oil, Hydraulic | | Drum | |
| Shell Tellus S2 MX 32 | | Lubricating Oil, Hydraulic | 9150-01-466-8594 | 5 Gallon Pail | |
| Sosure MIL-PRF-81309 TYII Cl1 | MIL-PRF-81309 TY II | Corrosion Preventive Compounds, Water Displacing, Ultra-Thin Film | | 1 Gallon | |
| Spirax S1 Atf Type F Esw-M2C33-G | Type F ATF | Hydraulic Fluid, Automatic Transmission | | Drum | |
| Spirax S1 Type F Esw-M2C33-G | Type F ATF | Hydraulic Fluid, Automatic Transmission | 9150-01-092-9755 | 1 Quart | |
| Spirax S1 Type F Esw-M2C33-G | Type F ATF | Hydraulic Fluid, Automatic Transmission | 9150-00-843-1636 | 1 Gallon | |
| Spirax S4 Ax 40W-140 | SAE-J2360 | Oil, Lubricating, Gear Multipurpose (Metric) MILitary Use | 9150-01-048-4591 | 1 Quart | |
| Spirax S4 Ax 80W-90 | SAE-J2360 | Oil, Lubricating, Gear Multipurpose (Metric) MILitary Use | | Bulk | |
| Spirax S4 Ax 80W-90 | SAE-J2360 | Oil, Lubricating, Gear Multipurpose (Metric) MILitary Use | | 5 Gallon Pail | |
| Spirax S4 Ax 80W-90 | SAE-J2360 | Oil, Lubricating, Gear Multipurpose (Metric) MILitary Use | 9150-01-035-5394 | Drum | |
| Spirax S4 Ax 80W-90 | SAE-J2360 | Oil, Lubricating, Gear Multipurpose (Metric) MILitary Use | 9150-01-035-5396 | Drum | |
| Spirax S4 Ax 80W-90 | SAE-J2360 | Oil, Lubricating, Gear Multipurpose (Metric) MILitary Use | 9150-01-035-5395 | 5 Gallon Pail | |
| Spirax S4 Ax 80W-90 | SAE-J2360 | Oil, Lubricating, Gear Multipurpose (Metric) MILitary Use | 9150-01-313-2191 | 1 Gallon | |
| Spirax S6 Axrme 75W90 | SAE-J2360 | Oil, Lubricating, Gear Multipurpose (Metric) MILitary Use | | Drum | |
| Spirax S6 Axrme 75W90 | SAE-J2360 | Oil, Lubricating, Gear Multipurpose (Metric) MILitary Use | 9150-01-035-5392 | 1 Quart | |
| Spirax S6 Axrme 75W90 | SAE-J2360 | Oil, Lubricating, Gear Multipurpose (Metric) MILitary Use | 9150-01-035-5390 | 1 Quart | |
| Stadis 450 | | Antistatic Additive, Aviation Turbine Fuel | 6850-01-099-4015 | 5 Gallon Pail | |
| Stadis 450 | | Antistatic Additive, Aviation Turbine Fuel | 6850-01-097-2060 | 1 Gallon | |
| Stadis 450 | | Antistatic Additive, Aviation Turbine Fuel | 6850-01-447-4075 | Drum | |
| Summit Lubricants, SL-320 | MIL-PRF-10924 | Grease, Automotive And Artillery | | Drum | |
| Summit Lubricants, SL-320 | MIL-PRF-10924 | Grease, Automotive And Artillery | | 5 Gallon Pail | |
| Summit Lubricants, SL-320 | MIL-PRF-10924 | Grease, Automotive And Artillery | | 5 Gallon Pail | |
| Summit Lubricants, SL-320 | MIL-PRF-10924 | Grease, Automotive And Artillery | 9150-01-197-7693 | 14 Oz | |
| Summit Lubricants, SL-320 | MIL-PRF-10924 | Grease, Automotive And Artillery | 9150-01-197-7690 | 1.75 LB | |
| Summit Lubricants, SL-320 | MIL-PRF-10924 | Grease, Automotive And Artillery | 9150-01-197-7689 | 6.5 LB | |
| Summit Lubricants, SL-320 | MIL-PRF-10924 | Grease, Automotive And Artillery | 9150-00-190-0906 | 6.5 LB | |
| Super Three Star 75W90 SAE-J2360 | SAE-J2360 | Oil, Lubricating, Gear Multipurpose (Metric) MILitary Use | 9150-01-035-5390 | 1 Quart | |
| Super Three Star 75W90 SAE-J2360 | SAE-J2360 | Oil, Lubricating, Gear Multipurpose (Metric) MILitary Use | | Drum | |
| Super Three Star 75W90 SAE-J2360 | SAE-J2360 | Oil, Lubricating, Gear Multipurpose (Metric) MILitary Use | 9150-01-035-5391 | 5 Gallon Pail | |
| Super Three Star 75W90 SAE-J2360 K | SAE-J2360 | Oil, Lubricating, Gear Multipurpose (Metric) MILitary Use | | 16 Gallons | |
| Surf-Kote Lob-1800G Class A | | High Temperature Dry Film Lubricant | | 1 Gallon | |
| Surf-Kote Lob-1800G Class A | | High Temperature Dry Film Lubricant | | 1 Quart | |
| Surf-Kote M-1284 | | High Temperature Dry Film Lubricant | | 1 Quart | |
| Surf-Kote M-1284 | | High Temperature Dry Film Lubricant | | 1 Gallon | |
| Technolube | MIL-PRF-6083 | Hydraulic Fluid, Petroleum Base, For Preservation And Operation | | Drum | |
| Technolube | MIL-PRF-6083 | Hydraulic Fluid, Petroleum Base, For Preservation And Operation | 9150-00-159-4472 | 13 OZ | |
| Technolube | MIL-PRF-6083 | Hydraulic Fluid, Petroleum Base, For Preservation And Operation | | 1 Gallon | |
| Technolube 32 | MIL-PRF-17672 32 | Hydraulic Fluid, Petroleum, Inhibited | 9150-00-985-7231 | 1 Quart | |
| Technolube 46 | MIL-PRF-17672 46 | Hydraulic Fluid, Petroleum, Inhibited | 9150-00-753-4799 | 1 Gallon | |
| Technolube 68 | MIL-PRF-17672 68 | Hydraulic Fluid, Petroleum, Inhibited | 9150-00-985-7236 | 1 Quart | |
| Technolube FB-001F | MIL-PRF-83282 | Hydraulic Fluid, Fire Resistant, Synthetic Hydrocarbon Base | 9150-00-149-7431 | 1 Quart | |
| Technolube FB-001F | MIL-PRF-83282 | Hydraulic Fluid, Fire Resistant, Synthetic Hydrocarbon Base | 9150-00-149-7432 | 1 Gallon | |
| Technolube Fb-001F | MIL-PRF-83282 | Hydraulic Fluid, Fire Resistant, Synthetic Hydrocarbon Base | 9150-00-180-6290 | Drum | |
| Technolube Fb-001F | MIL-PRF-83282 | Hydraulic Fluid, Fire Resistant, Synthetic Hydrocarbon Base | | 5 Gallon Pail | |
| Technolube FB003 | MIL-PRF-5606 | Hydraulic Fluid, Petroleum Base; Aircraft, Missile, And Ordnance | | 5 Gallon Pail | |
| Technolube FB003 | MIL-PRF-5606 | Hydraulic Fluid, Petroleum Base; Aircraft, Missile, And Ordnance | 9150-00-223-4134 | 1 Gallon | |
| Technolube FB-005 | MIL-DTL-17111 | Fluid, Power Transmission | | Drum | |
| Technolube FB-005 | MIL-DTL-17111 | Fluid, Power Transmission | 9150-00-261-8317 | 5 Gallon Pail | |
| Technolube ISO VG 32 | MIL-PRF-17672 | Hydraulic Fluid, Petroleum, Inhibited | 9150-00-985-7232 | 5 Gallon Pail | |
| Technolube ISO VG 32 | MIL-PRF-17672 | Hydraulic Fluid, Petroleum, Inhibited | 9150-00-985-7233 | Drum | |
| Technolube ISO VG 46 | MIL-PRF-17672 | Hydraulic Fluid, Petroleum, Inhibited | 9150-00-582-5480 | Drum | |
| Technolube ISO VG 46 | MIL-PRF-17672 | Hydraulic Fluid, Petroleum, Inhibited | 9150-00-985-7234 | 5 Gallon Pail | |
| Technolube ISO VG 68 | MIL-PRF-17672 | Hydraulic Fluid, Petroleum, Inhibited | | 5 Gallon Pail | |
| Technolube ISO VG 68 | MIL-PRF-17672 | Hydraulic Fluid, Petroleum, Inhibited | 9150-00-584-2560 | Drum | |
| Technolube Turbo 1010 | MIL-PRF-6081 GRADE 1010 | Lubricating Oil, Jet Engine | 9150-00-231-6676 | Drum | |
| Technolube Turbo 1010 | MIL-PRF-6081 GRADE 1010 | Lubricating Oil, Jet Engine | | Tote | |
| Technolube Turbo 1010 | MIL-PRF-6081 | Lubricating Oil, Jet Engine | 9150-00-231-6676 | Drum | |
| Tectyl 435D | MIL-C-11796 CL 1 | Corrosion Preventive Compound, Petrolatum, Hot Application | | 1 Quart | |
| Tectyl 435D | MIL-C-11796 CL 1 | Corrosion Preventive Compound, Petrolatum, Hot Application | | 1 LB | |
| Tectyl 435D | MIL-C-11796 CL 1 | Corrosion Preventive Compound, Petrolatum, Hot Application | | 1 Gallon | |
| Tectyl 435D | MIL-C-11796 CL 1 | Corrosion Preventive Compound, Petrolatum, Hot Application | | 1 Gallon | |
| Tectyl 435D | MIL-C-11796 CL 1 | Corrosion Preventive Compound, Petrolatum, Hot Application | | 5 Gallon Pail | |
| Tectyl 437D | MIL-C-11796 CL 3 | Corrosion Preventive Compound, Petrolatum, Hot Application | | 5 Gallon Pail | |
| Tectyl 437D | MIL-C-11796 CL 3 | Corrosion Preventive Compound, Petrolatum, Hot Application | | Drum | |
| Tectyl 502C CLI | MIL-PRF-16173 | Corrosion Preventive Compound, Solvent Cutback, Cold-Application | | 5 Gallon Pail | |
| Tectyl 502C CLI | MIL-PRF-16173 | Corrosion Preventive Compound, Solvent Cutback, Cold-Application | | 5 Liter Can | |
| Tectyl 502C CLI | MIL-PRF-16173 | Corrosion Preventive Compound, Solvent Cutback, Cold-Application | | 1 Gallon | |
| Tectyl 802A | MIL-PRF-3150 | Lubricating Oil, Preservative, Medium | 9150-00-231-2356 | 5 Gallon Pail | |
| Tectyl 802A | MIL-PRF-3150 | Lubricating Oil, Preservative, Medium | 9150-00-231-2361 | 1 Quart | |
| Tectyl 846 Class I | MIL-PRF-16173 | Corrosion Preventive Compound, Solvent Cutback, Cold-Application | | 5 Gallon Pail | |
| Tectyl 859B | MIL-PRF-46002 | Preservative Oil, Contact And Volatile Corrosion-Inhibited | | Drum | |
| Tectyl 859B | MIL-PRF-46002 | Preservative Oil, Contact And Volatile Corrosion-Inhibited | 9150-00-889-3523 | 1 Quart | |
| Tectyl 891D Cl II | MIL-PRF-16173 | Corrosion Preventive Compound, Solvent Cutback, Cold-Application | | Drum | |
| Tectyl 891D CLI | MIL-PRF-16173 | Corrosion Preventive Compound, Solvent Cutback, Cold-Application | | 1 Quart | |
| Tectyl 891D CLI | MIL-PRF-16173 | Corrosion Preventive Compound, Solvent Cutback, Cold-Application | | 1 Quart | |
| Tectyl 891D CLI | MIL-PRF-16173 | Corrosion Preventive Compound, Solvent Cutback, Cold-Application | | 5 Liter Can | |
| Tectyl 891D CLI | MIL-PRF-16173 | Corrosion Preventive Compound, Solvent Cutback, Cold-Application | | 1 Gallon | |
| Tectyl 891D CLI | MIL-PRF-16173 | Corrosion Preventive Compound, Solvent Cutback, Cold-Application | | Drum | |
| Tectyl 891D CLI | MIL-PRF-16173 | Corrosion Preventive Compound, Solvent Cutback, Cold-Application | | 5 Gallon Pail | |
| Tectyl 894 Class I | MIL-PRF-16173 | Corrosion Preventive Compound, Solvent Cutback, Cold-Application | | 5 Gallon Pail | |
| Tectyl 910E2 | MIL-PRF-21260 SAE 10W | Lubricating Oil, Internal Combustion Engine, Preservative Break-In | 9150-00-111-3199 | 5 Gallon Pail | |
| Tectyl 910E2 | MIL-PRF-21260 SAE 10W | Lubricating Oil, Internal Combustion Engine, Preservative Break-In | 9150-00-111-0208 | Drum | |
| Toluene | A-A-59107 | Toluene, Technical | 6810-00-290-0048 | 5 Gallon Pail | |
| Toluene | A-A-59107 | Toluene, Technical | 6810-00-290-0046 | Drum | |
| Toluene | A-A-59107 | Toluene, Technical | 6810-00-579-8016 | 1 Pint | |
| Toluene | A-A-59107 | Toluene, Technical | 6810-00-579-8431 | 1 Quart | |
| Toluene | A-A-59107 | Toluene, Technical | 6810-00-281-2002 | 1 Gallon | |
| Toluene | A-A-59107 | Toluene, Technical | | 1 Gallon | |
| Tribolube 2N | MIL-PRF-83261 | Grease, Aircraft, Extreme Pressure, Anti-Wear | | 1 Gallon | |
| Tri-Cool TC-1 | | Synthetic Cutting Fluid | | 5 Gallon Pail | |
| Tri-Cool TC-1 | | Synthetic Cutting Fluid | | Drum | |
| Tri-Cool TC-1 | | Synthetic Cutting Fluid | 9150-01-444-0740 | 1 Gallon | |
| TT-N-95 Type I | TT-TT-95B TYPE I | Naphtha, Aliphatic | | 1 Quart | |
| TT-N-95 Type I | TT-TT-95B TYPE I | Naphtha, Aliphatic | 6810-00-082-1718 | 1 Gallon | |
| TT-N-95 Type I | TT-TT-95B TYPE I | Naphtha, Aliphatic | 6810-00-082-1718 | 1 Gallon | |
| TT-N-95 Type II | TT-TT-95B TYPE B | Naphtha, Aliphatic | 6810-00-265-0664 | 5 Gallon Pail | |
| TT-N-95 Type II | TT-TT-95B TYPE B | Naphtha, Aliphatic | 6810-00-238-8117 | Drum | |
| TT-N-95 Type II | TT-TT-95B TYPE ALPHA | Naphtha, Aliphatic | | 1 Quart | |
| TT-N-95 Type II | TT-TT-95B TYPE II | Naphtha, Aliphatic | 6810-00-238-8119 | 1 Gallon | |
| TT-N-95 Type II | TT-TT-95B TYPE II | Naphtha, Aliphatic | 6810-00-238-8119 | 1 Gallon | |
| TT-N-97 Type I Grade A | TT-N-97 Type I | Naphtha, Aromatic | | Bulk | |
| TT-N-97 Type I Grade A | TT-N-97 Type I | Naphtha, Aromatic | 6810-00-223-9073 | 5 Gallon Pail | |
| TT-N-97 Type I Grade A | TT-N-97 Type I | Naphtha, Aromatic | 6810-00-223-9069 | 1 Gallon | |
| TT-N-97 Type II | TT-N-97 Type II | Naphtha, Aromatic | | Bulk | |
| TT-N-97 Type II | TT-N-97 Type II | Naphtha, Aromatic | 6810-00-223-9067 | 1 Gallon | |
| TT-N-97 Type III | TT-N-97 Type III | Naphtha, Aromatic | 6810-00-244-7639 | Drum | |
| Turbine Oil 2190 TEP | MIL-PRF-17331K | Lubricating Oil, Steam Turbine And Gear, Moderate Service | | Bulk | |
| Turbine Oil 2190 TEP | MIL-PRF-17331K | Lubricating Oil, Steam Turbine And Gear, Moderate Service | 9150-01-370-2583 | 5 Gallon Pail | |
| Turbine Oil 2190 TEP | MIL-PRF-17331K | Lubricating Oil, Steam Turbine And Gear, Moderate Service | 9150-01-368-7075 | Drum | |
| Turbine Oil Oil 2190 | MIL-PRF-17331K | Lubricating Oil, Steam Turbine And Gear, Moderate Service | 9150-01-368-7075 | Drum | |
| Turbine Oil Oil 2190 | MIL-PRF-17331K | Lubricating Oil, Steam Turbine And Gear, Moderate Service | 9150-01-368-7076 | 1 Gallon | |
| Turbine Oil Oil 2190 | MIL-PRF-17331K | Lubricating Oil, Steam Turbine And Gear, Moderate Service | 9150-01-368-7275 | Tote | |
| United Erie, Ez-Turn | SAE-Ams-G-6032 TY I C | Grease, Plug Valve, Gasoline And Oil Resistant | 9150-00-257-5360 | 1.75 LB | |
| Versatrans ATF | Dexron VI | Hydraulic Fluid, Automatic Transmission | | Bulk | |
| Versatrans ATF | Dexron VI | Hydraulic Fluid, Automatic Transmission | 9150-00-657-4959 | 5 Gallon Pail | |
| Versatrans ATF | Dexron VI | Hydraulic Fluid, Automatic Transmission | 9150-01-353-4799 | 1 Quart | |
| Versilube G330M | | Grease, Silicone Insulated Electric Motor | | 5 Gallon Pail | |
| Versilube G330M | | Grease, Silicone Insulated Electric Motor | 9150-01-104-5228 | 14 Oz | |
| Versilube G351 | MIL-L-15719 | Lubricating Grease | | Drum | |
| Versilube G351 | MIL-L-15719 | Lubricating Grease | | 5 Gallon Pail | |
| Versilube G351 | MIL-L-15719 | Lubricating Grease | 9150-01-080-9652 | 14 Oz | |
| Versilube G351 | MIL-L-15719 | Lubricating Grease | 9150-00-257-5358 | 8 Oz | |
| Versilube G351 | MIL-L-15719 | Lubricating Grease | | 1 Gallon | |
| Versilube G624 | SAE-AS8660 | Silicone Compound | | 5 Gallon Pail | |
| Versilube G624 | SAE-AS8660 | Silicone Compound | | 5.3 Oz | |
| Versilube G624 | SAE-AS8660 | Silicone Compound | 6850-00-880-7616 | 8 Oz | |
| Versilube G624 | SAE-AS8660 | Silicone Compound | | 5 Gallon Pail | |
| Versilube G624 | SAE-AS8660 | Silicone Compound | | 1 Gallon | |
| Verslbe G351 | MIL-L-15719 | Lubricating Grease | 9150-00-903-7094 | 1.75 LB | |
| Verslube G351 | MIL-L-15719 | Lubricating Grease | | 11 Oz | |
| Xylene | A-A-59760 | Ten-Degree Xylene | 6810-00-584-4070 | 5 Gallon Pail | |
| Xylene | A-A-59760 | Ten-Degree Xylene | 6810-00-584-4071 | 1 Quart | |
| Xylene | A-A-59760 | Ten-Degree Xylene | 6810-00-598-6600 | 1 Gallon | |
| Type A Aviation Oil | SAE-J1899 | Oil, Lubricating, Aircraft Piston Engine | 9150-00-753-4937 | Drum | |
| Type A Aviation Oil | SAE-J1899 | Oil, Lubricating, Aircraft Piston Engine | 9150-00-753-5060 | 5 Gallon Pail | |
| UCF 1 Calibrating Fluid | SAE-J967 | Calibration Fluid | 6850-00-779-6851 | 5 Gallon Pail | |
| UCF 1 Calibrating Fluid | SAE-J967 | Calibration Fluid | | Drum | |
| Versatrans ATF | | Hydraulic Fluid, Automatic Transmission | | Bulk | |
| Versatrans ATF | | Hydraulic Fluid, Automatic Transmission | 9150-00-657-4959 | 5 Gallon Pail | |
| Versatrans ATF | | Hydraulic Fluid, Automatic Transmission | 9150-01-353-4799 | 1 Quart | |
| Versilube G330M | | Grease, Silicone Insulated Electric Motor | | 5 Gallon Pail | |
| Versilube G330M | | Grease, Silicone Insulated Electric Motor | 9150-01-104-5228 | 14 Oz | |
| Versilube G351 | MIL-L-15719 | Lubricating Grease | | Drum | |
| Versilube G351 | MIL-L-15719 | Lubricating Grease | | 5 Gallon Pail | |
| Versilube G351 | MIL-L-15719 | Lubricating Grease | 9150-01-080-9652 | 14 Oz | |
| Versilube G351 | MIL-L-15719 | Lubricating Grease | 9150-00-257-5358 | 8 Oz | |
| Versilube G351 | MIL-L-15719 | Lubricating Grease | | 1 Gallon | |
| Versilube G624 | SAE-AS8660 | Silicone Compound | | 5 Gallon Pail | |
| Versilube G624 | SAE-AS8660 | Silicone Compound | | 5.3 Oz | |
| Versilube G624 | SAE-AS8660 | Silicone Compound | 6850-00-880-7616 | 8 Oz | |
| Versilube G624 | SAE-AS8660 | Silicone Compound | | 5 Gallon Pail | |
| Versilube G624 | SAE-AS8660 | Silicone Compound | | 1 Gallon | |
| Verslbe G351 | MIL-L-15719 | Lubricating Grease | 9150-00-903-7094 | 1.75 LB | |
| Verslube G351 | MIL-L-15719 | Lubricating Grease | | 11 Oz | |
| Wro-Ep Mil-Prf-18458 Ty I | MIL-PRF-18458 TYPE I | Grease, Wire Rope - Exposed Gear | | 3 Kilograms | |
| Xc Aviation Oil | SAE-J1899 | Oil, Lubricating, Aircraft Piston Engine | | Drum | |
| Xia Afe 0200 Antifoam Emulsion | | Antifoam Compound | 6850-00-950-6489 | 5 Gallon Pail | |
| Xylene | A-A-59760 | Ten-Degree Xylene | 6810-00-584-4070 | 5 Gallon Pail | |
| Xylene | A-A-59760 | Ten-Degree Xylene | 6810-00-584-4071 | 1 Quart | |
| Xylene | A-A-59760 | Ten-Degree Xylene | 6810-00-598-6600 | 1 Gallon | |