The New Now...life, leisure, behavior, and beyond in a world transformed
What a year! 2020 continues to surprise us with fast-paced, unending change, in every aspect of life: the way we work, shop, eat, drink, and play has been forever altered, resulting in new perspectives and daily routines. Recognizing the need for innovative solutions that consider all these factors, Univar Solutions is proud to launch a new professional experience with its Smart Solutions Academy.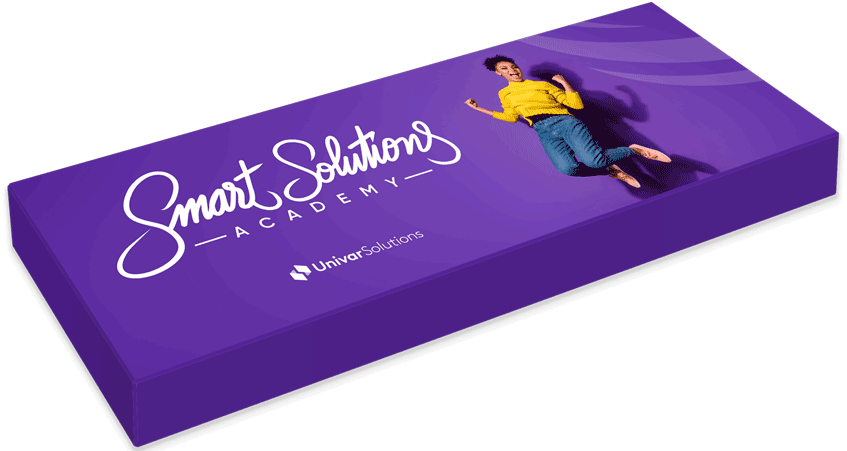 Scroll to see all
products in the kit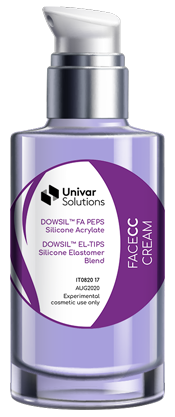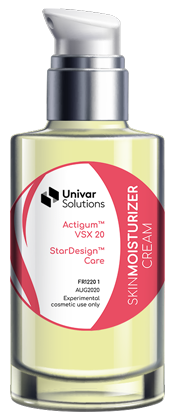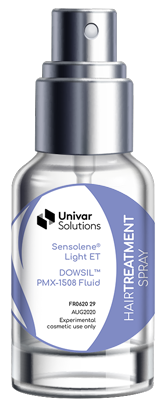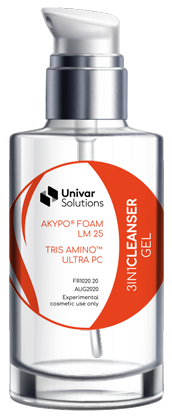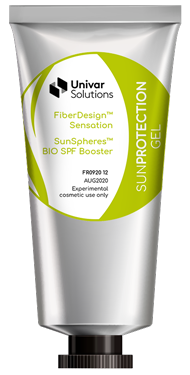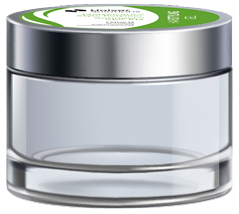 Click on a product to Learn More
Face CC Cream
Step right up if you are looking to correct skin imperfections and play up your best features! This violet CC cream cancels out yellow tones in the face and brightens a dull or sallow looking complexion. Out with tired and in with a fresh look. It blends beautifully and provides a smooth, even application. You can use it to prep your skin before your foundation/concealer routine so that you won't need as much coverage. #flawlesslook
DOWSIL™ FA PEPS Silicone Acrylate: Long-lasting film-former designed for color cosmetics applications providing excellent sebum and wear resistance and is formulated in a bio-based carrier allowing cosmetic formulations having a higher naturality content.

DOWSIL™ EL-TIPS Silicone Elastomer Blend: A low D4, D5, D6 silicone elastomer with low odor designed for skin care and color cosmetic applications. DOWSIL™ EL-TIPS is a high solids silicone elastomer to optimize the weight efficiency in formulations. It provides a rich smooth after-feel and blur skin imperfections. Formulated in a bio-based carrier sourced from sugar can, DOWSIL™ EL-TIPS enables brands to design cosmetic products with high content of natural and derived natural ingredients (>90%). (ISO 16128 eligible content up to 70%).
Olivem® 2020: Naturally-derived cold process emulsifier based on olive oil chemistry for energy efficient operations. It is a multifunctional biomimetic ingredient combining excellent emulsification performance and natural dermollience. It can also be used as a sensorial modifier, stabilizer, and thickener to provide added benefits to a very wide range of formulations.

Colour by Univar Solutions
90205 Cogilor Titanium Dioxide ST4: Treated with methoxy PEG-10 propyltrimethoxysilane to enhance the hydrophilicity of titanium dioxide. Allows formulation at higher inclusion levels and delivers uniform pigment dispersions in aqueous systems. Excellent compatibility, water based and oil in water formulations.
Suppliers
Skin Moisturizer Cream
Back to basics with this moisturizing cream! With its vegetable oil and butter, it will accompany you in a deep self-care moment. Based on naturally-derived ingredients this formulation is the perfect starting point for a full range of skin care products and can be customized to match your needs. Looking for sustainable skin care line? Here are the ingredients you can count on!
Actigum™ VSX20: Sclerotium gum is produced by aerobic fermentation of sugar with the fungus Sclerotium rolfii. Composed by non-ionic sugar monomers, in solution the sclerotium form a triple helix. Cold soluble, it's an ideal nature-derived thickener & stabilizer for formulations with smooth & soft texture.

Emultop™ Velvet IP: Lecithin extracted from soy beans and composed of various phospholipids, glycolipids, carbohydrates and neutral lipids.

StarDesign™ Care: Starches are polysaccharide granules extracted from corn. Thanks to a physical treatment, pregelatinization, they are cold processable. In addition chemical treatments, hydroxypropyl substitution & phosphate crosslinking, avoid syneresis and increase stability & resistance of starches versus pH, high shear and temperature. In solution, starch granules swell to texturize formulations and give creaminess & pick up.
Suppliers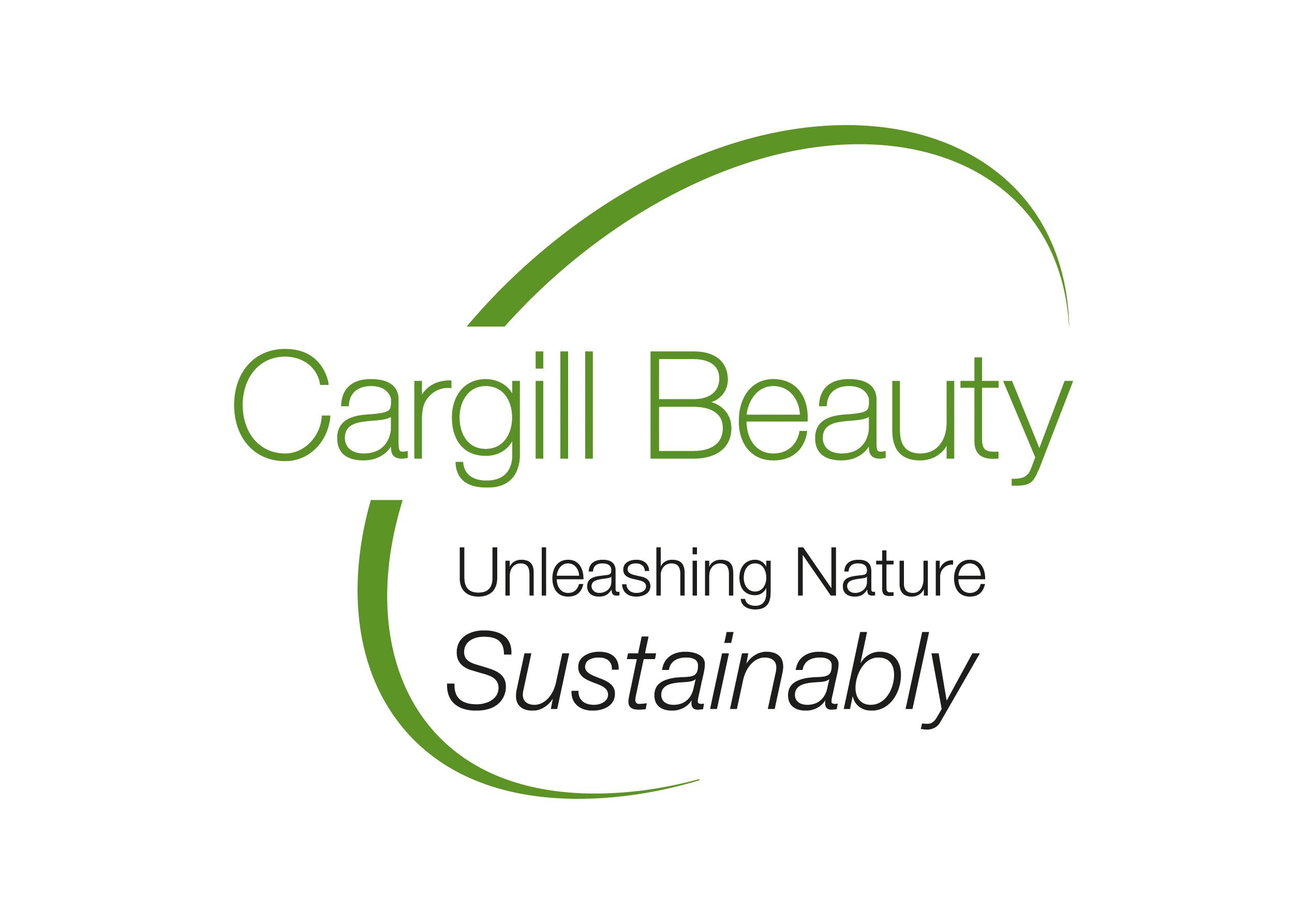 Hair Treatment Spray
This bi-phasic hair spray acts as a leave-on hair treatment base. The combination of ingredients provides a light silky feel, conditioning, shine and antioxidant benefits. Shake, spray and get the extra care your mane needs.
DOWSIL™ PMX-1508 Fluid: Blend of an ultra high viscosity dimethiconol in C13-15 alkane in a bioderived, inherently primary biodegradable carrier for use in hair care, skincare, suncare and color cosmetic applications.
Sensolene® Light ET: Sensolene Light ET combines superior emolliency with antioxidant benefits, thanks to a unique, natural Oléo-éco extraction patented process. Sensolene is a multifunctional biomimetic active emollient derived from olive oil and olive leaves that imparts an extremely light touch to every beauty formulation. It is 100% natural in origin, COSMOS-approved, globally compliant.
Earthoil by Univar Solutions
Organic FFL Argan Oil Crude: Excellent nourishing and moisturizing properties, as well as strengthening benefits for hair. Fair For Life certified vegetable oil, cold-pressed in Morroco, guarantees fair trade and responsible supply-chains with the local co-operatives. #conditioning #shine
Suppliers
3-in-1 Cleanser Gel
Do you want a multipurpose product that allows you to simplify your shower routine and cleanse your body, face and hair allin- one go? This one has excellent foaming performance and conditions both your hair and skin while fighting against body odor. Discover our 3-in-1 shower gel that provides a very easy starting composition for cleansing formulations.
AKYPO® FOAM LM 25: Designed to achieve luxurious foam with a very small bubble size and high foam consistency.

KAO SOFCARE® GP-1: Multifunctional conditioning agent imparting similar characteristics to those of silicone, such as feel and functionality. It is easily incorporated in shampoos and conditioners.
Cola® Teric CHGL: Cola Teric CHGL combines the benefits of cocamidopropyl hydroxysultaine and glyceryl laurate into one easy to handle liquid product for formulating luxurious facial cleansers, body washes, shampoos, and liquid hand soaps. It imparts foam boosting and stabilization, is extremely mild, carries outstanding skin feel, exhibits enhanced viscosity performance and contributes to product preservation. As a cold process additive it is PEG-free, amide-free, and preservative-free.
TRIS AMINO™ ULTRA PC:With its primary amine functionality, water- and alcohol-solubility and low toxicity, TRIS AMINO ULTRA PC is ideal as a buffer, solubilizer or neutralizer in skin treatment gels, sun blocks and sun screen lotions, cleansing gels, spray-on lotions and cosmetic preparations.
Suppliers
Sun Protection Gel
This product gives you an efficient starting point to create formulations that will answer customer needs for mineral and natural oriented sunscreens. Thanks to its gel texture, the UV filter dispersion remains stabilized and the formula exhibits a unique fresh sensory with a minimal whitening effect. An SPF booster reinforces and optimizes the use of the mineral UV filters to efficiently protect the skin from UV damage. You're welcome, cheers to finding your hero ingredients for sun care products!
SunSpheres™ BIO SPF Booster: Bio-based and readily biodegradable SPF booster that enables greater SPF efficiency in sun care and daily wear SPF products. Derived from FSC-certified wood pulp, it works with both organic and inorganic UV filters.
FiberDesign™ Sensation: Cargill Beauty is one step ahead when it comes to upcycling Beauty, with the newest innovation FiberDesign™Sensation. The combination of these citrus peel fibers with sclerotium gum, resulted in the creation of FiberDesign™ Sensation, a new texturizer and emulsion stabilizer designed specifically for skincare.

HallBrite® EZ-FLO ZDX Plus: HallBrite® EZ-FLO ZDX Plus is manufactured in a cGMP environment and consists of highly dispersed Triethoxycaprylylsilane-coated Zinc Oxide (58% active) in HallBrite® BHB which work together to prevent ZnO interaction with organic compounds and eliminate conglomeration.
Suppliers
Hairstyling Gel
Styling with corn and algae? Sure it is possible! This medium hold styling gel will give you a natural and effortless look by sculpting gorgeous curls or modeling your hairstyle. This product quickly air-drys and will shape your hair without stiffness, weight and stickiness. No snow, it is flake free!
MaizeCare™ Style Polymer: With a proven portfolio in hair styling, Dow has tapped into natural ingredients like corn to develop a versatile, bio-based, non-GMO and biodegradable polymer, MaizeCare Style to meet these needs. MaizeCare Style can be used in waxy pomade, cream, gel, or fluid spray – to provide customers the look they desire ranging from sleek, stiff or subtle definition.
Satiagel™ VPC 512: Carrageenans in Satiagel VPC 512 are extracted from red seaweed using a gentle and environmentally friendly process. They are made of natural polysaccharides with sulfated galactose units that can be classified into three main families: Iota, Lambda and Kappa. Depending on the grade, carrageenans are transparent thickening and/or gelling agents with low to medium hold and curl retention.

Actigum™ CS 11 QD: Sclerotium gum is produced by aerobic fermentation of sugar with the fungus Sclerotium rolfii. Composed by non-ionic sugar monomers, in solution the sclerotium form a triple helix. Cold soluble, it's an ideal nature-derived thickener & stabilizer for formulations with smooth & soft texture.
Suppliers