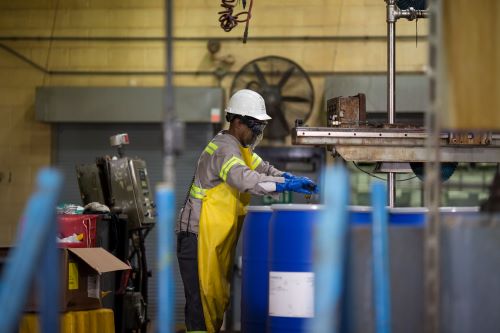 Your source for sodium silicate
Sodium silicate, CAS# 1344-09-8, is the generic name for a series of compounds derived from soluble sodium silicate glasses. They are water solutions of sodium oxide (Na2O) a and silicon dioxide (SiO2) combined in two various ratios. Varying the proportions of SiO2 to O2 Na2O and the solids content results in solutions with two differing properties that have many diversified industrial applications.
Univar Solutions offers standard commercial grades of liquid sodium silicates ranging in weight ratio of SiO2 to Na2O from 1.6 to 3.3.2. In addition to liquid sodium silicates, Univar Solutions supplies sodium silicate glass briquettes. Glass briquettes are dissolved on-site by some large volume consumers when freight savings can justify the equipment and labor costs involved.
Sodium silicate glass is made by fusing high purity silica sand and soda ash in open hearth furnaces at 1300oC/2400oF. The molten glass is cooled, fractured, and charged into vessels where it is dissolved under pressure by hot water and steam. The various grades of liquid sodium silicate are produced by varying the alkali/silica ratio and the solids content.
Characteristics
Clear thick liquid
Odorless
Soluble in water
Safer chemical ingredient list
Grades
BRITESIL C20 Hydrous Sodium Silicate
BRITESIL C24 Hydrous Sodium Silicate
BRITESIL H20 Hydrous Sodium Silicate
BRITESIL H24 Hydrous Sodium Silicate
G Hydrous Sodium Silicate Powder
GD Hydrous Sodium Silicate Powder
Sodium Silicate 40
Sodium Silicate 40 Clear
Sodium Silicate 42
Sodium Silicate 50
Sodium Silicate Solid Grade SS
Sodium Silicate Solid Grade SS C
Sodium Silicate Solution Grade D
Sodium Silicate Solution Grade E Clarified
Sodium Silicate Solution Grade K
Sodium Silicate Solution Grade M
Sodium Silicate Solution Grade N
Sodium Silicate Solution Grade N Clear
Sodium Silicate Solution Grade O
Sodium Silicate Solution Grade RU
Sodium Silicate Solution Grade Star
Sodium Silicate Solution Grade STIXSO RR
Applications
Abrasive wheels
Adhesives & cements
Aluminum cleaners
Antiredeposition agent
Antifreeze
Buffer
Cement
Ceramics
Concrete
Concrete set time accelerator
Corrosion inhibitors
Deflocculant
Deinking paper
Detergents
Drilling mud
Emulsifier
Engine coolants
Flame retardant
Foundry binders
Hard surface cleaners
Laundry detergents
Machine dishwash
Oil field service chemicals
Oil well cementing set time accelerator
Oil well drilling mud
Ore flotation
Paint & coatings
Pelletizing
Plywood laminating
Pulp & paper
Pulp bleaching
Sequesterant
Silica gel
Soil stabilization
Suspension agent
Textile
Titanium dioxide
Water proofing
Water treatment
Welding rod coatings
White wall tire cleaner