Versatile, multifunctional sensory enhancers with a proven safety profile and low D4/D5 content to meet your regulatory requirements.
Dow offers a wide range of Silicone Elastomers to enhance your next skin care formulation.
Format

Features

Benefits

Powders

Free Flowing

Low Agglomeration

Ease of Formulation

Sebum Absorption

Wrinkle Masking/ Soft Focus

Anhydrous Blends

Volatile or non-volatile carrier fluid

Compatibility with organic ingredients (actives)

Can incorporate water

Actives Delivery Aid (sunscreen, vitamins, etc.)

Increases absorbency/ Sensory skin feel

Rheology Modifier/ Thickens Oil Phase

Creates Clear Formulations

Cold Process/ Ease of Formulation

Water Based

Pre-emulsified water dispersible elastomers

Applicable for Hair Care Styling Formulations

Ease of Formulation
Dow Silicone Elastomer Powders can be added to a wide range of formulations, including:
Face and body creams, lotions, gels
Color cosmetics such as foundations, loose and pressed powders, eye shadows, bronzers and highlighters and lipsticks
Sun care products
These products are easy to formulate and can be added directly to a compatible liquid phase without the need for making a premix in another fluid. For powder or solid formulations, they can be ground directly with other powders.
Only new oil-loaded powder combines affinity to the skin and less agglomeration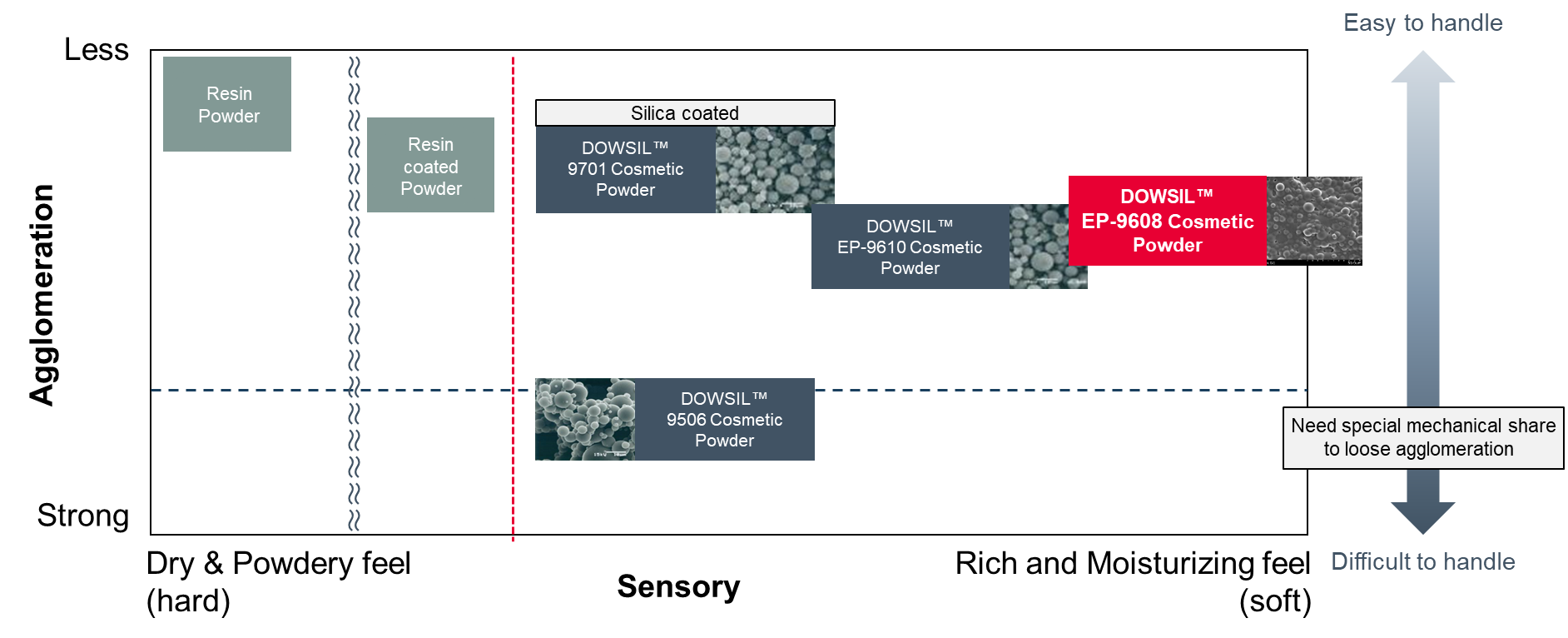 DOWSIL™ 9610 Cosmetic Powder
Silicone elastomer powder, spherical shape
Superior softness
Less agglomeration, easy to disperse
Provides silky, powdery, non-greasy skin feel
Enhances viscosity or rheology of silicones, oils or water-in-oil/silicone emulsions
Moderate sebum absorption
Find out more
DOWSIL™ 9701 Cosmetic Powder
Easy dispersion in different media (even in the presence of pigments)
Provides wrinkle masking benefits
Gives dry, silky powdery skin feel
Oil and sebum reduction
Oil phase thickener (see figure below)
Find out more
DOWSIL™ 9608 Cosmetic Powder
Enhancing smoothness and blending into skin by outstanding softness of the powder
Natural finish and excellent pore hiding effect
Giving rich and moisture feel
Ease of handling, less agglomeration, easy to disperse
Can be formulated in various forms; powder, emulsion, oil, wax products
Giving fluid texture with oils even with high dosage of the powder
DOWSIL™ EP-9801 Hydro Cosmetic Powder
Water dispersible and oil dispersible in a variety of media
Provides wrinkle masking, soft-focus look and mattifying effect
Gives unique, smooth, powdery skin feel
Oil and sebum reduction (see figure below)
Find out more
Viscosity and texture of oil blend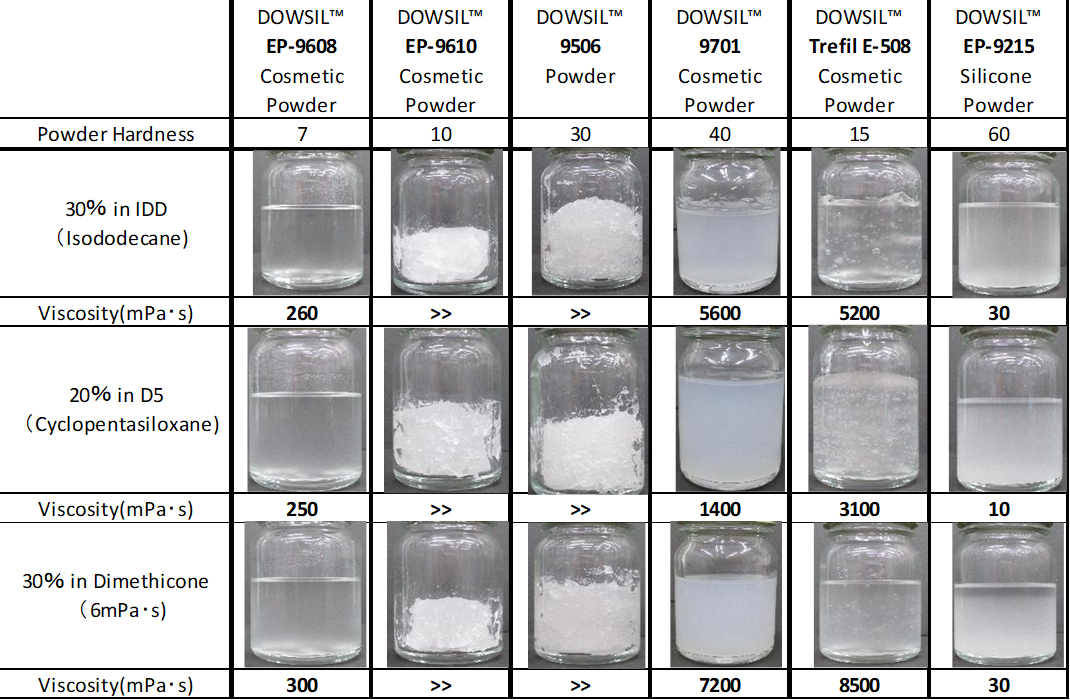 Physical property Oil absorbing data of various oils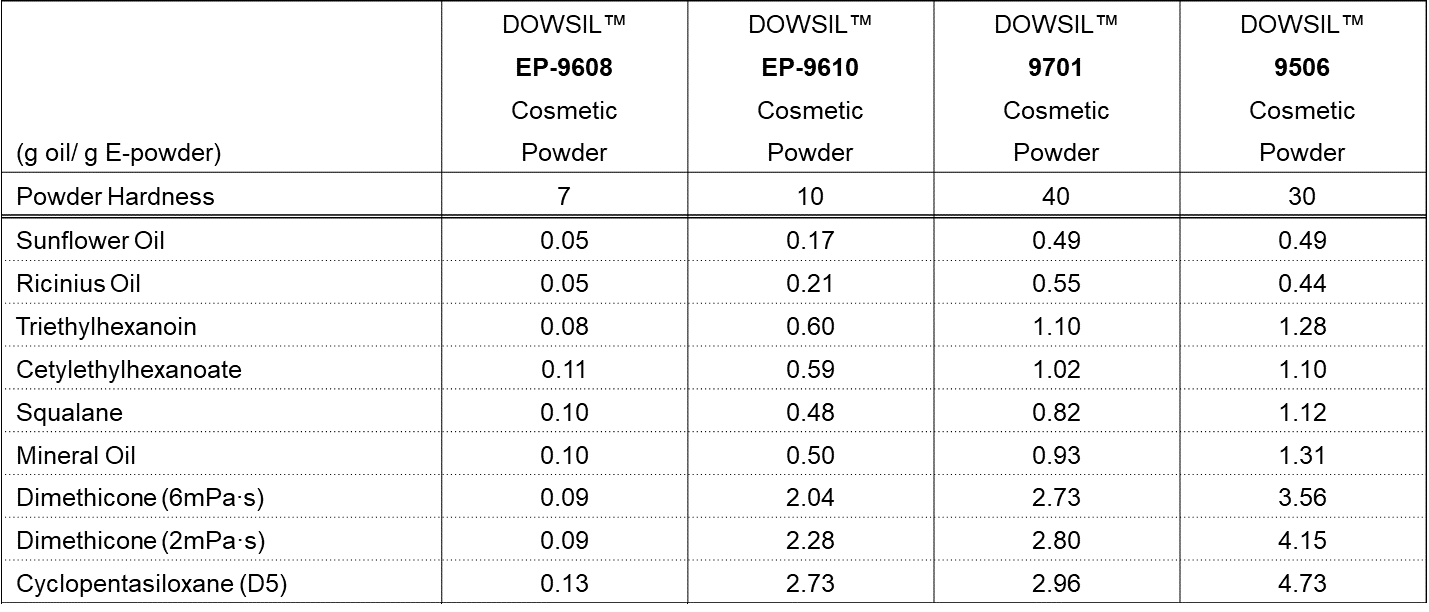 Silicone Organic Elastomer Blends
This category of Dow Silicone Elastomers offers clear to slightly translucent crosslinked silicone-organic elastomer gels delivered in a variety of carrier fluids and viscosities. Silicone Organic Elastomer Blends are compatible with organics, both lipophilic and water-based ingredients, and can even create clear systems with unique aesthetics. They are able to act as a delivery aid and incorporate filters, pigments, and other actives while maintaining a viscous, gel structure.
As they don't need to be heated, they enable cold energy-saving process.
DOWSIL™ EL-9081 Silicone Elastomer Blend
Provides a dry, silky feel to formulations
High Clarity elastomer blend
Sensory Enhancer (smooth feel)
No balling effect when rubbed on the skin
Texture Enhancer
DOWSIL™ EL-7040 Hydro Elastomer Blend
Provides smooth feel and matte appearance
Good compatibility with organic oils
Can incorporate water and polar materials such as glycerin
Can enhance sensory effects for increased absorption
Creates a fast-break emulsion that can deliver a burst of water to the skin
Can create clear systems
find out more
DOWSIL™ EL-TIPS Silicone Elastomer
Provides a rich smooth after-feel
Mask skin imperfections Good compatibility with organic oils, including sunscreens
Bio based carrier
Learn More
DOWSIL™ EL-8050 ID Silicone Organic Elastomer Blend
Provides a dry, silky feel to formulations
Provides a mattifying effect to the skin
Good compatibility with organic oils, including sunscreens
Improved non-transfer in color cosmetics (longer wear)
Can create clear systems
find out more
DOWSIL™ EL-9081 SILICONE ELASTOMER BLEND has improved odor and less hazy appearance compared to DOWSIL™ EL 9240 SILICONE ELASTOMER BLEND