As a global leader in ingredient distribution, we deliver enzymatic solutions from Novozymes, a world leader in innovative and sustainable biotechnology. Novozymes' product portfolio contains an extensive range of cutting-edge enzymes and related technologies that serve many beverage production applications while benefiting local farmers and helping to reduce cost and waste for better beverage processes. Discover how we are supporting innovation through enzyme distribution for beverage manufacturers.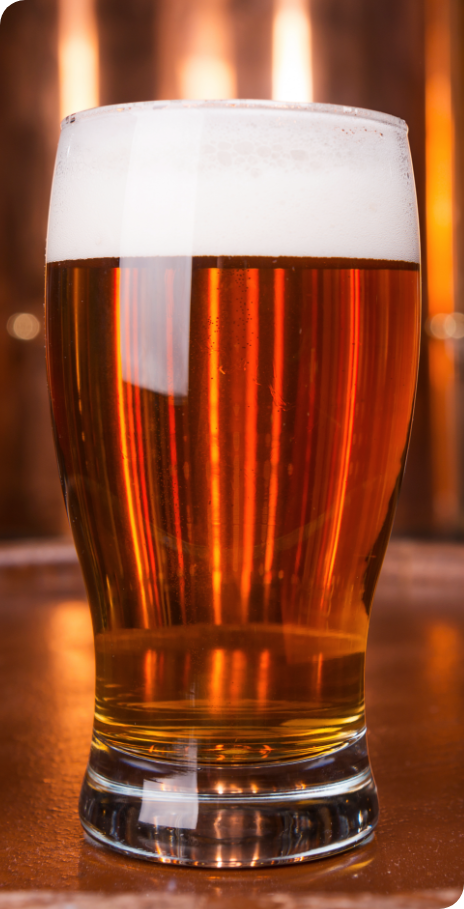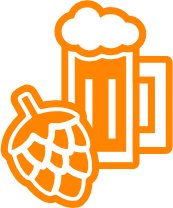 Enhance your brew with nature's formula
Natural catalysts that speed up critical steps in the brewing process, enzymes have been a part of brewing for thousands of years. Today, innovative brewers are using enzymes to develop their business beyond traditional beer boundaries. With enzymes, brewers can create new tastes and claims, maintain consistent production and develop premium offerings to meet new consumer expectations.
Now distributing in the U.S. and Canada. Also serving Europe, the Middle East and Africa (EMEA) and Latin America regions.
Enzyme benefits for brewers
quality and stability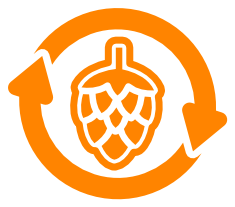 Rethink traditional brewing. Improve the quality of your yield.
Enzymes have been a natural part of brewing for thousands of years. Today's brewers are using enzymes to experiment with new tastes and meet claims for wellness and environmentally conscious consumers. As a beverage solution, enzymes help beverage producers achieve consistently high beer quality and improve sustainability through cost reduction and optimized production processes.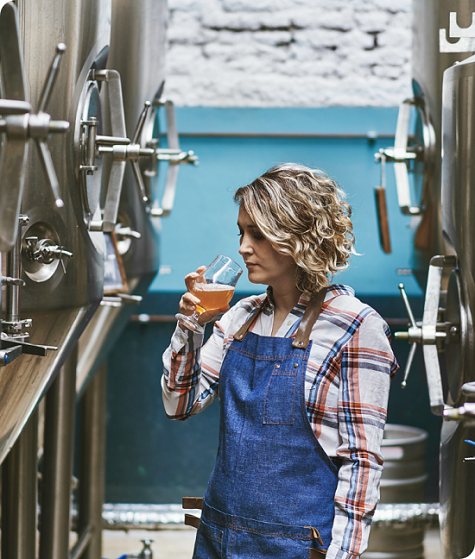 Poor Crop Quality Insights and How Enzymes Can Help Brewers
Struggling with issues surrounding malt quality? Wondering how to optimize yields when crop conditions are difficult? Read our recent article to gain insight on how enzymes can improve quality and help you build a better brew.
Membrane Cleaning
Focus Area
Novozyme Concepts
Brewery Benefits

Improve total production capacity and efficiency

Faster throughput and increased extract

Faster maturation and fermentation

Cost-efficient cereal cooking



Ensured process predictability - More brews/week

Increased brewery efficiency and productivity

Reduced maturation time

Optimal starch extraction and shorter mashing time



Cost reduction and/or
cost leadership


Raw material cost savings

Faster maturation and fermentation

Cost-efficient cereal cooking



Reliable process using any malt and adjuncts


- Lowest raw material costs through maximal use of adjunct

Simple and reliable process using adjuncts

Reduced fixed costs


Ensure consistent
beer quality

Faster throughput and increased extract

Raw material cost savings

Faster maturation and fermentation

Improved attenuation control


Ensure predictable malt behavior

Ensure consistent processes and yields

Elimination of diacetyl off-flavors

Ability to achieve a specific attenuation goal



Keep pace with
consumer trends

Improved attenuation control



Extend product branding to "low-carbohydrate" beers

Extend product branding to "light" beers

Production of special beers


Enzyme solutions for brewing
Cost-effective Cereal Cooking
Recommended Products
Benefits
Main Enzyme Activities

Termamyl® SC 4X
Termamyl® SC DS
Termamyl® SC BrewQ
Termamyl® Classic

Faster and more consistent liquefaction

Lower mash viscosity, resulting in easier wort production

No risk of resistant or retrograded starch formations, or insufficient saccharification

Reduced processing costs through more efficient liquefaction

Improved flexibility in the use of various cereal grain adjuncts

Reduced energy consumption due to lower temperatures when handling decoction mashes




α-amylase
Efficient Wort Separation and Beer Filtration
Recommended Products
Benefits
Main Enzyme Activities

Ultraflow® MAX
Ultraflow® XL
Termamyl® SC BrewQ
Ultraflow® Core

Minimal fluctuation in the brewing process

Consistently fast wort separation

Higher brewhouse yield and efficiency

Longer filtration cycles and lower filtration costs

Allows brewing at higher gravity

β-glucanase
Cellulase
Xylanase
Attenuation Control and Light Beer Production
Recommended Products
Benefits
Main Enzyme Activities

Attenuzyme® Pro
Attenuzyme® Core
Attenuzyme® Clip
Ultraflow® Core

Consistent attenuation control regardless of raw material
variability or process fluctuation

Produces wort that enables highly attenuated beers

Potential for shorter mashing times and lower
enzyme dosage

Glucoamylase
Pullulanase
α-amylase
Raw Material Optimization
Recommended Products
Benefits
Main Enzyme Activities

Ceremix® Flex
Ceremix® Core Sorghum
OndeaPro®
Ceremix® Plus MG
Ceremix® 2XL
Ceremix® 6X MG

Enables the use of adjuncts in different ratios and allows the sourcing
of locally grown raw materials with varying qualities

Selected combination of different enzymes
Fermentation Control with Fan Optimization
Recommended Products
Benefits
Main Enzyme Activities

FAN Boost
Neutrase® 0.8L BrewQ

FAN control for consistent yeast growth and
optimal fermentation

FAN optimization in high barley/adjunct brewing

Improvement of mash lautering/filtration

Yield improvement

Protease
Diacetyl Control
Recommended Products
Benefits
Main Enzyme Activities

Maturex® Pro

Consistently low levels of diacetyl in the final beer

Shorter maturation time leading to higher
capacity utilization

Compensates for seasonal fluctuations in sales

Lower energy consumption

Leaner process conditions for low alcohol beers

α-acetolactate -
decarboxylase
Membrane Cleaning
Recommended Products
Benefits
Main Enzyme Activities

Ultimase® MFC

Reduced operational costs

Increased lifespan of membrane cartridges

Regeneration step easily integrated into
CIP automation programs

β-glucanase
Cellulase
Brewing process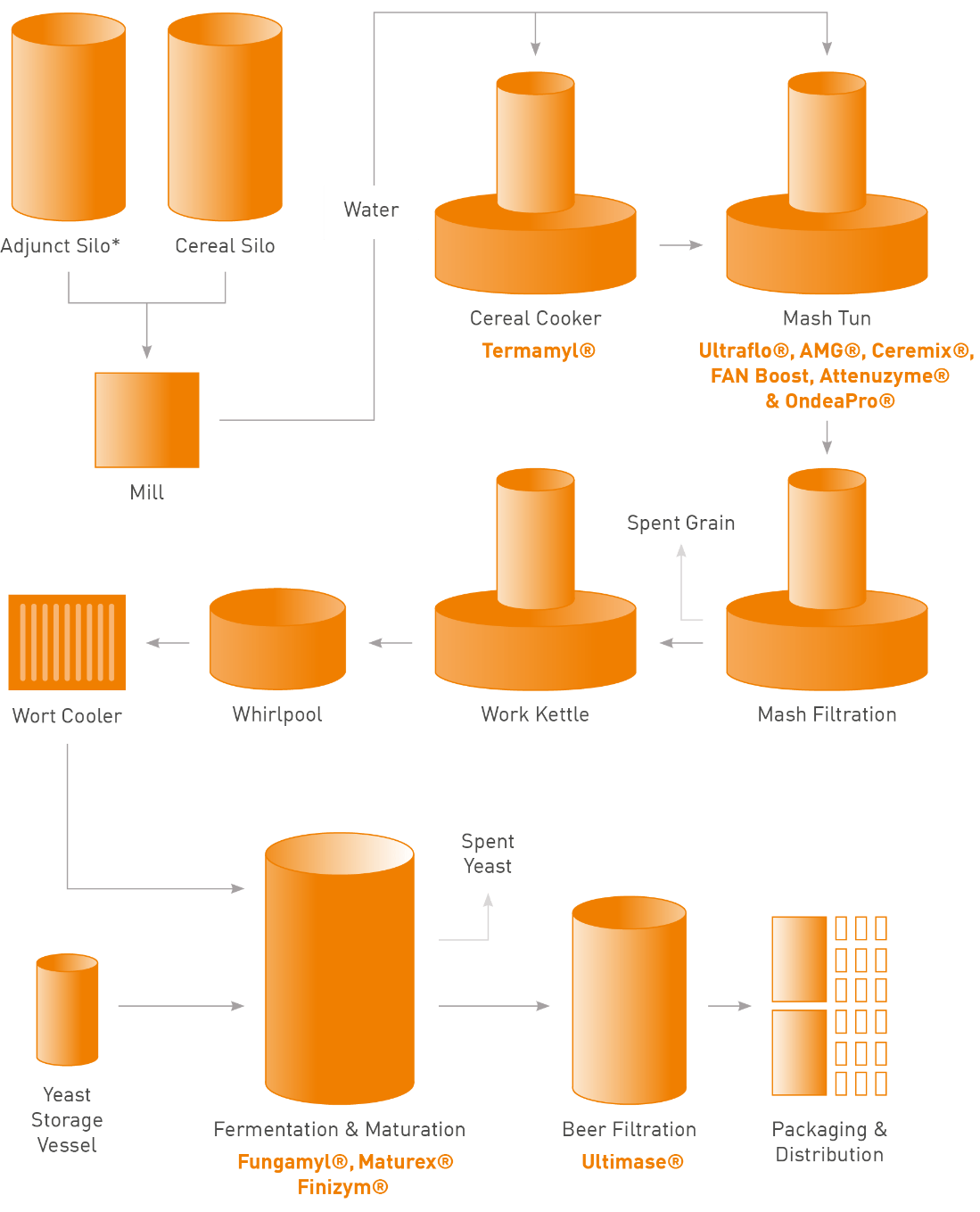 * Adjunct Silo – unmalted cereals (Barley, Wheat, Maize (Corn), Rice etc.)
Learn more about brewing trends and
innovation with Novozymes' latest insights