Customizable Solutions for the Ophthalmic Industry
We support the ophthalmic industry by providing the solvents and chemicals needed to produce contact lenses and contact lens solutions. We also offer the ingredients required for eye care manufacturers to make eye drops, gels, ointments, and sprays.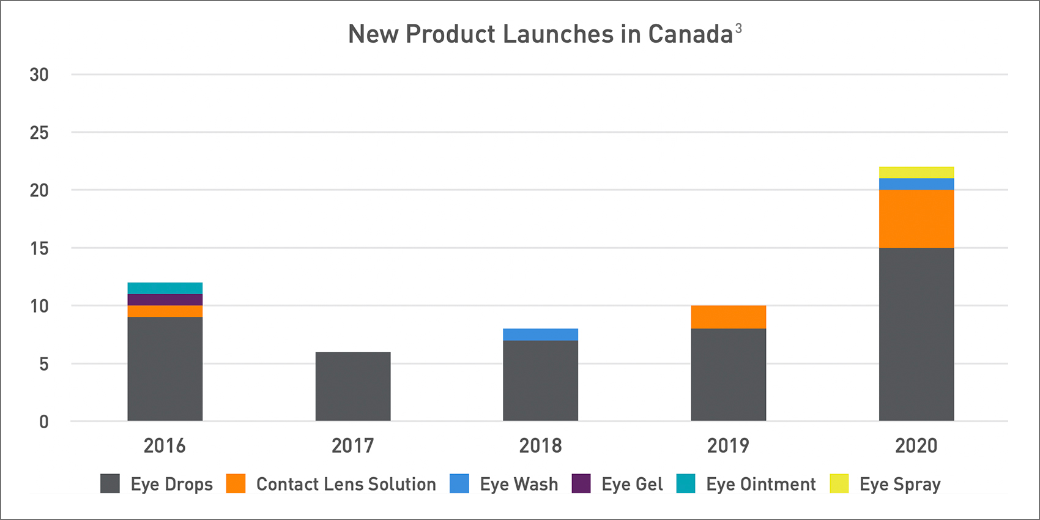 Quality Ingredients to Relieve Allergy Symptoms and Reduce Digital Eye Strain
The Canadian eye care market has grown at a Compound Annual Growth Rate (CAGR) of 2.3% over the last five years. The industry expects a continued CAGR of 0.6% over the next five years, with growth from both the allergy and standard eye care categories.1 While demand for allergy eye care varies depending on weather conditions; we can expect growth over time due to the rising incidence of seasonal allergies. Demographic factors such as population growth and an aging population should drive standard eye care growth. Lifestyle changes also contribute to growth – although digital device use was already increasing before 2020, COVID-19 has increased screen time even more, which leads to more digital eye strain.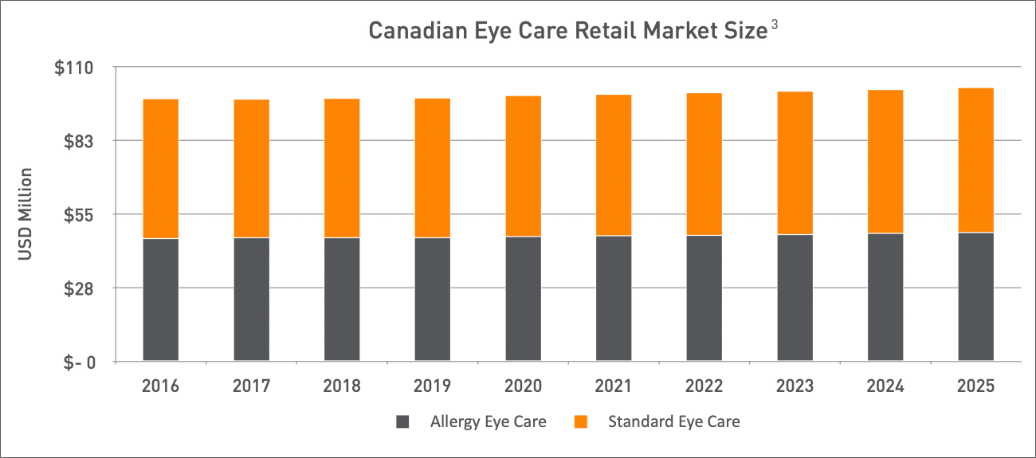 Allergy Eye Care: Eye drops and ointments used to treat eye allergies, containing active ingredient such as sodium cromoglycate, for treatment of itchy, watery or inflamed eyes caused by seasonal allergies such as hay fever. Excludes all products related to contact lens use and care. Standard Eye Care: Artificial tears, eye ointments and eye washes used to lubricate the eye, relieve minor irritation caused by pollution, dust, tiredness. Include red eye products and substitute tears used to treat dry eye symptoms. Excludes all products related to contact lens use and care.
Contact Lens Manufacturing
---
Custom blends for eyecare solutions
Sales of contact lenses in the Canada dropped in 2020, but an expected CAGR of 4.1% should lead to a recovery for 2021-2025.2 This growth should also help boost the sales of contact lens solutions in the future. In addition to offering the solvents and chemicals you need for contact lens manufacturing, we can develop custom blends in our labs and produce them for you in our plants.